Nestled at the foot of the sacred Yen Tu Mountains in Quang Ninh, Vietnam, Legacy Yen Tu MGallery Resort is a hidden gem that offers a truly unique and luxurious retreat. With its stunning architecture and serene landscapes, this resort provides an unparalleled experience for those seeking tranquility and spiritual rejuvenation. In this article,  we will explore the exquisite features and amenities of Legacy Yen Tu, delve into the various activities and experiences it offers, and provide valuable booking tips to make your stay unforgettable.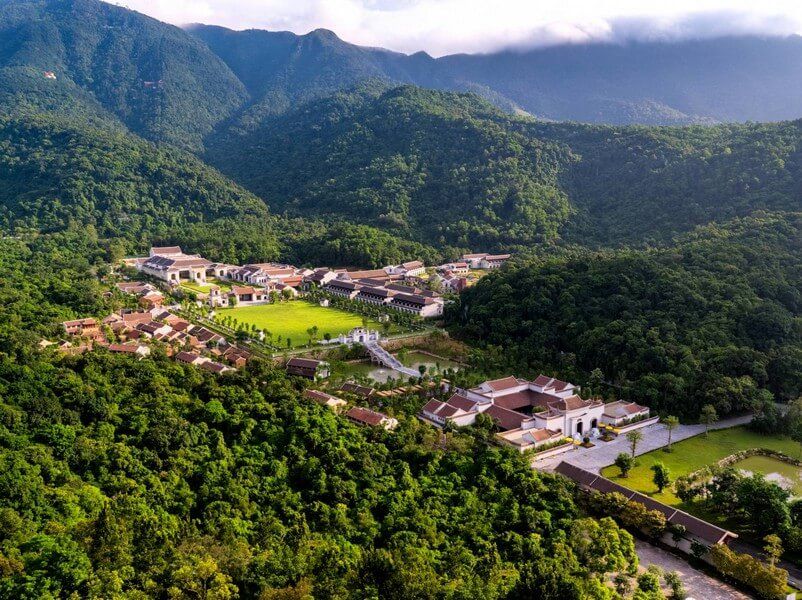 Location and Access
Legacy Yen Tu MGallery Resort is conveniently located approximately 135km from the center of Hanoi, making it easily accessible for both domestic and international travelers. If you're flying from Saigon, you can land at either Vân Đồn Airport or Cát Bi Airport and reach the resort by car. Private car rentals are available at reasonable prices, ensuring a comfortable journey to Yen Tu.
Location on Google map: ( google map)
A Tran Dynasty Palace in the Mountains
Legacy Yen Tu MGallery Resort stands as a testament to the rich history and cultural heritage of Vietnam. Designed by the renowned architect Bill Bensley, who has created other iconic resorts like InterContinental Đà Nẵng and JW Marriott Phú Quốc, this resort beautifully combines Tran Dynasty palace-like architecture with Buddhist influences. The result is a harmonious blend of regal elegance and spiritual serenity that will transport you to a bygone era.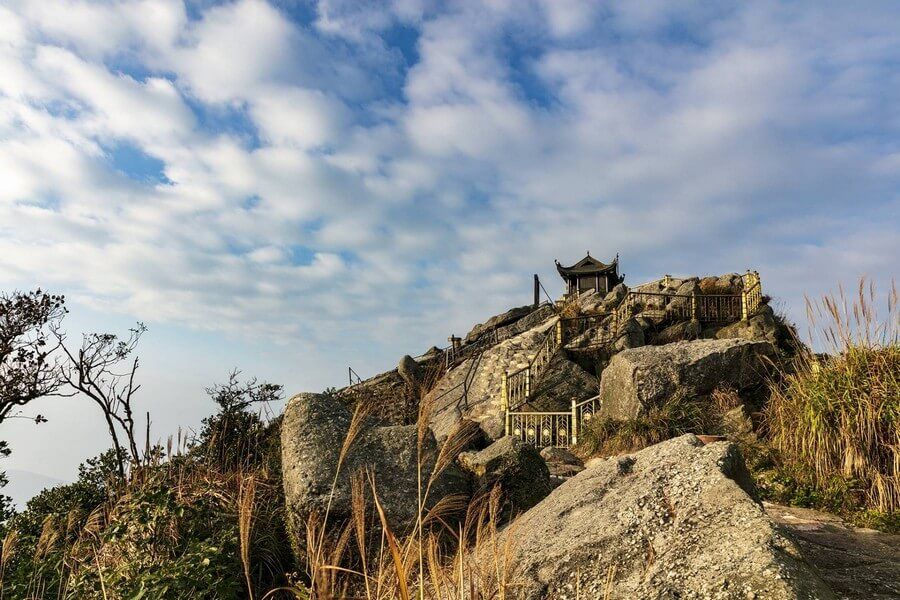 Immerse Yourself in Nature's Embrace
As you enter Legacy Yen Tu, you'll be greeted by the breathtaking beauty of the surrounding mountains and forests. The resort is enveloped by the sacred Yen Tu Mountains, creating a sense of being in a heavenly paradise. The lush greenery and tranquil atmosphere provide the perfect backdrop for relaxation and introspection.
Unforgettable Experiences Await
Legacy Yen Tu MGallery Resort offers an array of activities and experiences that cater to your physical, mental, and spiritual well-being. Whether you're seeking inner peace through meditation and yoga, exploring traditional crafts, or immersing yourself in the local culture, this resort has something for everyone. Let's take a closer look at some of the remarkable experiences you can enjoy during your stay.
Welcoming the New Day
Start your day off right with the "Memorable Moments" activity, where you have the opportunity to witness the stunning sunrise from the sacred peak of Thiên Yên Tử. The tranquil ambiance and breathtaking views will leave an indelible mark on your soul. Additionally, you can participate in meditation and yoga sessions held at the Meditation House, allowing you to find inner peace and balance.
Cultural Journeys
Embark on a journey following in the footsteps of Emperor Trần Nhân Tông and explore the sacred Yen Tu Mountains. You can choose between a cable car journey or a hiking adventure, both offering unique perspectives of this majestic landscape. Immerse yourself in the rich history and spirituality of the Tran Dynasty as you visit Lân Pagoda and learn about the place of meditation for Buddhist monks.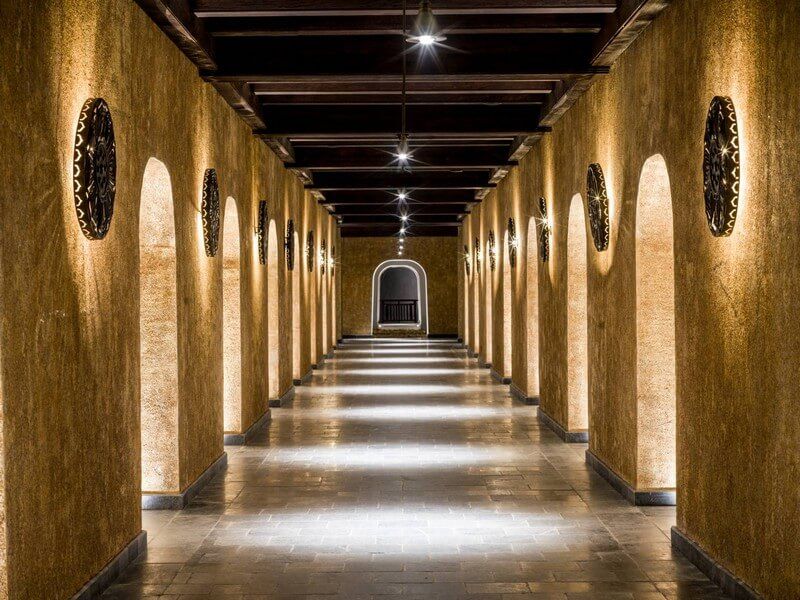 Self-Discovery
Legacy Yen Tu MGallery Resort provides a range of experiences that promote self-discovery and personal growth. Learn to ride horses gracefully across Minh Tâm Square, connecting with the earth and the sky. Engage in aromatherapy oil massage blending to rejuvenate your senses and enhance your well-being. These activities offer a chance to reflect, recharge, and find happiness within.
Exploring Traditional Crafts
Delve into the world of traditional Vietnamese crafts through engaging workshops and classes. Learn the art of making and decorating products such as dragonflies, butterflies, and birds, or try your hand at painting statues. Get creative and make your own conical hat, a quintessential symbol of Vietnamese culture. These experiences allow you to appreciate the craftsmanship and cultural heritage of the region.
Entertaining Activities
Legacy Yen Tu MGallery Resort doesn't just cater to your physical and spiritual well-being; it also offers a range of entertaining activities. The Village Night program provides cultural performances and games, allowing you to immerse yourself in the local traditions and customs. Indulge in a herbal foot soak massage while enjoying the festivities, and let the soothing ambiance transport you to a state of bliss.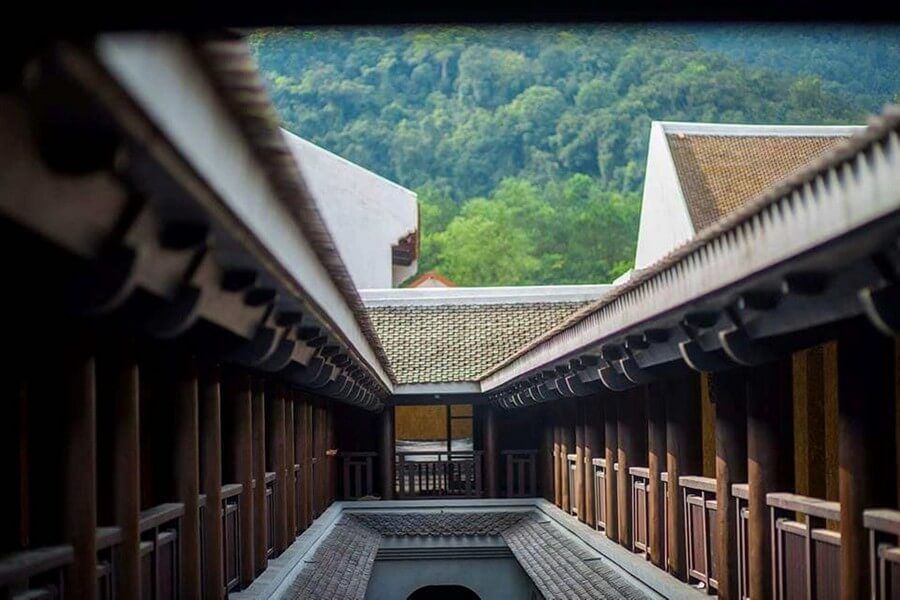 Luxurious Accommodations
After a day of exploration and relaxation, retreat to your luxurious room at Legacy Yen Tu MGallery Resort. Each room category offers its own unique features and views, ensuring a comfortable and unforgettable stay.
Superior Room
The Superior Room, with an area of 53m2, provides a comfortable space for relaxation. It features a sofa area and an opening window that allows you to take in the beautiful mountain or village views. This room is suitable for up to three adults and one child, and an extra bed can be added if needed.
Deluxe Double Room
The Deluxe Double Room offers a private balcony and an outdoor area with an area of 53m2. It provides stunning views of the mountains, the village, and the pool. This room category is ideal for couples and offers a bright and cozy atmosphere.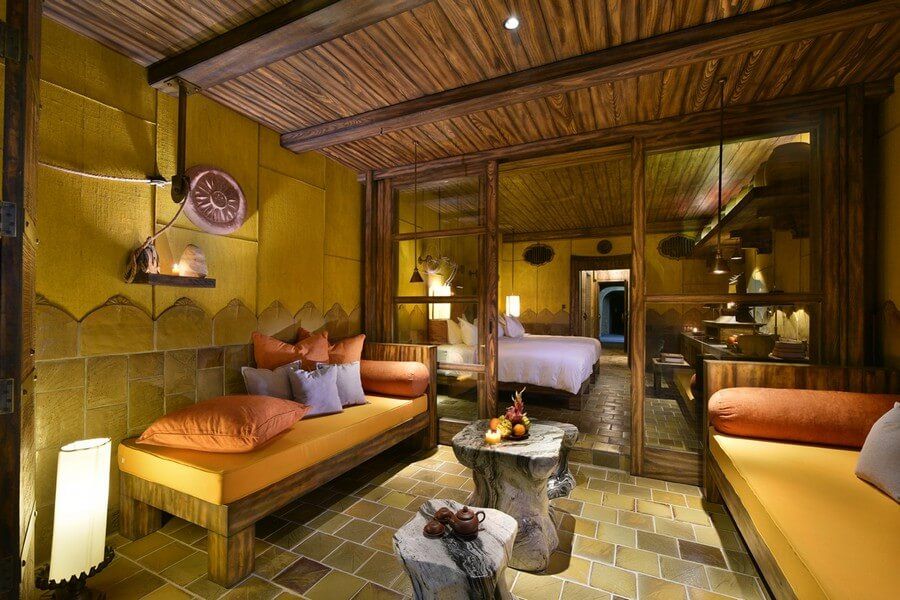 Junior Suite Room
For a more spacious and luxurious experience, the Junior Suite Room is the perfect choice. With an area of 53m2, it features a bathtub and an oversized, ultra-comfortable bed. The stunning mountain or pool views, combined with the elegant decor, create a serene ambiance that will make your stay truly exceptional.
Presidential Suite
For the ultimate indulgence, the Presidential Suite offers unparalleled luxury and comfort. With an area of 74m2, this suite boasts multiple private spaces, including a private balcony, a living room, and a bathtub. The mountain and pool views from this suite are simply breathtaking, providing a serene backdrop for a truly memorable stay.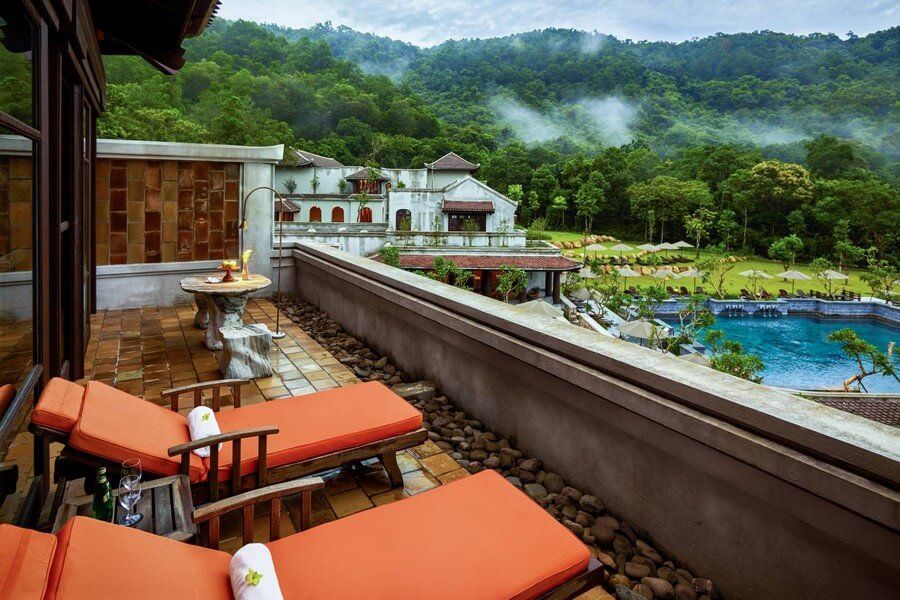 Dining Delights
Legacy Yen Tu MGallery Resort offers exceptional dining experiences that will tantalize your taste buds. Thọ Quang restaurant serves traditional Vietnamese dishes throughout the day, ensuring a delightful culinary journey. The menu features a variety of flavorful options that cater to different dietary preferences. For a refreshing drink or a relaxing cup of tea, head to Thiền Quán bar, where you can unwind and savor the tranquil atmosphere.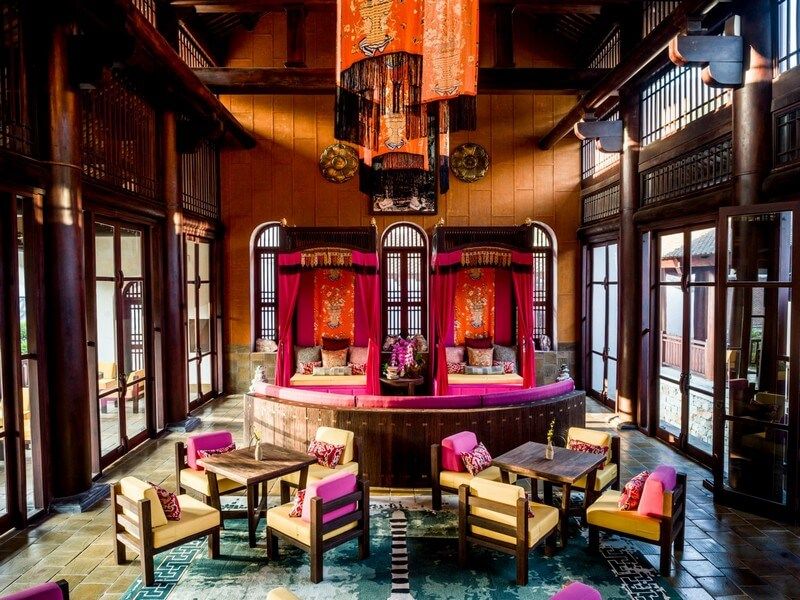 Tips for a Memorable Stay
To make the most of your stay at Legacy Yen Tu MGallery Resort, we recommend booking a two-night stay. This will allow you ample time to explore the resort's offerings and truly immerse yourself in its serenity. Upon arrival, take some time to rest and then join the village night program in the evening. The second day can be dedicated to relaxation, yoga classes, horse riding, and spa services. Remember to check the latest promotions and room rates by contacting the hotline for accurate information.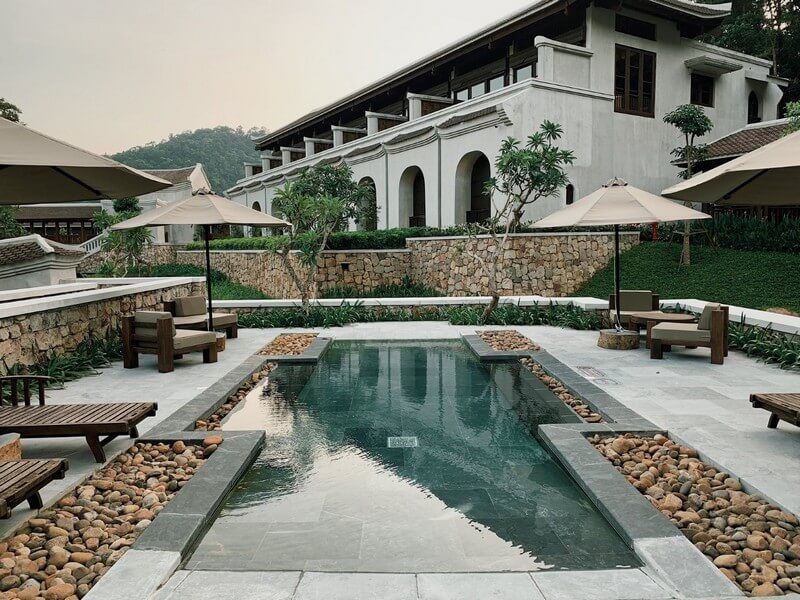 Conclusion
In conclusion, Legacy Yen Tu MGallery Resort is a haven of tranquility and spiritual rejuvenation. With its unique architecture, breathtaking landscapes, and a wide range of activities and experiences, this resort offers an unforgettable retreat for those seeking relaxation, self-discovery, and cultural immersion. Book your stay today and embark on a journey that will nourish your mind, body, and soul, leaving you with cherished memories that will last a lifetime.
---