Kayaking is one of the most attractive outdoor activities many tourists enjoy on the cruise. If you want to find a good destination to discover, Lan Ha Bay is a wonderful place. Let's check out why many come and enjoy Lan Ha Bay kayaking and save some tips to be safe during your journey 
Kayaking on Lan Ha Bay, the water paradise!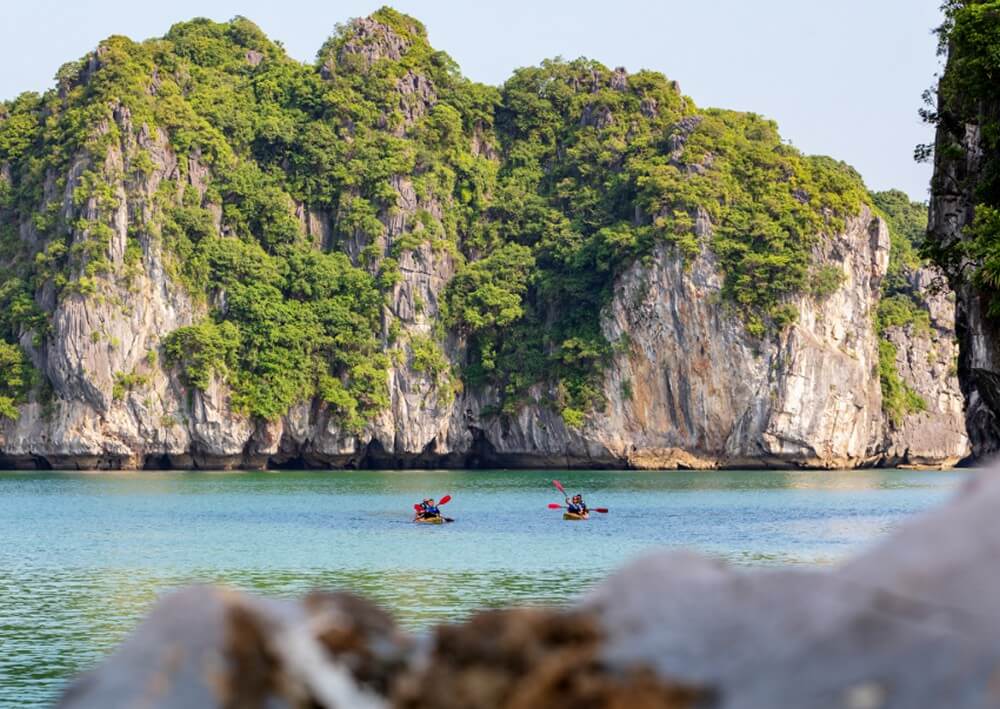 Read more:
Many feel confused because they do not know where to choose for kayaking during the holiday. Some say Halong Bay is great to enjoy kayaking, others mention Lan ha Bay instead. So if Lan ha Bay kayaking is great to experience? Of course, these four reasons make things easier to understand:
The seascape is great with emerald water and lush islands: the clean and blue water makes you feel refreshed and the seascape is so amazing to take pictures of. 
Suitable for a day trip or overnight cruise: if you do not have much time, only one is enough to have a Lan Ha Bay kayaking tour and you can even discover many hidden gems of the area. This kayaking activity is always a part of Lan Ha Bay cruise itinerary, it could be 30 minutes of paddling to 3-day adventure on kayaks. 
Great for people who like quietness: if you want to spend time at a tranquil place, relax, ignore stress, and off work, Lan Ha Bay is amazing. Not many foreigners know much about this and it is not too noisy even during peak season. 
Many beautiful places for kayaking: There is a list of many places for you to discover, as well as kayaking on the tour, such as Three Peach, Tra Bau, Monkey Island, Cai Be floating village, Luon cave, Bright and Dark cave, etc. 
Where to enjoy kayaking in Lan Ha Bay?
To go kayaking on Lan Ha Bay, you can book a day tour or overnight cruise to Lan Ha Bay. In this tour, kayaking will be a part of the itinerary, an exciting experience. Depending on each cruise operator, you will be led to paddle in one of these areas. 
Ba Trai Dao islet
The islet is a part of Lan Ha Bay, very near Cat Ba island. It looks like three peaches, and that is the reason why locals call it "Ba trai dao" (Three Peaches). The beach is stunning with sunlight, strong wind, and romance. It is suitable for swimming, and kayaking in pleasurable weather.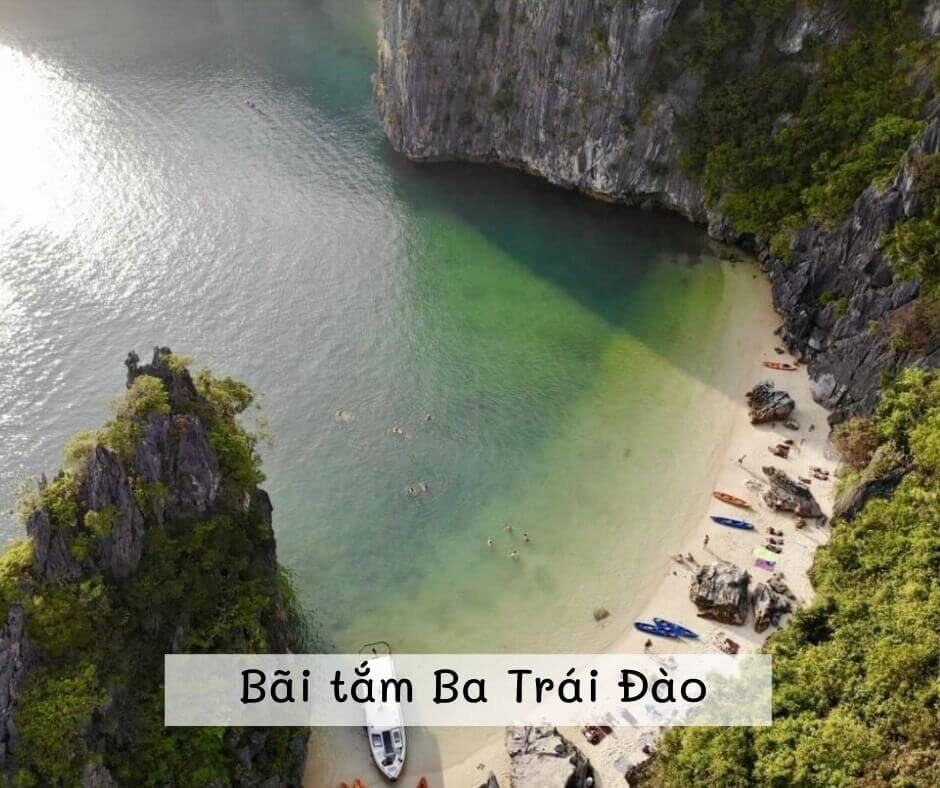 Tra Bau Area 
Tra Bau is not only a good place for Lan Ha Bay kayaking but also a wonderful area to catch stars at night. It is a hidden gem of the bay and a safe place for many ships to anchor. At night, you can see there are many ships out there, and the winds are so strong that walking at night on hot days is fantastic!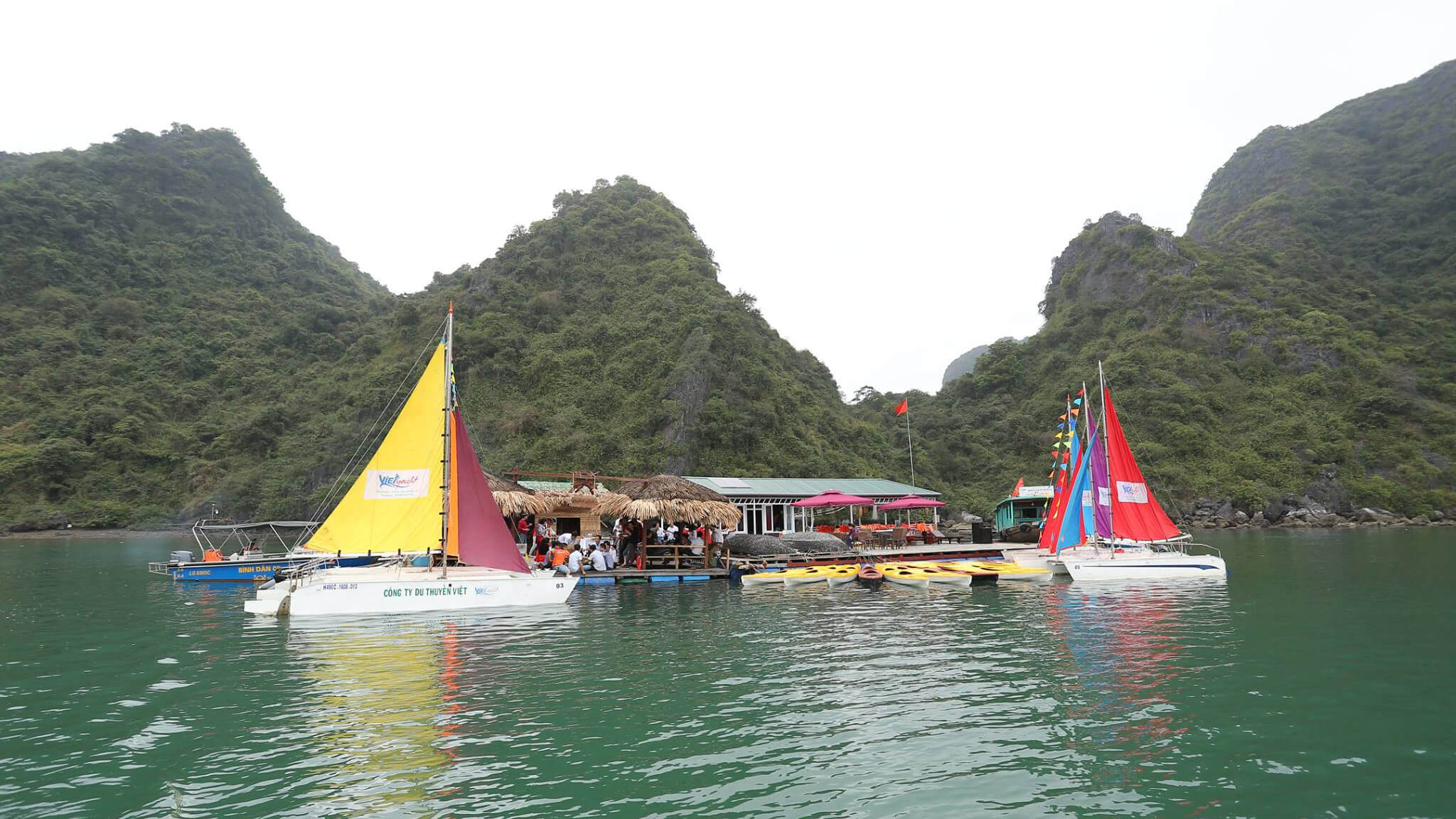 Ao Ech Area
Ao Ech area on Lan Ha Bay is quiet, untouched nature but suitable for kayaking to discover. The lake has clear and emerald water with green lush trees surrounding it. Visiting Ao Ech, you can also enjoy kayaking, taking photos of beautiful flora and fauna landscapes on the island as well as adventuring caves and sea cliffs.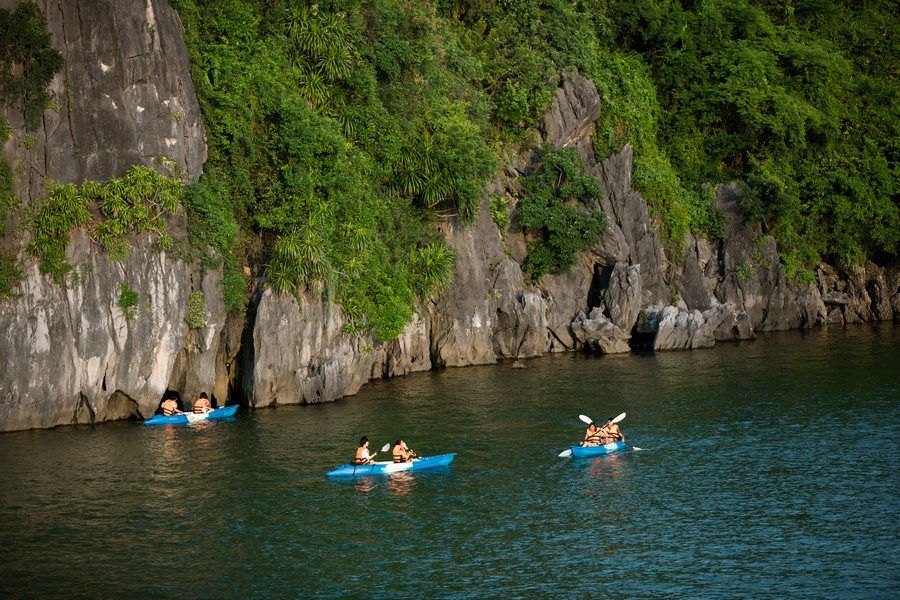 Dark & Bright Cave
One more great place for Lan Ha Bay kayaking is Dark and Bright cave. It is located on the border of Halong Bay, and Lan Ha Bay. This is a stop for many tours to the world heritage and people enjoy kayaking to discover the cave inside. You can have a wonderful moment to see the mysterious beauty of the cave, with green water and the natural ecosystem.
Cai Beo fishing village
Cai Beo is the oldest floating village in Halong Bay. About 300 households live in the area, earning their living by fishing day by day. Although their life is not easy and they have a shortage of many supplies, they always smile and feel satisfied with happiness. You can rent a boat, experience kayaking slowly to take pictures, and understand more about the local life.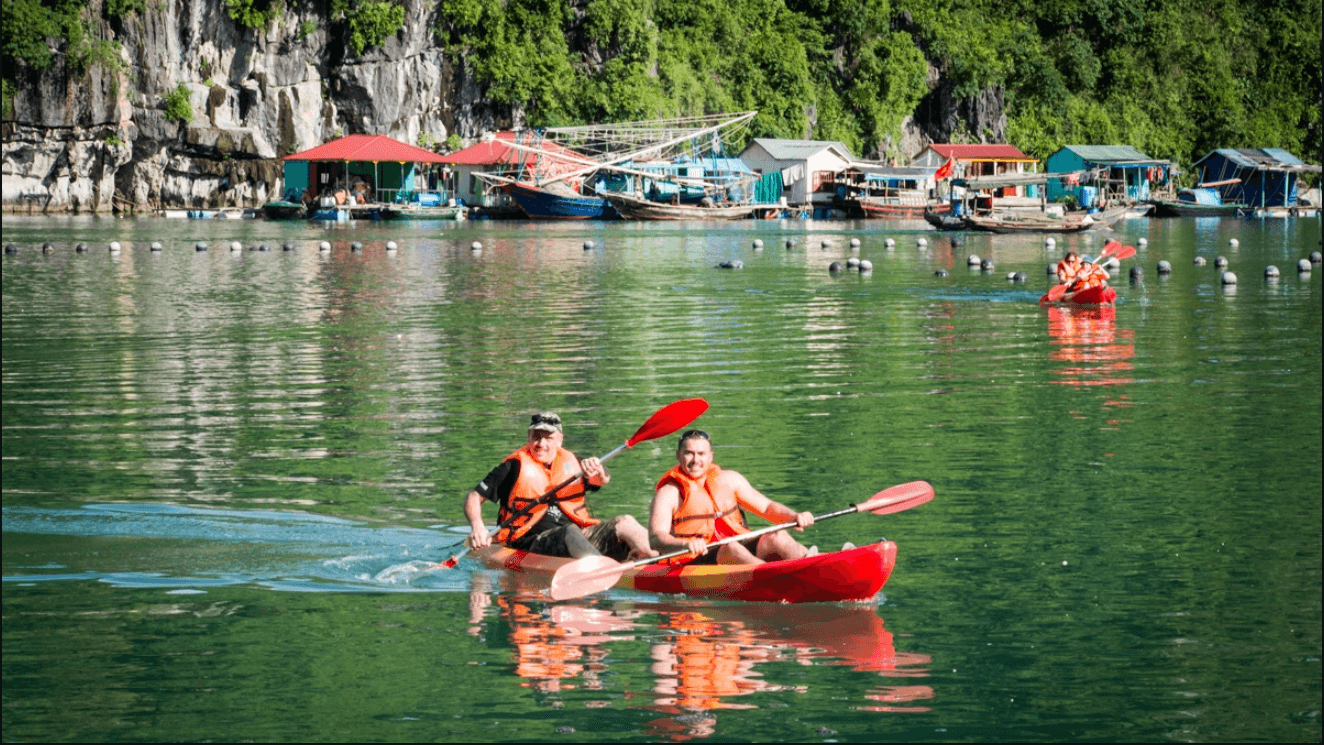 Safety tips for any Lan Ha Bay kayaking tours
If you have the plan to go to Lan Ha Bay and kayaking, please do not forget to remember some important safety tips following: 
Follow the instructions of the tour guide, because they have experience as well as skills to avoid bad things during the tour.

Please wear suitable clothes, say yes to T-Shirt and shorts, say no to high heels and long dresses. You should also prepare a hat and sunglasses for hot and sunny days.

Protect your phone, jewelry, and wallet in waterproof bags to make sure they can be in a good mood after the tour. 

Make sure you have good health and do not take part in kayaking if you are sick or intoxicated. 

Prepare spare clothes and towels in case you are wet when kayaking.

Never go alone, ask your friends, your lovers, or a tour guide to be your partner. 

Keep a safe and convenient distance between other people on the boat to avoid collisions. 

Save safe tips and advice from people who have ever visited Lan Ha Bay.

Prepare sun cream and some drugs to use in case you get sunstroke.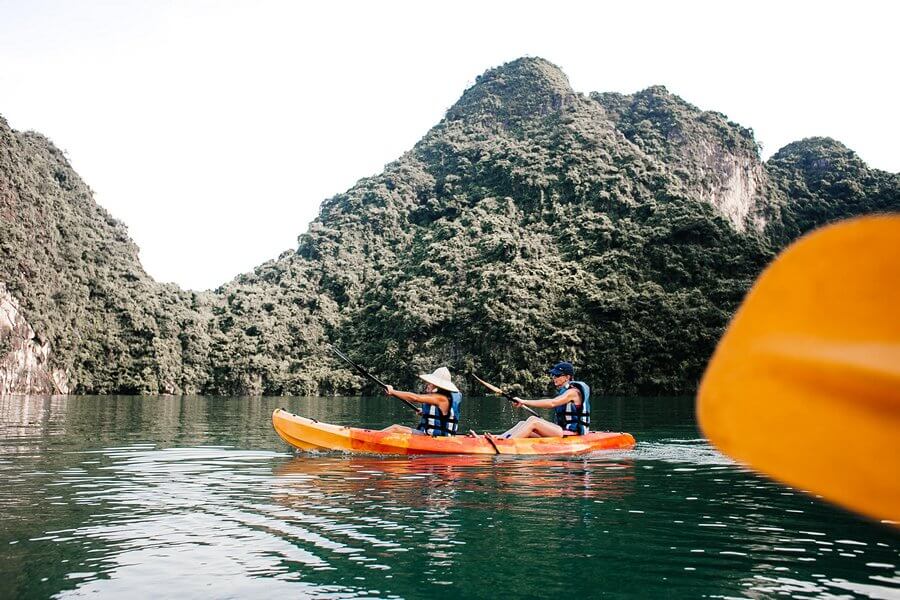 Renting fees for kayaking on Lan Ha Bay
There are two ways for you to enjoy kayaking in Lan Ha Bay, you can rent a boat, or have your name on a package tour. 
Rent a kayak yourself 
On a cruising tour to Lan Ha Bay, you might rent a kayak to paddle by yourself. This gives you a good chance to visit anywhere you want. But you need to know well about safety tips and have kayaking experience. In this case, you can rent for a few hours to visit some hidden gems. 
For a short tour, you can even get enough time to discover many places in this pristine bay. When renting the kayak, make sure to check the quality, and the paddles, the life vests. The fee is about 50.000 VND to 100.000 VND per kayak, but it also depends on the time and the number of people in your group.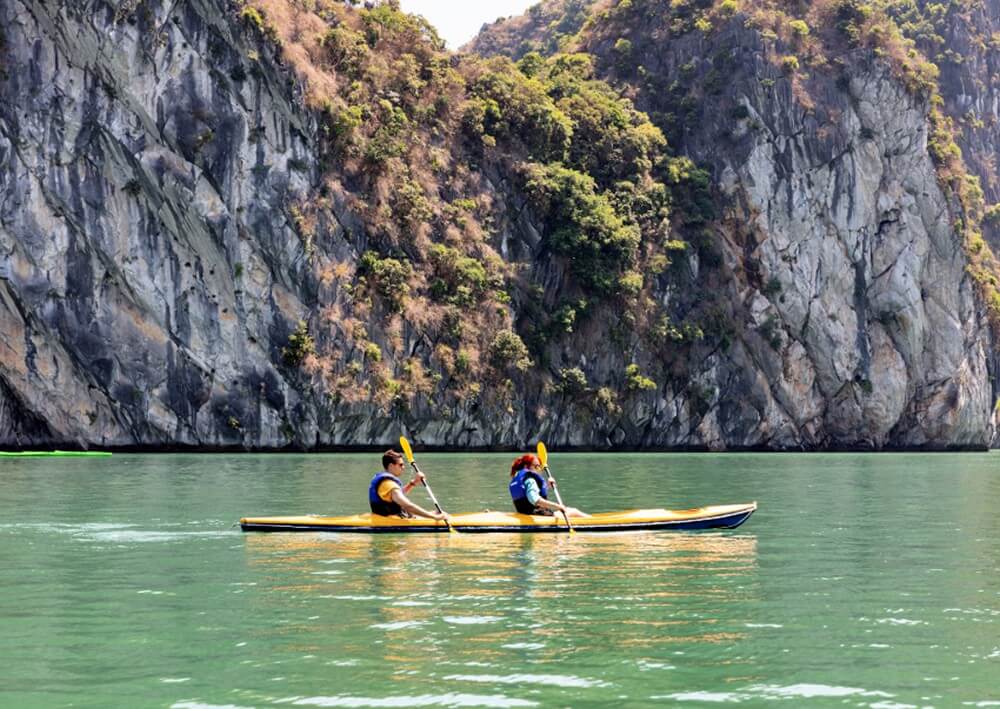 Book a kayaking  tour
This is not a cheap way to save your budget, it may cost from 50$ to 85$ for a 1-day tour for each person. But you can experience good service, and great activities such as diving for coral, swimming, kayaking, etc. The agency also makes sure of your safety and gives the best tour guide to introduce beautiful stops. 
Although Lan Ha Bay kayaking is great, you have to save safe tips when traveling. Please write down our advice and set a good plan, check the weather for your travels. Good luck!
Kayaking photos on Lan Ha Bay
Here are some kayaking photos on Lan Ha Bay cruise, hope this would inspire you to a trip to this watery landscape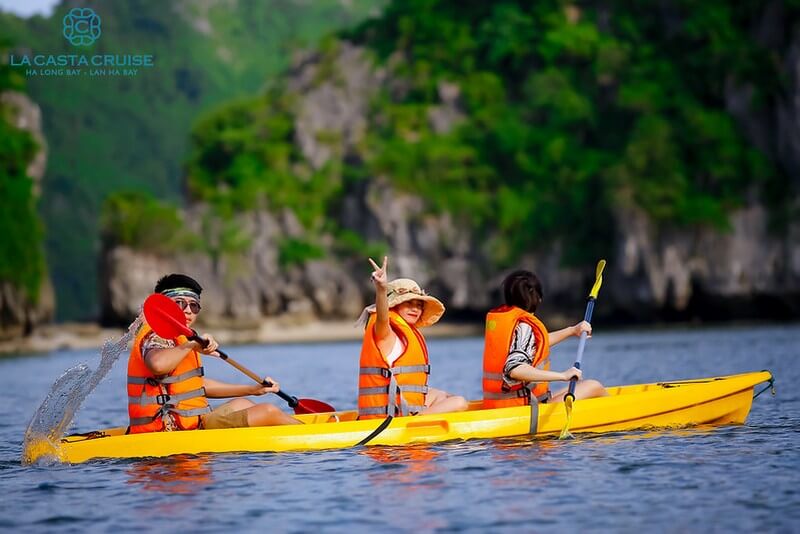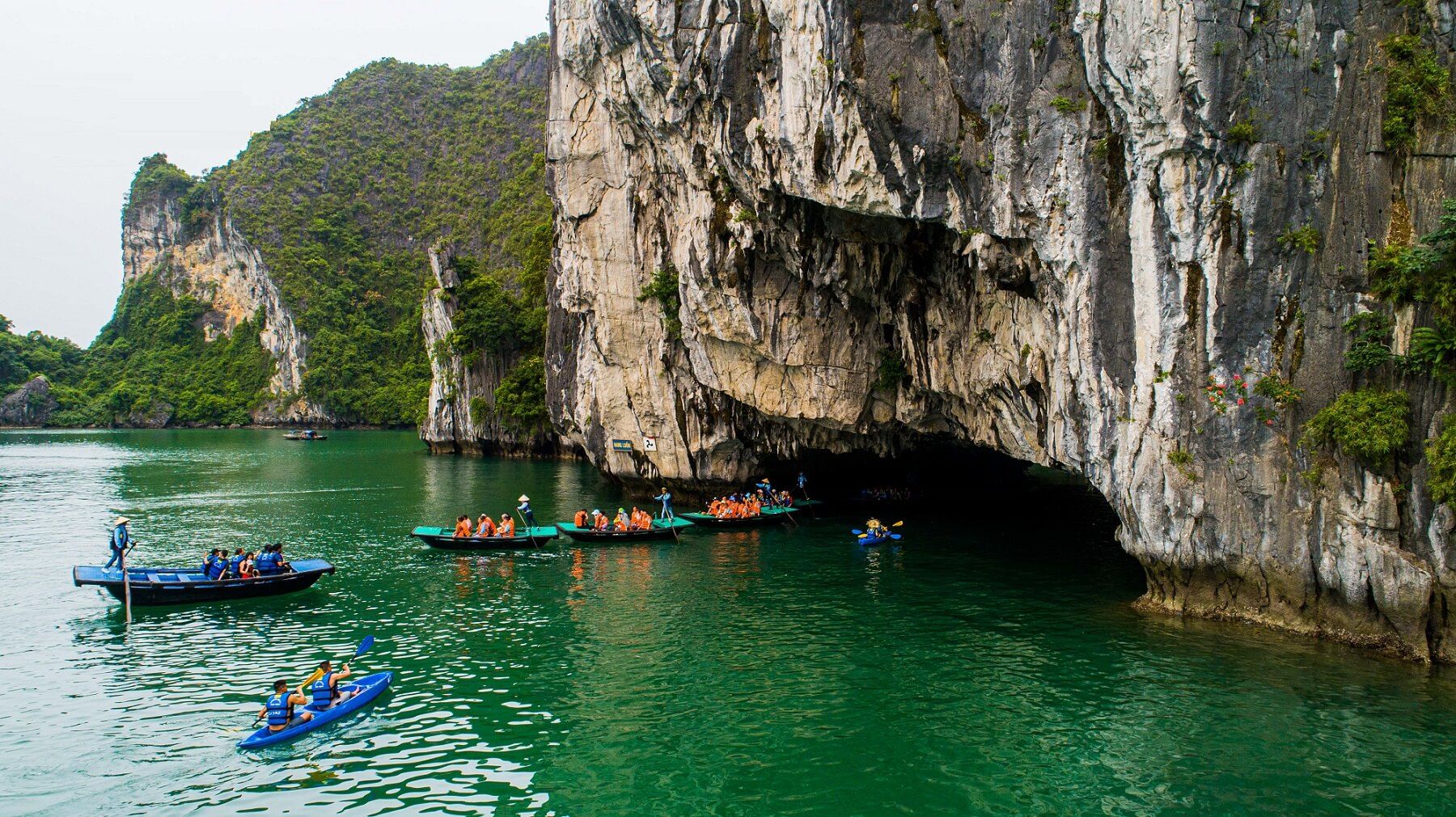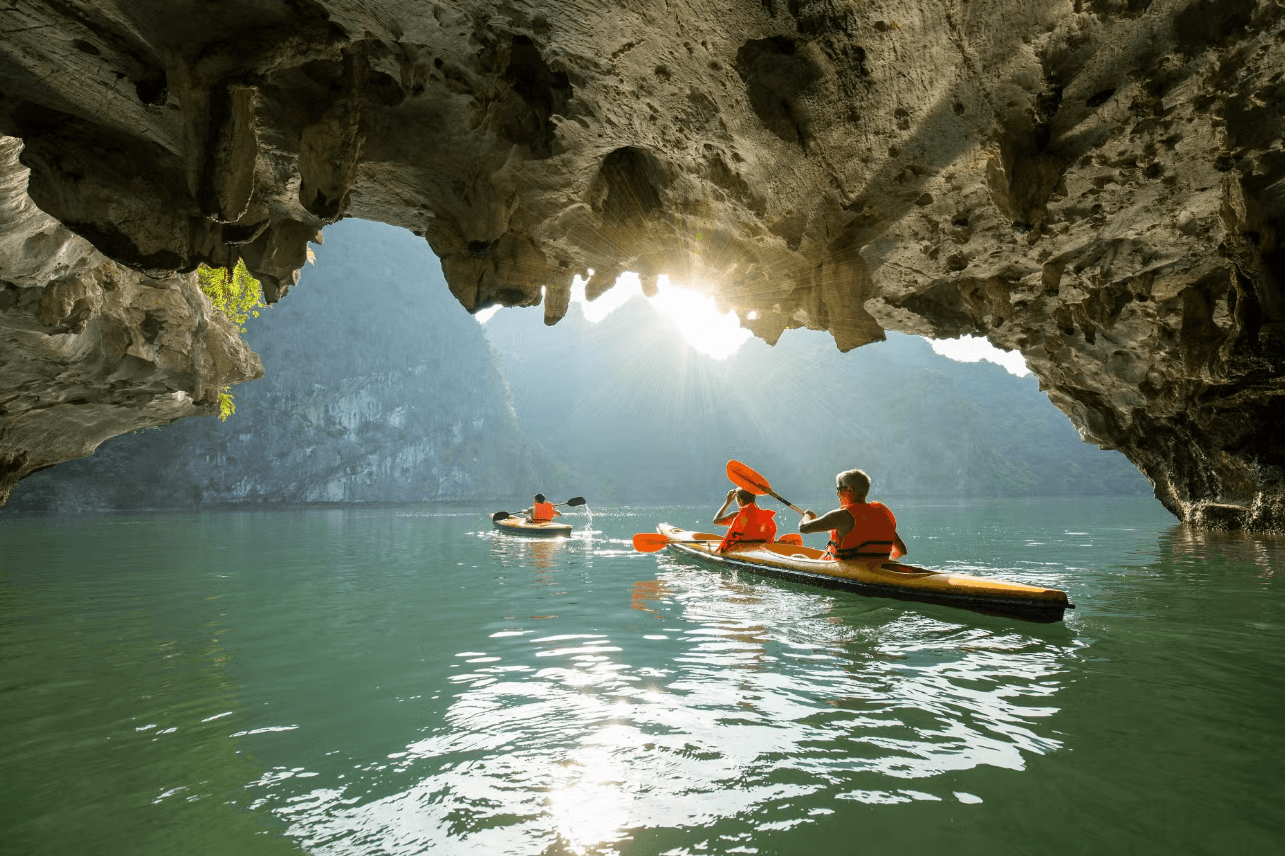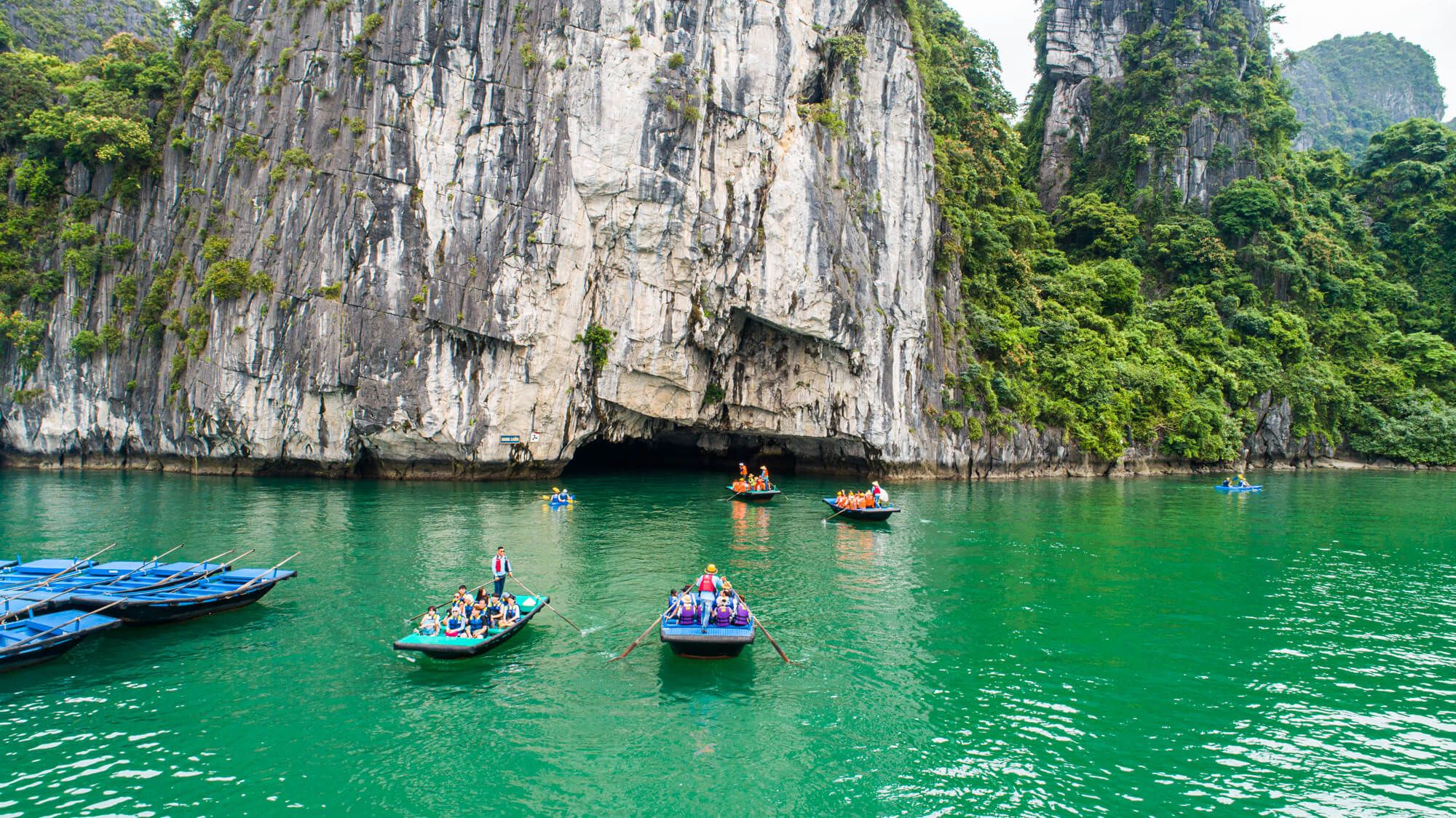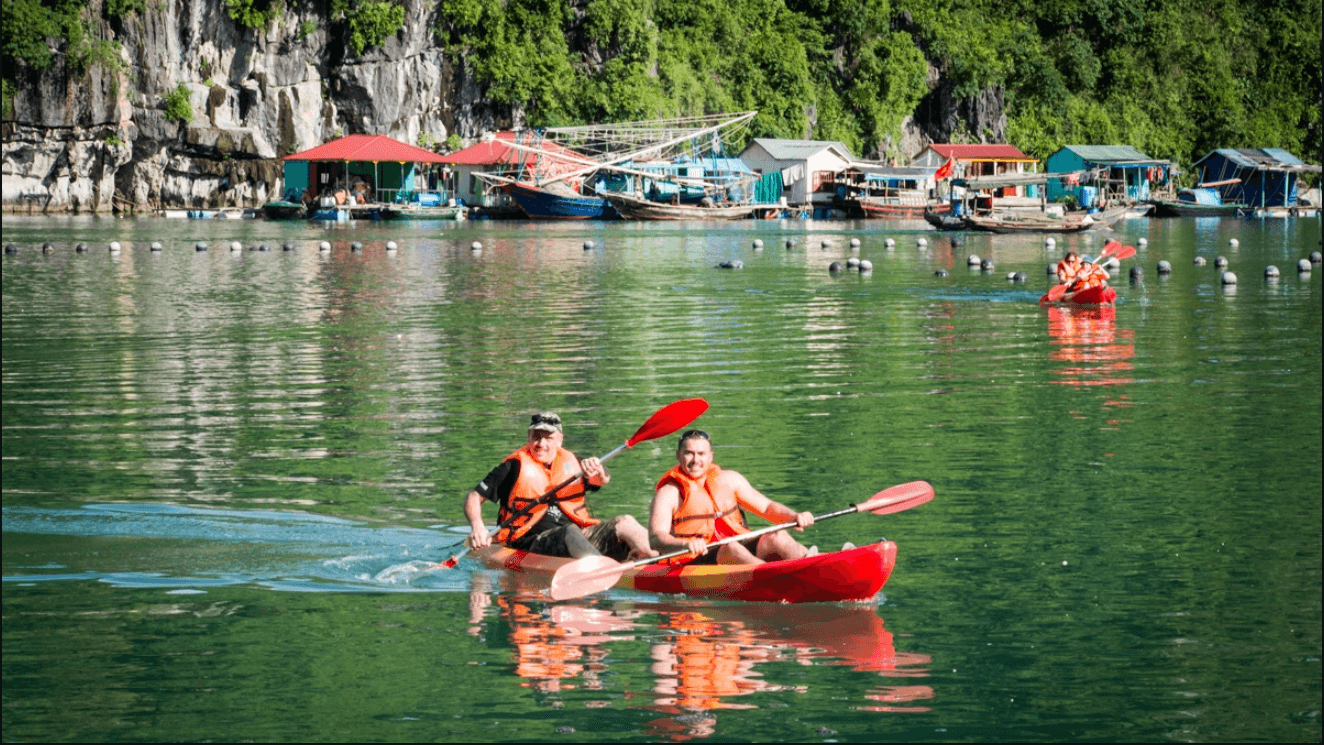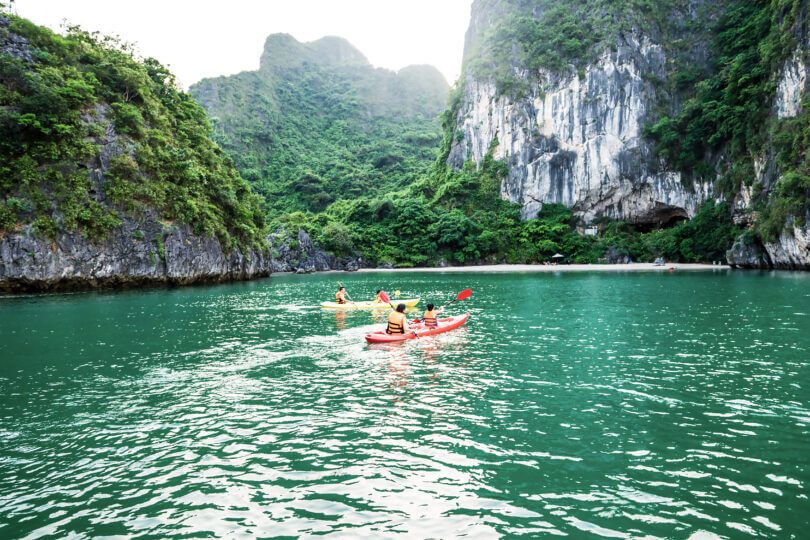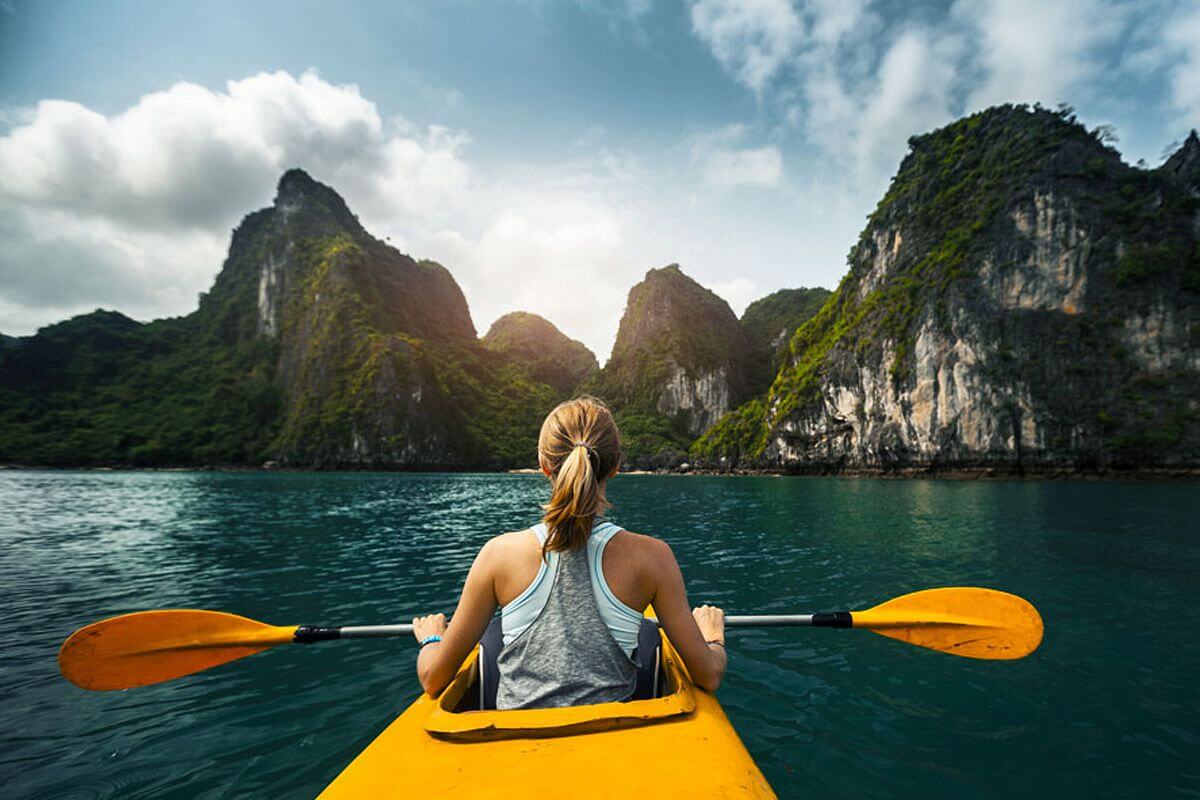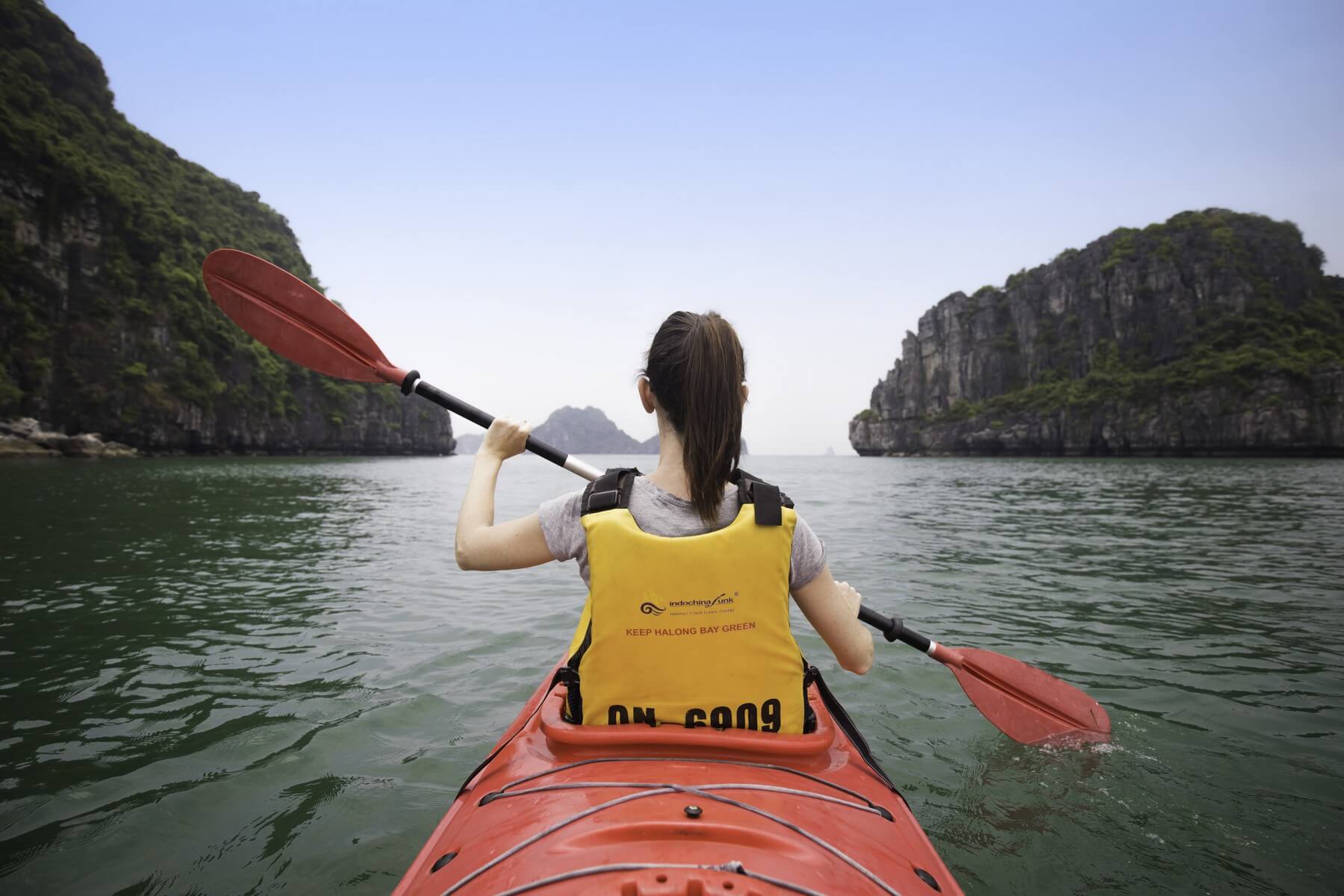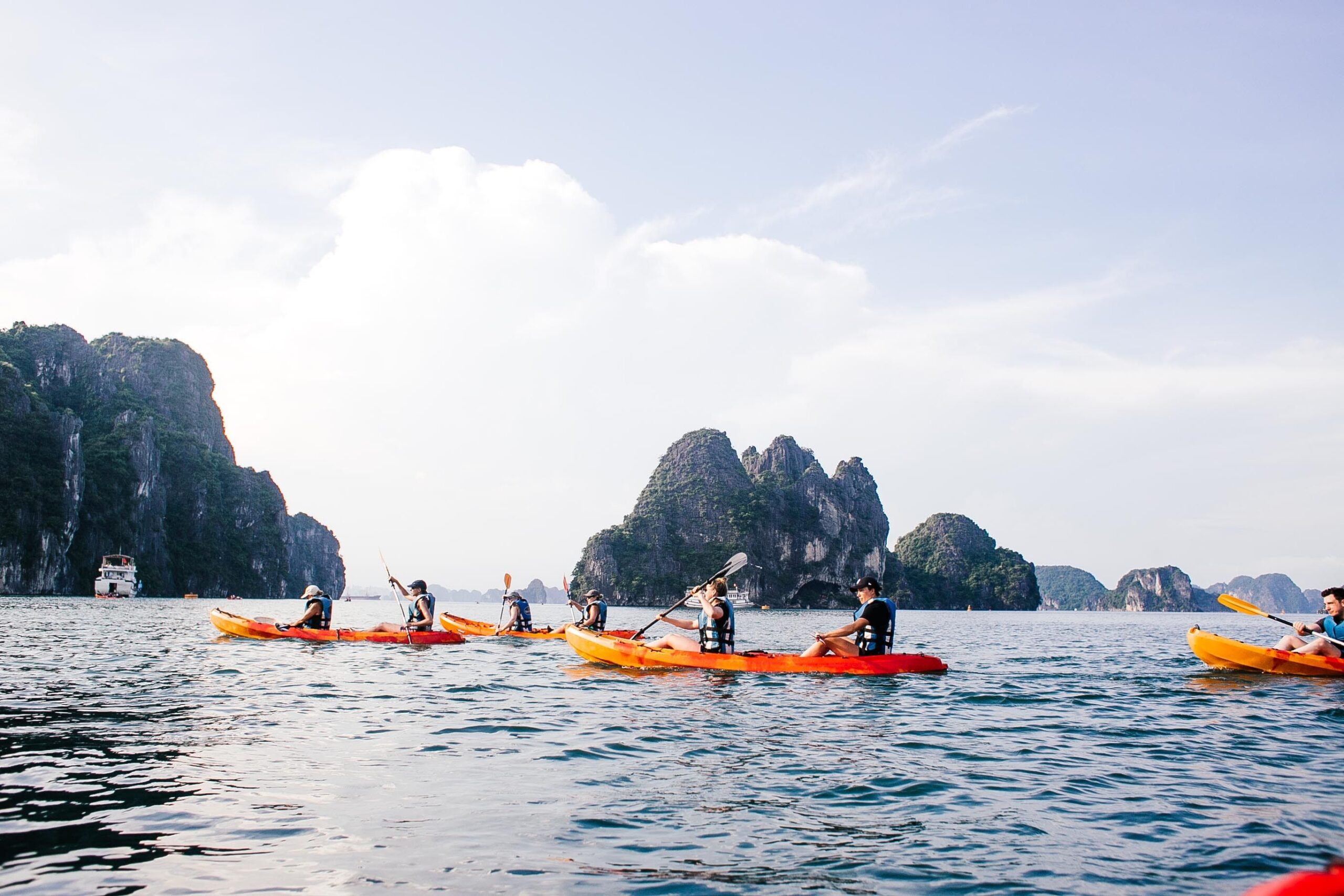 If you are looking for a Lan Ha Bay cruise to experience kayaking in this water paradise, contact Vivu Halong for the best consulting and offers!
VIVU HALONG – Local Cruise Agency, a brand of ONEVIVU TRAVEL & SERVICE COMPANY Co.Ltd