Among the top places to visit in Vietnam, Lan Ha Bay is on top of the best destinations to discover. This includes hundreds of islets as well as limestone sea rocks, which can bring interest for customers to adventure. Lan Ha Bay is not only beautiful with its landscape but also a majestic and pristine place to visit 
Where is Lan Ha Bay?
Lan Ha Bay is a part of Halong Bay in Quang Ninh. It is located to the north of Ha Long Bay, with an area of about 70km2, including 400 limestone islets in different shapes and sizes, with lush green foliage surrounding it. This makes the area so attractive for discovering and voted as the most beautiful place to visit by Thrillist
Although this bay is the smallest bay in the comparison with Halong Bay and Bai Ty Long Bay, it has a lot of beautiful attractions. This is among the best attractive spots to visit for a holiday in Ha Long. Some may think that Lan Ha Bay is just a part of Halong Bay, but it is not. 
The two bays have many jaw-dropping towering kart outcrops but they are different. Halong Bay is very crowded while Lan Ha Bay is still a wild destination for many foreigners in the world. It owns many hidden gems, with isolated destinations to discover for a tour.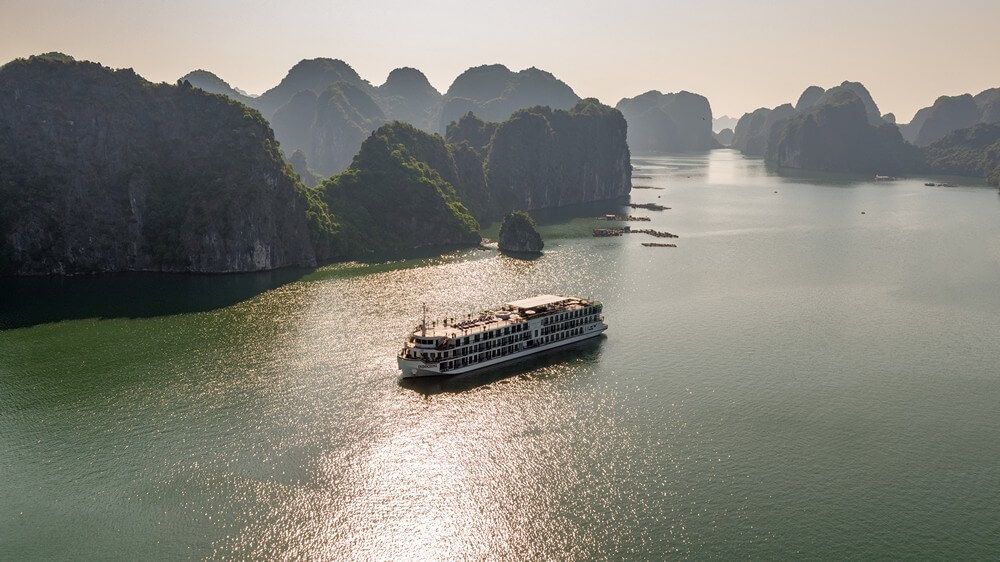 Things to do 
There is a long list of must-do-thing in Lan Ha Bay. You can spend time kayaking, visiting caves, discovering villages as well as swimming on private beaches. 
Kayaking

: Ba Trai Dao, Cai Beo village, or Monkey Island is the most suggested place for any who likes to enjoy kayaking in Lan Ha Bay. The water is clean and the weather is great with a cool wind, very suitable for you to kayak.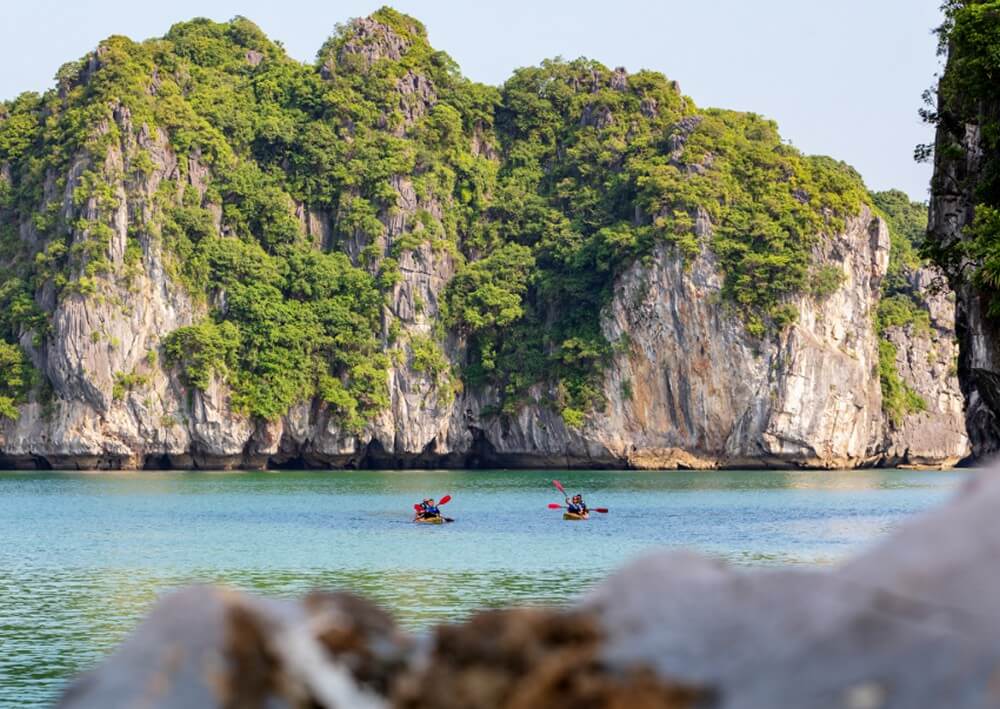 Visit caves on a bamboo boat

: Luon cave is very famous among tourists, and you can rent a bamboo boat with a local to get to the cave on the holiday. You can also visit Bright and Dark cave, which is very special and you can just discover it with a small boat.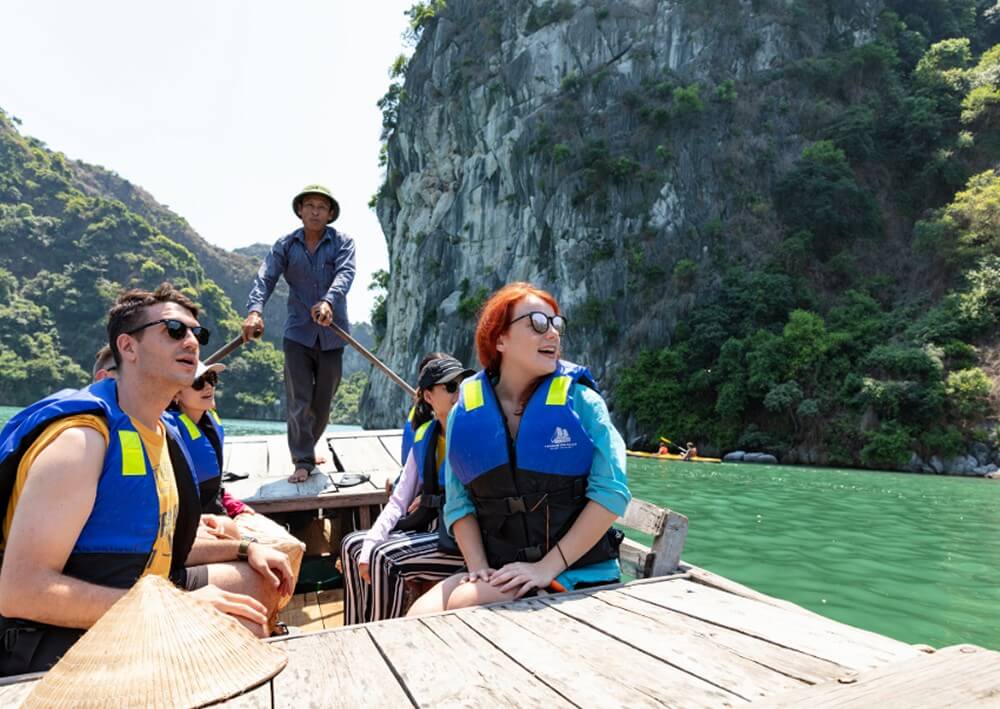 Cycling on Cat Ba island

: Cat Ba island owns beautiful roads for you to discover by cycling around the village. There are many for-rent-bicycle shops to get in. If cycling on Cat Ba island, you can enjoy the sunsets as well as explore many jungles and caves.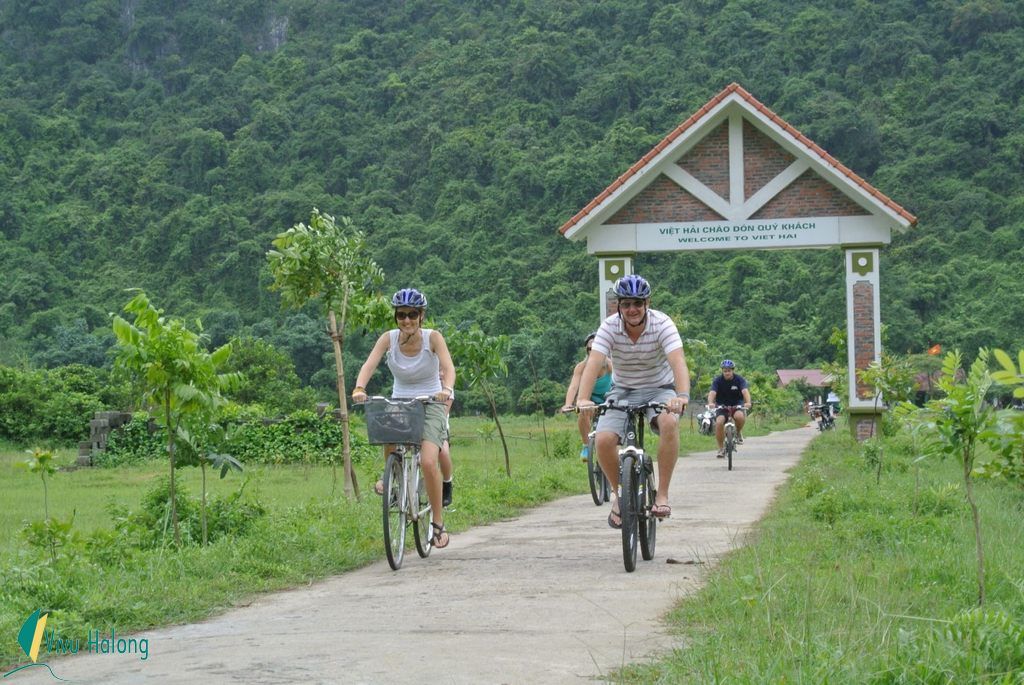 Visit floating villages

: one of the most attractive experiences in Lan Ha Bay is to visit floating villages. This is where you can find many amazing things with local people, and understand more about daily life. Cai Beo is a good stop to visit during the tour.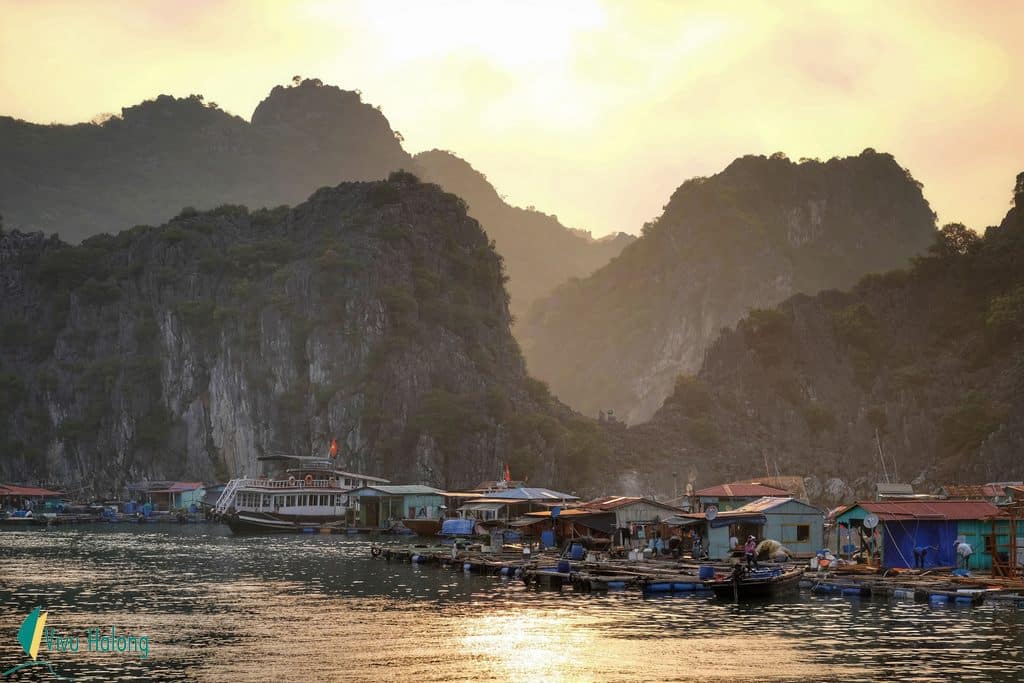 Rock climbing

: you can book a half-day or full-day rock climbing tour and enjoy this activity with help from many agencies. The best place for rock climbing is Monkey Island.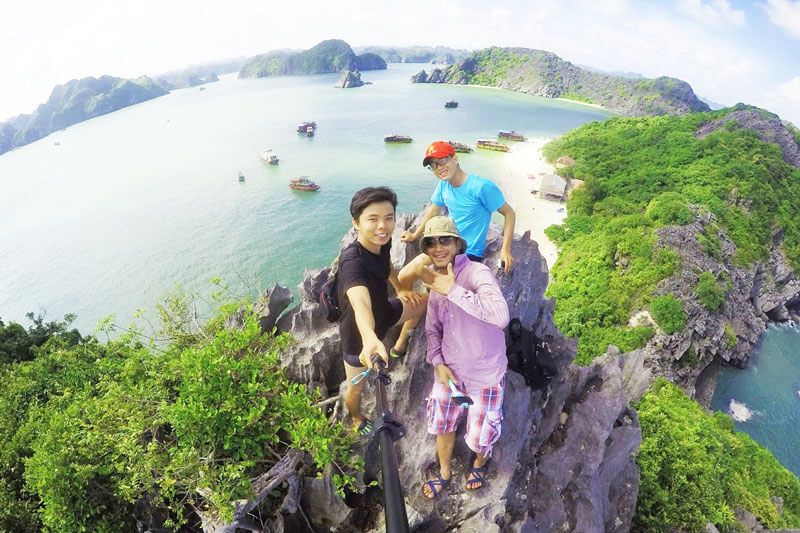 Private sandy beaches

: discovering private beaches and enjoying swimming, and diving is great. You can also take part in many activities such as beach football or volleyball. Some private beaches you can discover are Van Boi and Ba Trai Dao.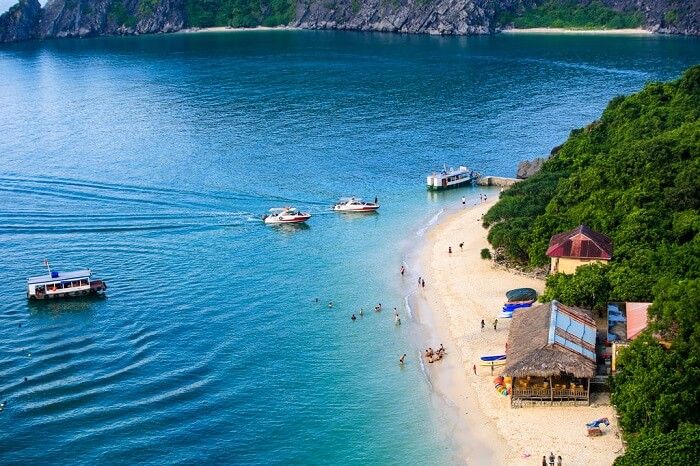 Attractions to visit
For tourists who first come to visit Lan Hay Bay, we highly recommend you to adventure through these great destinations. For sure, you can have wonderful moments and unforgettable experiences in life.  
Cat Ba island

: this is the largest island in Cat Ba Archipelago, with great landscape and beautiful views for check-in, as well as caves to discover. Let's visit Cat Ba National Park, a UNESCO world biosphere reserve, where you can find animals, do great things and take a lot of photos.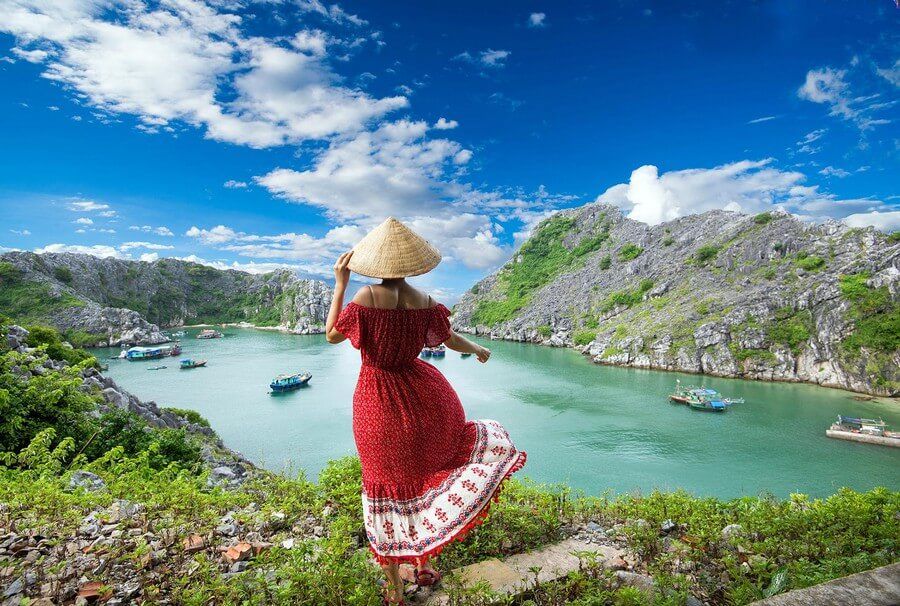 Viet Hai village (on Cat Ba island)

: this is a local village where you can come to know more about the culture of the local people. Viet Hai Village is a must-visit place in the itineraries of many Lan Ha Bay tours.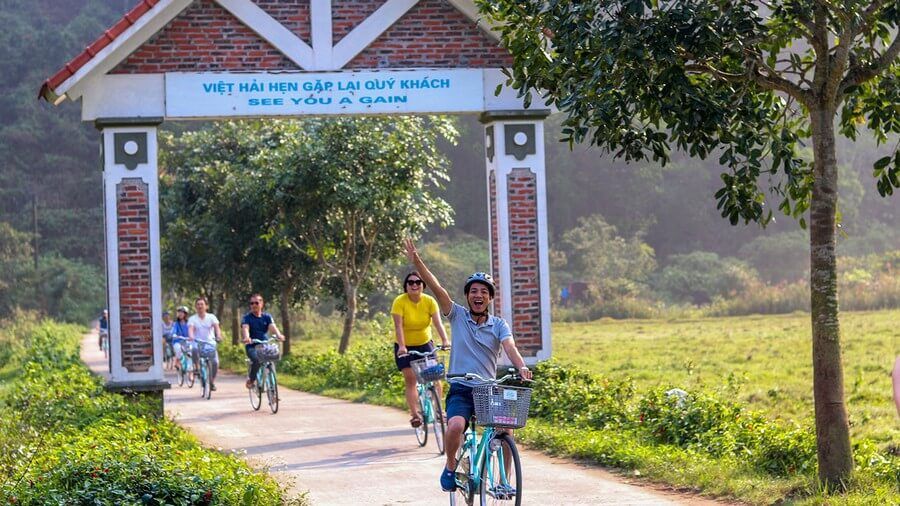 Bright & Dark cave

: The cave is famous for its name, including Dark cave and Bright cave. The Dark one is small, 100m long, and very dark; vice versa, the Bright one is bigger, 100m long, 4m wide, and 3m in height.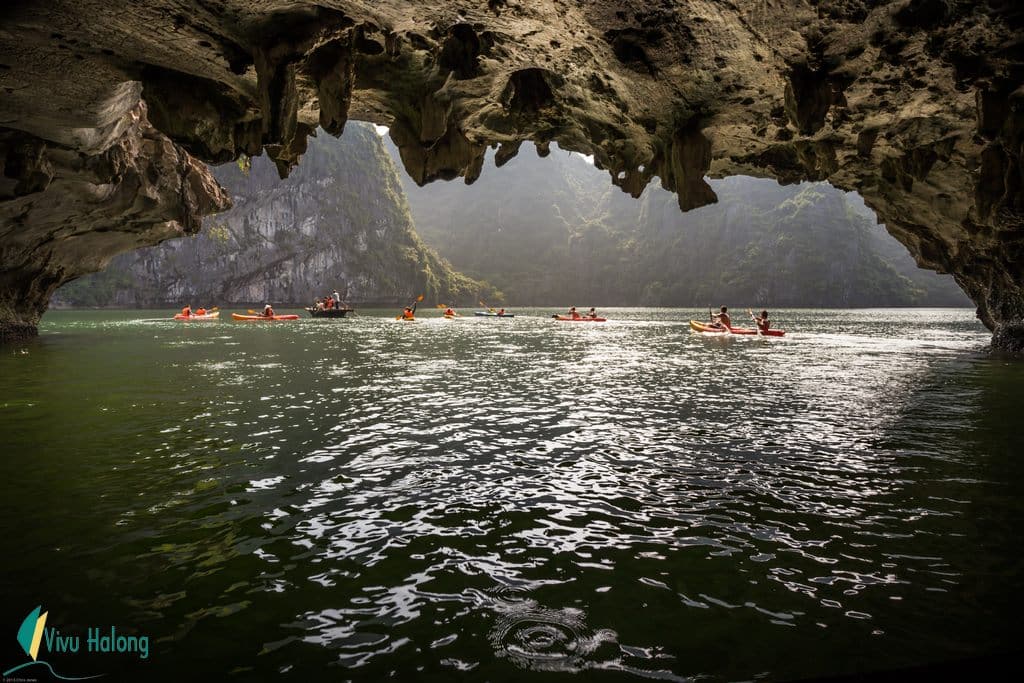 Tra Bau, Ao Ech (kayaking)

: these two places are good places for kayaking with clean and cool water.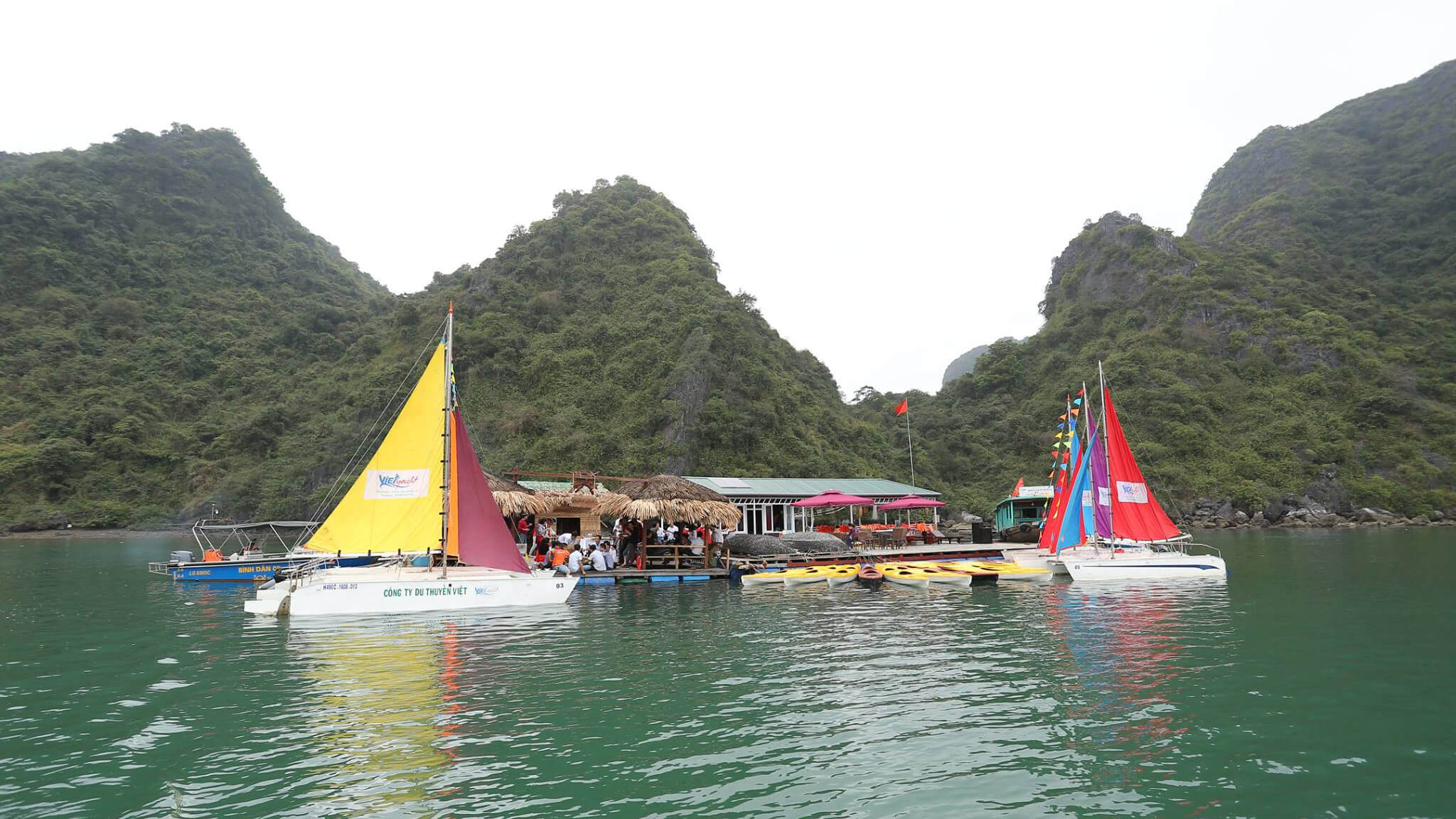 Beaches

: Some private beaches in Lan Ha Bay can give tourists great moments. You can discover Ba Trai Dao or Van Boi beach, to spend time swimming, diving or playing beach football, or beach volleyball.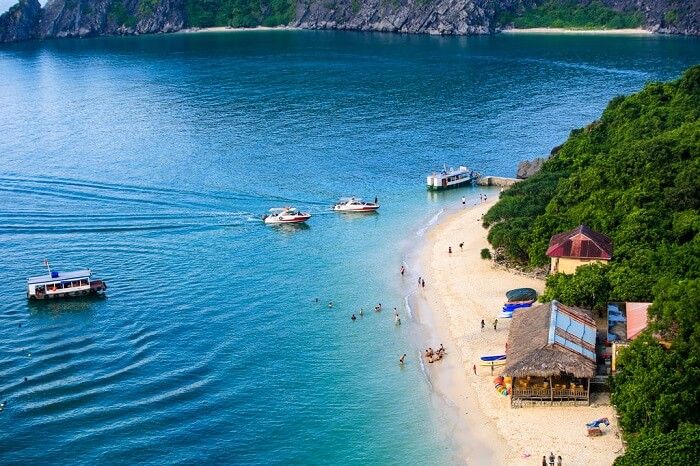 Island (Monkey island, Nam Cat island)

: Visiting islands in Lan Ha Bay is a good experience. You can spend time on Monkey Island and Nam Cat island during the holiday. Monkey island gives the best view of Lan ha Bay, and Nam Cat island is a destination for visitors who like wilderness.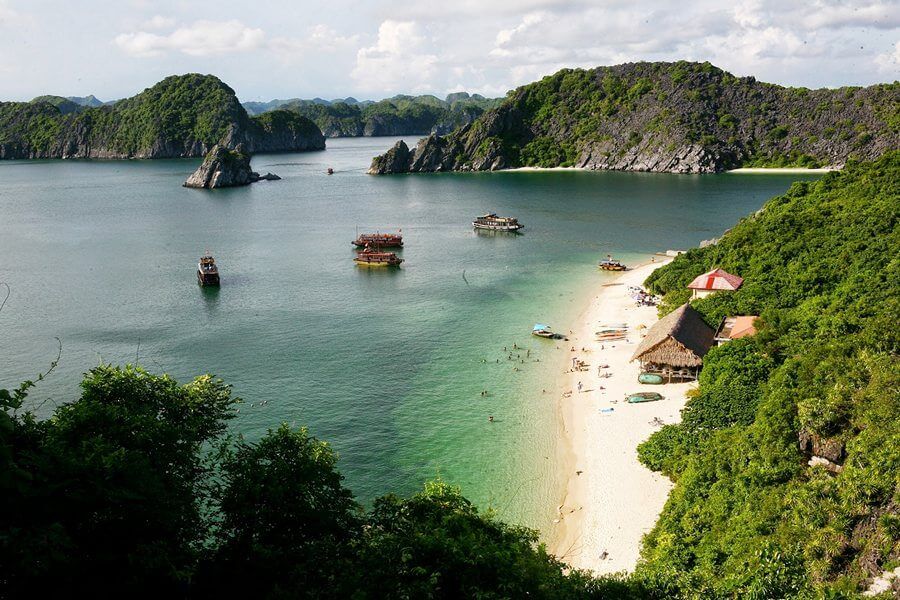 Weather 
Before visiting any place, people often care a lot about the weather. If you want to have a holiday in Lan Ha Bay in the coming months, this is what you need to notice before traveling.
Weather in Lan Ha Bay

: The place can be visited all year round. That is why many visitors can discover the area anytime in the four seasons. The climate is a bit humid subtropical, and dry in the winter. The highest temperature is about 30 C degrees and Lan Ha Bay is not under 15 C degrees in the cold winter. The coldest month is January and the driest month is February. July is known as the hottest and has the most rainfall in the year. 
Best time to visit

: March to June or October to November are great times to visit Lan Ha Bay in Vietnam. The weather during these months is sunny, not too hot and not too cold for traveling. Some want to spend their holiday after July to save money ( this time is not the peak season), but many typhoons can occur, unfortunately. So you should ask the tour guide carefully before the trip. 
How to visit?
There are two ways for visitors to get to Lan Ha Bay. You can use a daily boat from Ben Beo, or be a member on a night ship from Tuan Chau Harbour. 
Day boat tour from Ben Beo (Cat Ba island, Hai Phong) or Tuan Chau island (Halong)

: This way can save you some money, and you can easily visit the area in the daytime. From Hanoi, you can choose to move in a private car, a limousine, or a shuttle bus to get to Cat Ba Town. After that, you can buy a ticket for the cruise to Lan Hay Bay from Got Pier. The time for traveling is about 2 hours.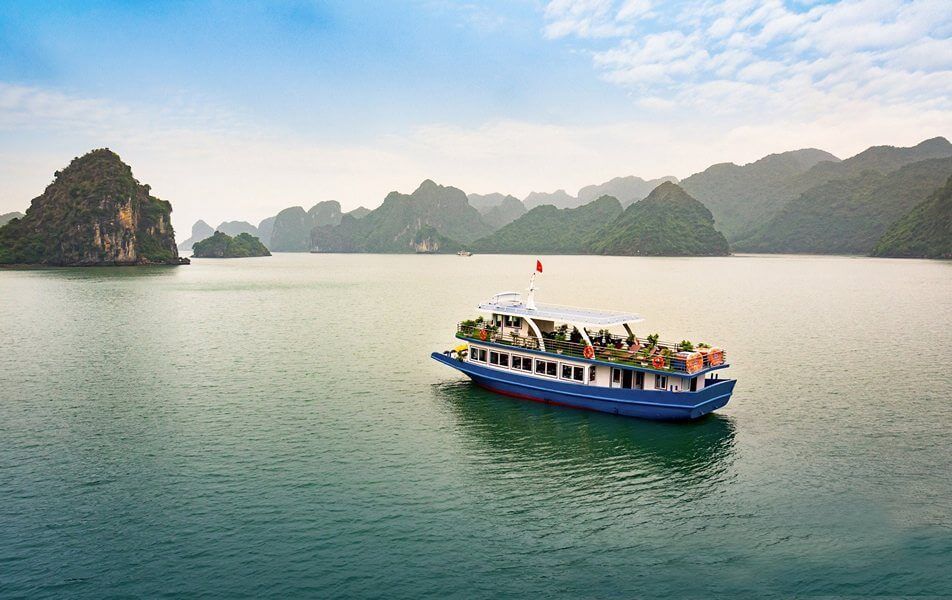 Overnight cruise from Tuan Chau (Halong)

: this method may cost a lot of money, but the service is great and you can spend time enjoying the beauty of Halong Bay at night. Visitors can enjoy squid fishing at midnight, seeing stars in the sky, taking part in cooking classes, and immersing themselves in the cool wind and nature. There are many cruises to choose from, ranging from 3-star, 4-star, and 5-star ones, with various services. 
Lan Ha Bay Vietnam is home to Cat Ba island, with many other great villages and beaches such as Viet Hai, Cai Beo, Tra Bau, and Three Peach. We hope that you can spend a lot of time discovering the wildness and the beauty of nature in this area.