Hoa Lu – Tam Coc Day Tour (From Hanoi)
Gọi ngay để được tư vấn
0789 455 888
0789 455 888
Send your request Vivu Halong sẽ liên hệ bạn
>> Tour price: 39 USD/ person
Shuttle bus transfer Hanoi – Ninh Binh
Boat trip in Tam Coc
Hoa Lu ancient capital visit
Buffet lunch at a local restaurant
All entrance fees & ticket
Giới thiệu
The day tour to Hoa Lu and Tam Coc (Ninh Binh) offers you the highlight of cultural relics and natural landscape of Ninh Binh. Departing in the early morning from Hanoi, heading to Ninh Binh, you will learn more about history, culture and local life of Northern countryside. Visit Hoa Lu, the ancient capital of Vietnam in the 10th century, take a short walk to Kinh Dinh and Kinh Le temple while Tam Coc (3 caves) features natural karst formation and caves on sampan boats by locals.
HIGHLIGHTS
Visit ancient capital Hoa Lu (10th and 11th century)
Visit King Dinh and Le temples.
Enjoy the Vietnamese buffet lunch
Cycle to the local villages and countryside of Ninh Binh.
Take a sampan boat trip in Tam Coc, limestone karsts, caves and rice fields on the river.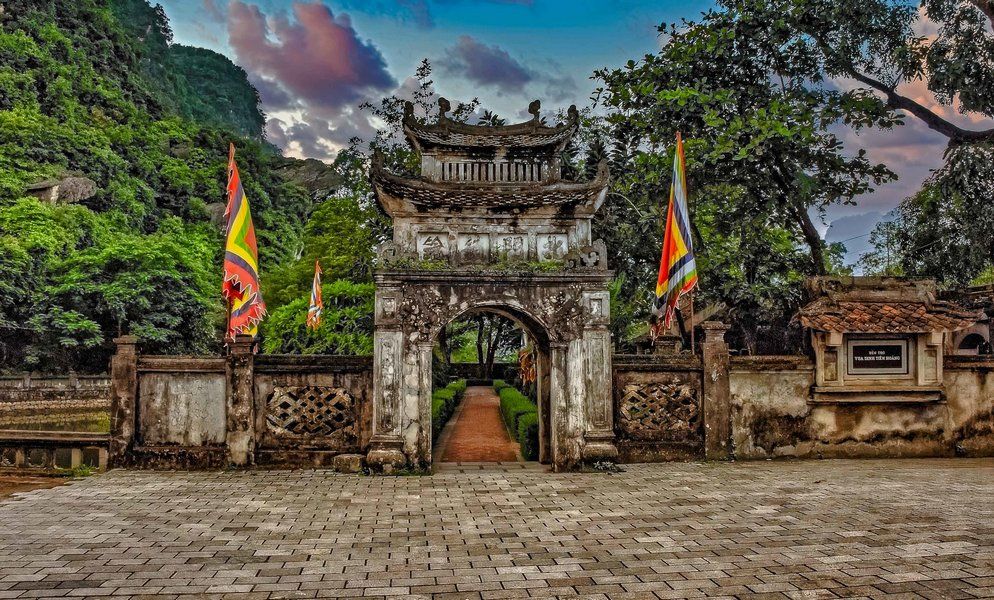 HANOI - NINH BINH - HOA LU - TAM COC
7.30 – 8.00: Shuttle bus pick up at the hotel in Hanoi Old Quarter, heading to Ninh Binh with a short break on the halfway.
10:15  Arrive at Hoa Lu ancient capital, visit the Temples of the Dinh & Le Dynasties, the last remaining structures from the 10th-century capital, learn about the history and cultural life of Vietnam.
12:00 Have buffet lunch at a local restaurant
13:30  Take a sampan boat trip in Tam Coc, passing through three enormous caves on the Ngo Dong river (named: Hang Ca, Hang Hai & Hang Ba) and the limestone karst formation on the water. In the harvest season, there would be amazing rice fields on the banks of the river (in the harvest season)
Optional:  Cycling through the rice fields and local villages nearby
16:00 Leave Tam Coc and get on the shuttle bus back to Hanoi
18:30 Arrive in Hanoi. Tour ends.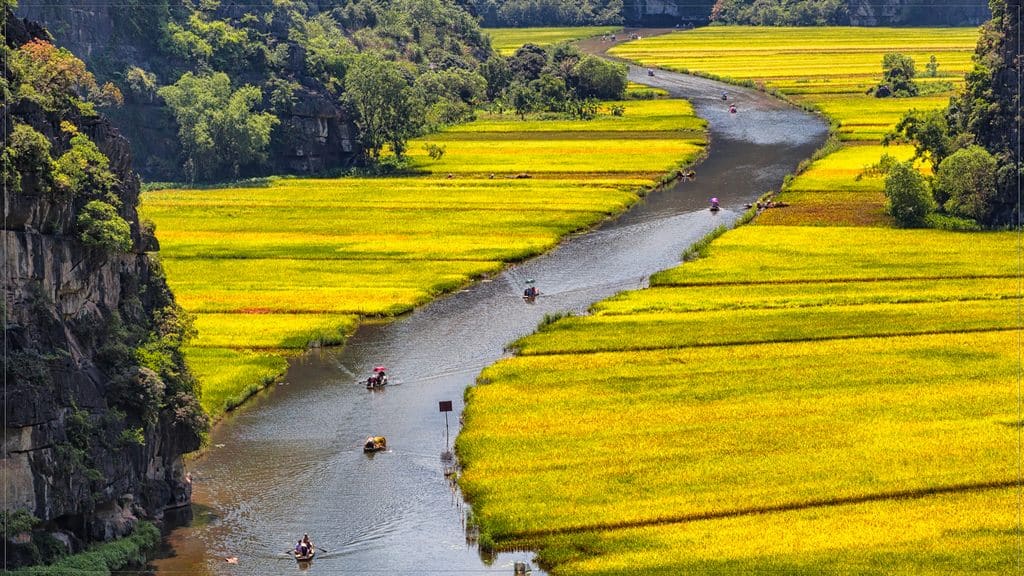 Reviews from customers from TripAdvisor 
Beautiful scenery
Hoa Lu temples are okay but Tam Coc is really nice. The scenery is gorgeous with the round trip boat ride. It was a long boat ride under the hot sun (about 1.5 hours) but it was worth it. We could go through the cave and see the stalagmites. A memorable experience. We skipped the bike riding as we couldn't bear the heat.
Relaxing and beautiful boat ride in Ninh Binh
Relax while enjoying the beautiful scenery all around you. This 2-hour boat ride is just amazing, passing through Grottoes, rice paddies and rocks covered in vegetation. The ride is smooth with only the sounds of the oars hitting the water gently. There was a water market at one end and we were advised not to buy anything. Also at the end of the tour, you are expected to tip. Several rowers hassled people that the tip was not enough, stick to what you want, it is voluntary.
Breathtaking Nature
Physically demanding yet spiritually uplifting. Once you lay eyes on those beautiful sceneries, all those aches will vanish into thin air. Don't you dare leave Vietnam without cycling and rowing in Hoa Lu Tam Coc, Ninh Binh.
It's a MUST VISIT!
A fantastic day tour incorporating a tour of the old capital city followed by a bike ride and a relaxing boat journey through some breathtaking scenery. Recommended to anyone wanting a relaxing day.
The tour guide was interesting and knowledgeable and spoke good English. The coach trip from Hanoi was interesting in the Hanoi traffic!
Lunch was a buffet which catered for all types of meals
INCLUSION AND TERMS
INCLUSION
Buffet lunch with Vietnamese food.
Shuttle bus with pick-up and drop off at hotels in Hanoi Old Quarter.
Boat trip on Ngo Dong River rowing by local people
Bicycle ride
English Speaking Tour Guide
All entrance and sightseeing fees
All taxes & services charge.
EXCLUSION
Beverages and other meals do not indicate in the program.
Travel insurance
Personal expenses
Tipping/ Gratuities
WHAT TO BRING
Long sleeve clothes
Hat or umbrella
Sun cream
Sunglasses
---
---
---