Visit Halong Bay for a cruise and then transfer to Ninh Binh for a more exciting experience is a great trip combination. The transfer from Halong Bay to Ninh Binh now could be easily managed by private car or shuttle bus. Let's check the rate, schedule, and details of this transfer
The distance between Halong Bay to Ninh Binh: 170 km
Transfer time: 3:30 hours
Route: Halong city – Hai Phong (via Expressway 5B) – Nam Dinh – Ninh Binh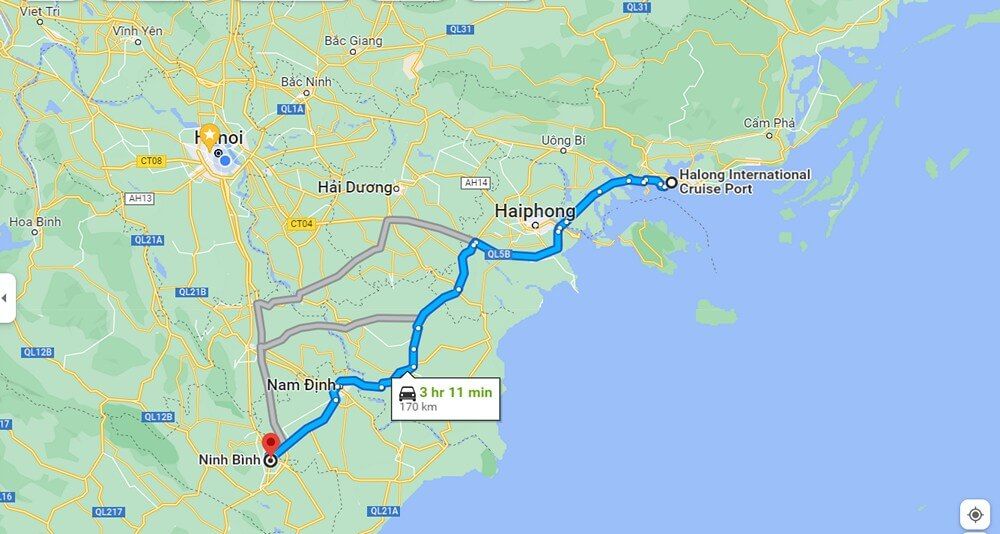 Vivu Halong is the #1 local travel agency specializing in tours, cruises, and transfers in Halong Bay and Ninh Binh, you can easily find our service with listed prices and detailed information.
Private car transfer from Halong Bay to Ninh Binh 
The private car is the most convenient transfer for you from Halong Bay to Ninh Binh. Just rent a car with pick up at your hotels or at the harbor in Halong city, you might take your own time to relax during the 3.5-hour transfer to Ninh Binh, and get dropped off at your hotels in Ninh Binh ( at the different tourist areas of Tam Coc, Hang Mua, Trang An…). The private car transfer is recommended for a family or a group for the best convenience.
The rate for private car transfer between Halong Bay and Ninh Binh for different types of cars: (4-seater, 7-seater, 9-seat limousine, and 16-seat van), one way from Halong Bay to Ninh Binh  or vice versa
The rate includes all fees and expenses:
| | | | |
| --- | --- | --- | --- |
| 4 seater car | 7 seater car | 16 seater car | Limousine van (9 seats) |
| 1.900.000đ | 2.100.000đ | 3.200.000đ | 3.200.000đ |
Book the car: WhatsApp: +84.789.455.888
         >> Need a transfer from Hanoi to Halong Bay: Click here
Driver Language
The driver can handle basic conversation in English / Vietnamese (English support via Phone / Whatsapp / Line by our operators at the office)
Pick up and drop off
Pick up at hotels in Halong city, cruise harbor (Tuan Chau harbor, Halong Habour…)  
Drop off at your hotels in Ninh Binh city, Tam Coc, Hang Mua, Trang An, Bai Dinh… 
Vehicle Options
4-seater car (Sedan)
Maximum of a group of 3 pax
Maximum of 3 medium-sized luggage
Model: Toyota Vios, Kia K3, Mazda 2, Mazda 3
7-seater car (SUV)
Maximum of a group of 5 pax
Maximum of 5 medium-sized luggage
Model: Toyota Inova, Toyota Fortuner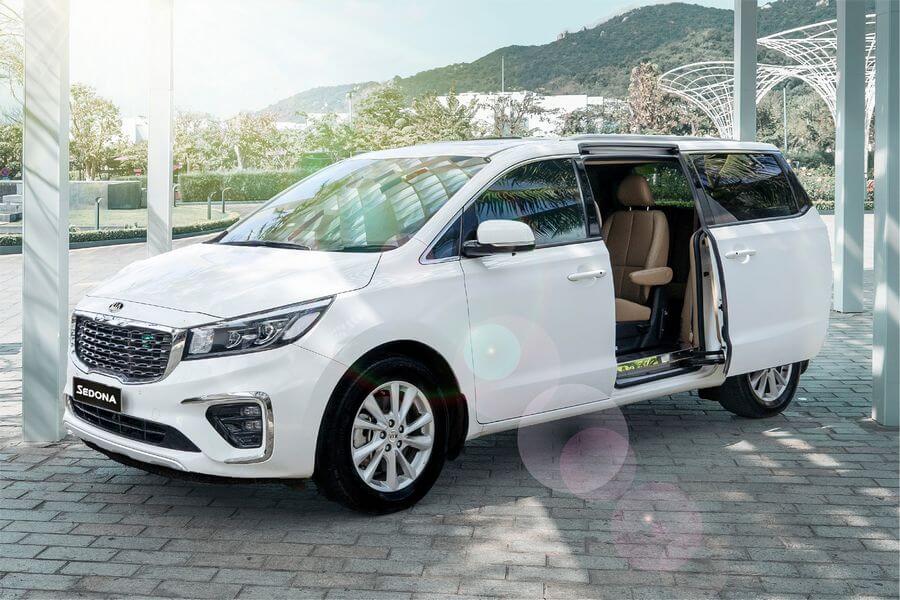 16-seater van
Maximum of a group of 12 pax
Maximum of 10 medium-sized luggage
Model of Car: Fort Transit, Hyundai Solati
9-seat Limousine van
Maximum of a group of 8 pax
Maximum of 10 medium-sized luggage
9-seat limousine van transfer
9-seater limousine van transfer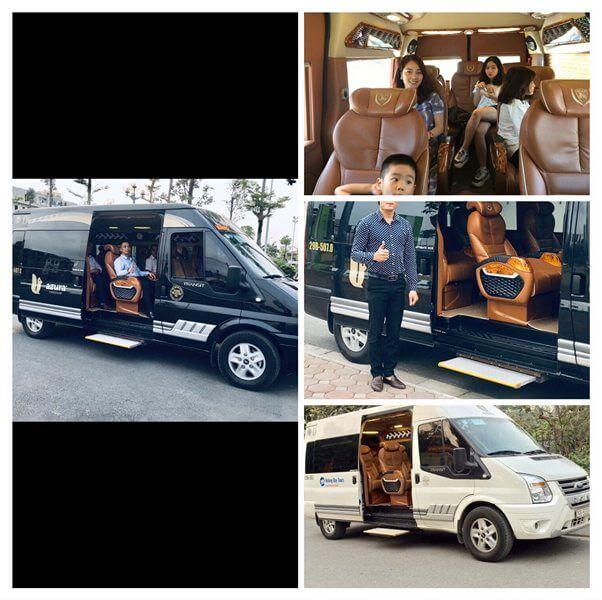 Shuttle bus Halong Bay – Ninh Binh, daily departure
Route: Halong city – Hai Phong (via Expressway 5B) – Nam Dinh – Ninh Binh
Distance: 170km
Travel time: 3.5 hours
Vehicle type: Limousine van (9 seats) & tourist bus (16 seats)
Rate: 300.000đ – 450.000đ/pax
| | | | | |
| --- | --- | --- | --- | --- |
| Shuttle bus  | Departure time  | Transfer time  | Rate  | Type of bus  |
| Ninh Binh – Halong Bay | 7:30, 8:30, 9:30 – 10:30, 12:30,  13:30,  14:30, 15:30, 16:30,  17:30 | 3.5 hours | 400.000đ/pax | Limousine van (9 seats & 16 seats) |
| Ninh Binh – Halong Bay | 07:00 | 4 hours | 300.000đ/pax | Tourist bus (35 seats) |
| Halong Bay – Ninh Binh | 6:00 – 7:00 – 8:00 – 9:00 – 10:00 – 12:30 – 14:00 – 15:00 – 16:00 – 17:00 | 3.5 hours | 400.000đ/pax | Limousine van (9 seats & 16 seats) |
| Halong Bay – Ninh Binh | 12:00 | 4 hours | 300.000đ/pax | Tourist bus (35 seats) |
> Book the ticket: WhatsApp: +84.789.455.888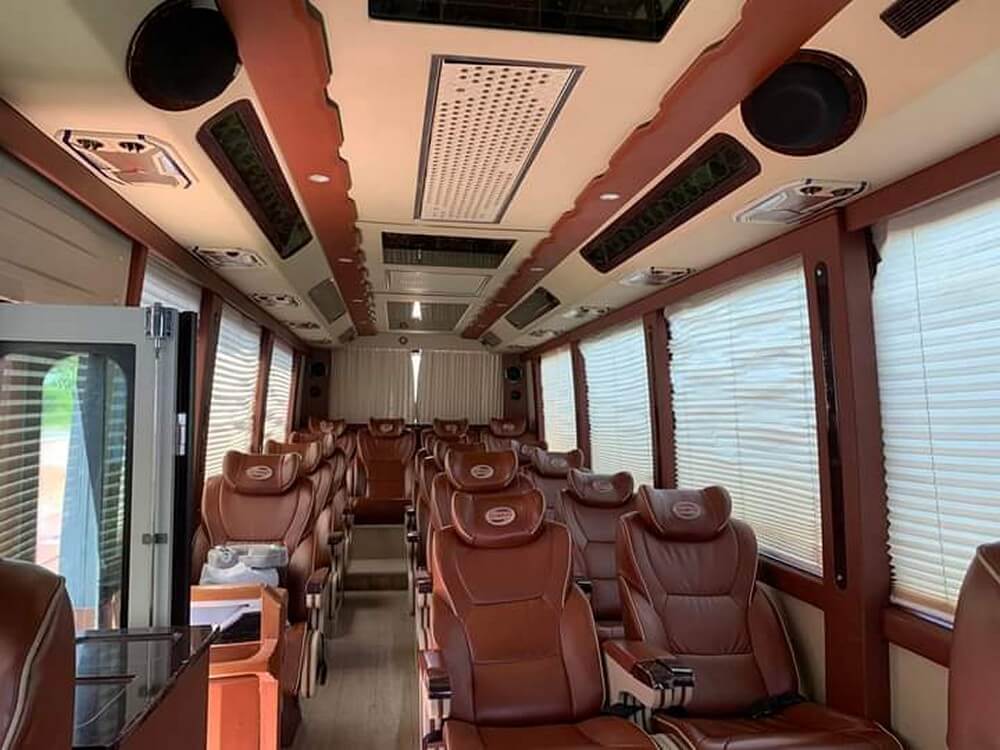 Pick up & Drop off at Halong: 
Hotels in Halong city (Bai Chay, Hon Gai)
Cruise habor: Tuan Chau habour, Halong habour
Pick up and Drop off at Ninh Binh 
Hotels in Ninh Binh city
Tam Coc area
Extra fee applied for drop off at Hang Mua, Trang An…
Hope these information help you to plan your transfer from Halong Bay to Ninh Binh, and enjoy the best trip. For ticket booking and trip planning, please send us your request to vivuhalong@gmail.com or WhatsApp: +84.789.455.888