Ha Long is famous as a paradise to visit and relax. In addition to enjoying typical seafood dishes, you can easily find a small corner to enjoy a cup of coffee and watch the sea. Each cafe has its flavor that is very unique. 
Vivu Ha Long will recommend you the famous cafes in Ha Long city which are highly appreciated by locals and tourists. 
Sky Bar
: great cafe, beautiful view
Address: 16th Floor, Royal Lotus Hotel Ha Long – Dong Hung Thang – Ha Long (direction)

Opening hours: 4:00 pm – 11:00 pm

Reference price: from 40,000 VND or more
Sky Bar locates on the 16th floor of the Royal Lotus Hotel. Because of this height, Sky Bar is considered one of the cafes which has the most beautiful and luxurious view in Ha Long. From here, you can take your eyes away, covering the whole scene and the city space.
 Sky Bar's drinks price is slightly higher than other cafes, but the quality is outstanding. The bar has a unique design concept, attentive and professional staff. Enjoy tasty drinks and luxurious space. This amount is worth it.
Unlike other cafes, the entire terrace is used for visitors to enjoy drinks. Therefore, you will have a pleasant and airy feeling to drink coffee, and enjoy the fresh nature. The cafe also uses a lot of space to decorate and plant many trees.
Many people comment on the Sky Bar, which is elegant and modern. It is the "check-in" point of many young people when they come to Ha Long. In addition to coffee, the cafe also has cocktails, beer, wine, spirits, and pastries. You can choose according to your hobby and personal taste.
Just a quick note that the cafe is an outdoor space, so you should not choose the Sky Bar in the bad weather. However, this is still one of the most beautiful coffee shops in Ha Long city. 

Freshie – Healthy Food & Drinks: "Greek land" in the heart of the city
Address: Tran Quoc Nghien Street, opposite to Dolphin palace- Ha Long (direction)

Opening hours: 10:00 am – 10:00 pm

Reference price: from 30,000 to 100,000 VND
Freshie – Healthy Food & Drinks is a new cafe that is bombarding all social networking sites. Young people like this place because of their very own decoration, featuring two blue-white tones. Space is ample and open so that you can hug Ha Long city to your heart.
Especially, Freshie Cafe has its imprints in Greece. You can take the photo in fairyland in the heart of the city, not need to go halfway around the world far away. Any corner of this cafe can be a "virtual living" place for young people, hold up the phone and have a sparkling photo.
Freshie's drinks are delicious and bold. Located at the seafront location, combined with drinking coffee, you can feel the sun and wind of the sea, enjoy the beautiful scenery of Ha Long Bay. Also, the cafe serves many snacks, with a particular flavor of the coastal city.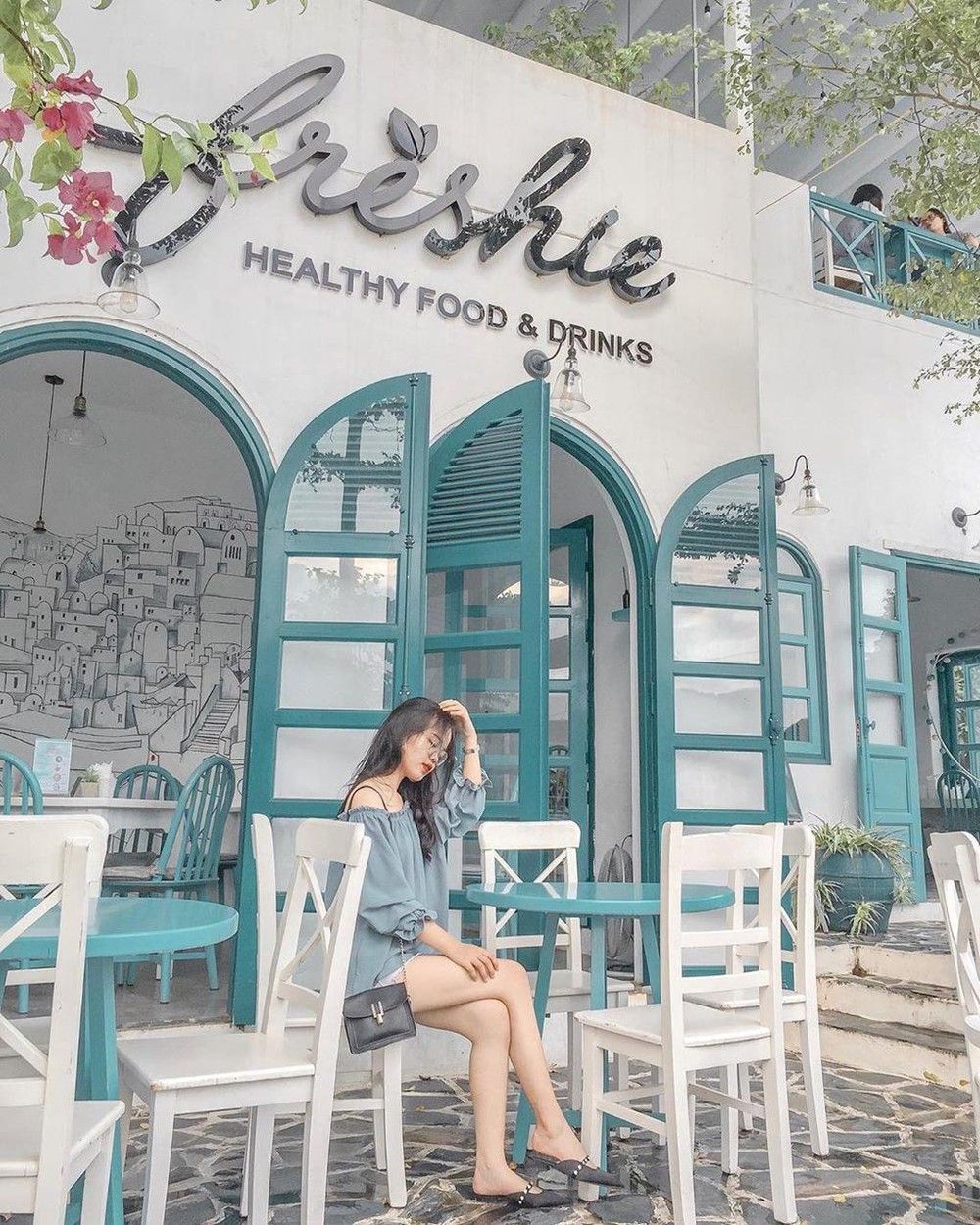 My Way Sports Cafe & Beer
– don't miss it
Address: Quang Ninh Museum – Ha Long

Opening hours: 7:00 am – 11:00 pm

Reference price: from 50,000 to 150,000 VND
My Way Sports Cafe & Beer is one of the rendezvous where you do not miss if you come to visit Ha Long. The cafe has a spacious and eye-catching space. My Way Sports Cafe & Beer has tasty drinks, professional and friendly staff.
My Way Sports Cafe & Beer's menu has egg café, which has a characteristic taste, light scent, and not fishy. You need to taste with the tip of the tongue. The flavor has been spread, wriggling into the taste nerve, and hard to resist. The kinds of fruit smoothies are also excellent, great cocktails, incredibly fresh beers.
Rooftop Café & Bar
Address: No. 1 Road 25 April, Ha Long city, Quang Ninh (direction)

Opening hours: 6:00 am – 11:00 pm

Reference price: from 30,000 to 150,000 VND
This cafe has an extremely luxurious space with the primary colors of deep bass such as dark brown, red Bordeaux, light brown and golden wood, creating a harmonious and delicate overall. The glass covers around, so you can freely watch the city shimmering at night or count rain on rainy days without fear of cold
For couples who love each other, this is indeed a great place to date because it is incredibly romantic and quiet. The drinks here are quite delicious and eye-catching, serves professionally and enthusiastically. Breakfast has rice, Pho, bread.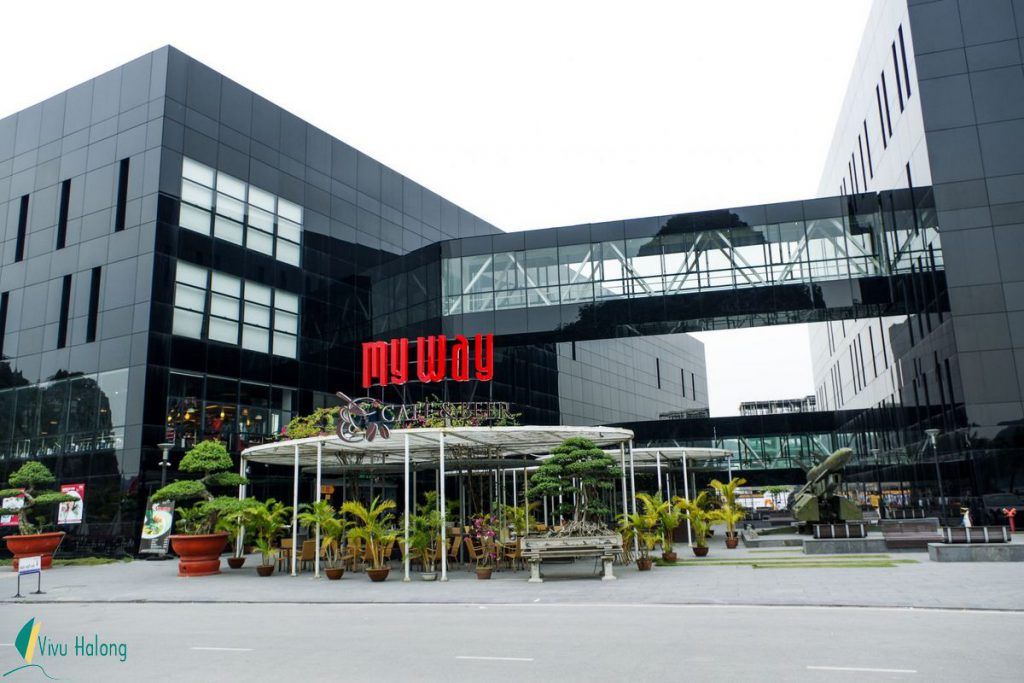 Dupin Coffee & Bar
: embracing Ha Long insight
Address: 21st Floor, Ha Long DC – April 25 Street – Ha Long (direction)

Opening hours: 7:00 am – 11:00 pm

Reference price: only from 30,000 VND
Dupin Coffee & Bar is Ha Long's highest cafe with a super beautiful view. The cafe locates on the 21st floor of Ha Long DC building, which has a four-star standard with luxurious design, delicious drinks, and excellent quality service.
Dupin has an open space, integrating with nature. From here, you can see the whole Ha Long city overhead. Many people commented that Dupin Coffee & Bar brings the direction of Sky Bar. However, each place has its characteristics, just come and feel.
In addition to the above addresses, when coming Ha Long, you can also visit famous cafes such as: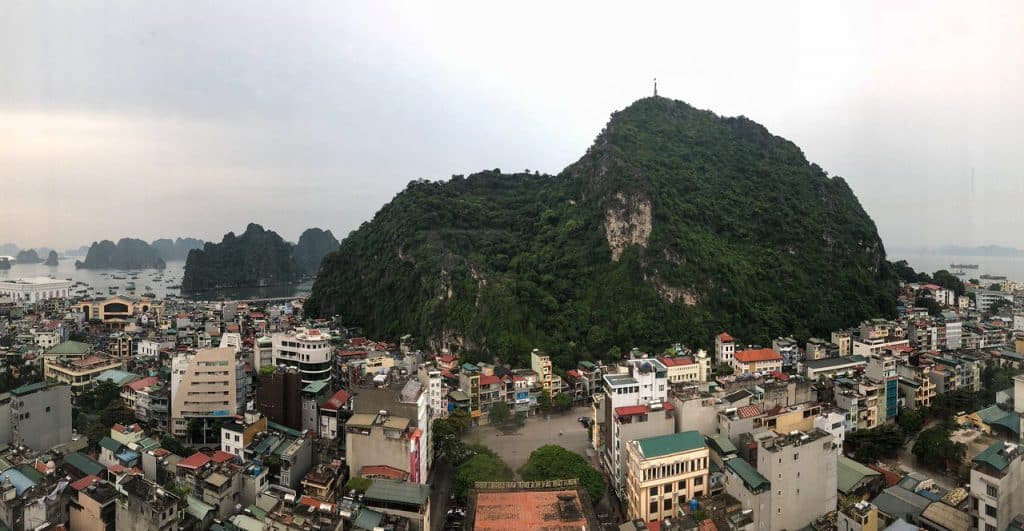 Old Thing Café
It is a small cafe on Hai Thinh – Hong Hai street. You will be nostalgic with ancient and unique objects. In addition to selling coffee, the owner also makes handmade leather to serve tourists. (get direction)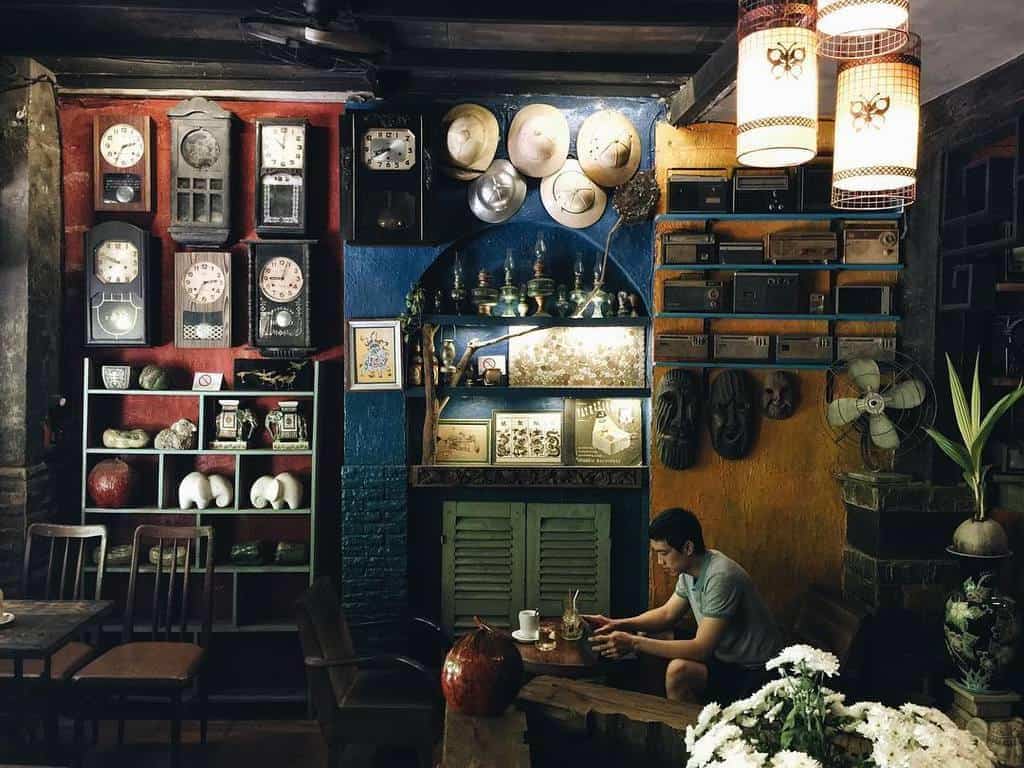 Wander Station
Located at No. 32, Van Lang – Hong Gai – Ha Long. The cafe opens from 6:00 am to 11:00 pm all day of the week, which has quiet space, delicious drinks with attractive prices, only from 15,000 – 50,000 VND. (get direction)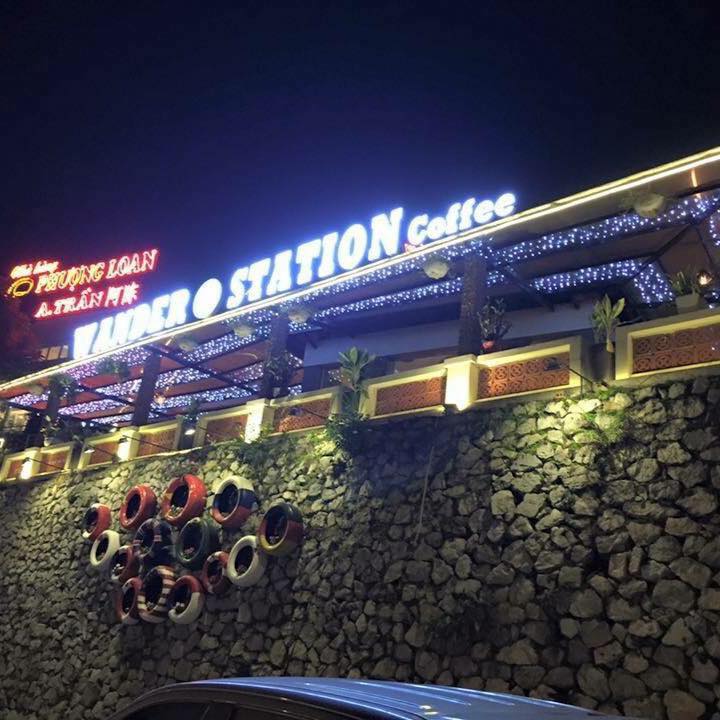 Old Town Coffee
Located at No. 10, Tran Quoc Nghien – Ha Long, next to romantic Ha Long Bay. The cafe looks like a fairytale castle, beautiful and delicate. The drinks are impeccable, while the price is only from 20,000 to 350,000 VND.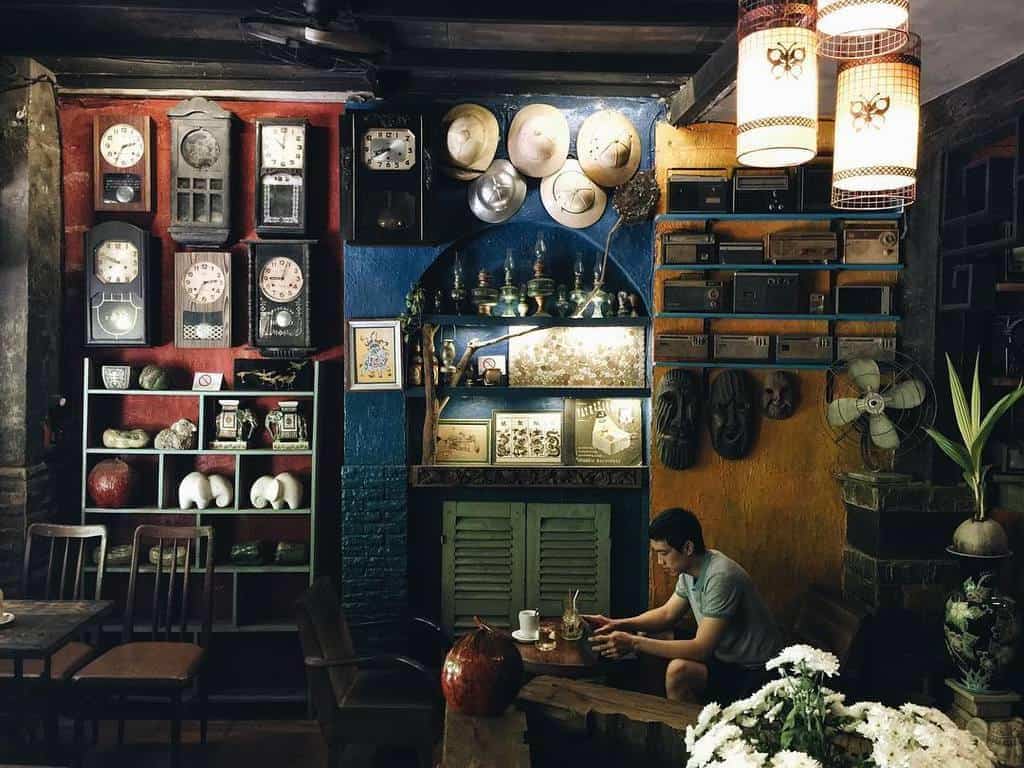 Army coffee
the cafe locates at a small niche, Vo Nguyen Giap Street – Hong Hai – Ha Long. The cafe has a unique style, recreating the memories of the bombing time with very typical military supplies. Not only is it easy to enjoy coffee, but it is also a time to slow down with the beautiful memories of a time of the nation.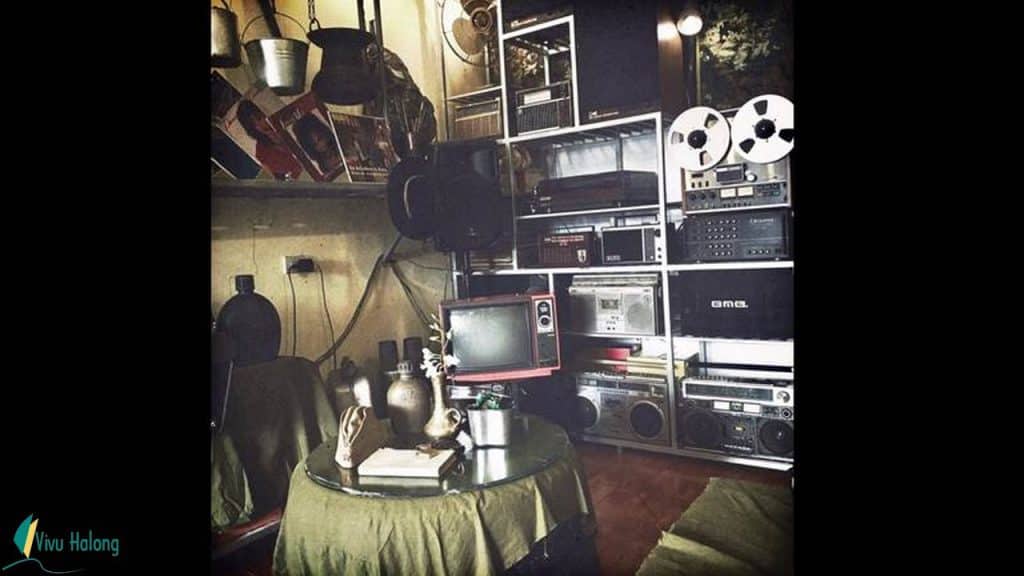 Play Pub
– an attractive cafe address in Ha Long
Play Pub locates on one of the crowded streets in Ha Long city center where attracts many visitors. The cafe has a youthful and modern style, mixed with Asian and European culture.
Depending on your preferences, you can choose indoor or outdoor tables to ensure privacy. Besides, this is the ideal address for dating couples. You can also gather friends and relatives on weekends and birthdays.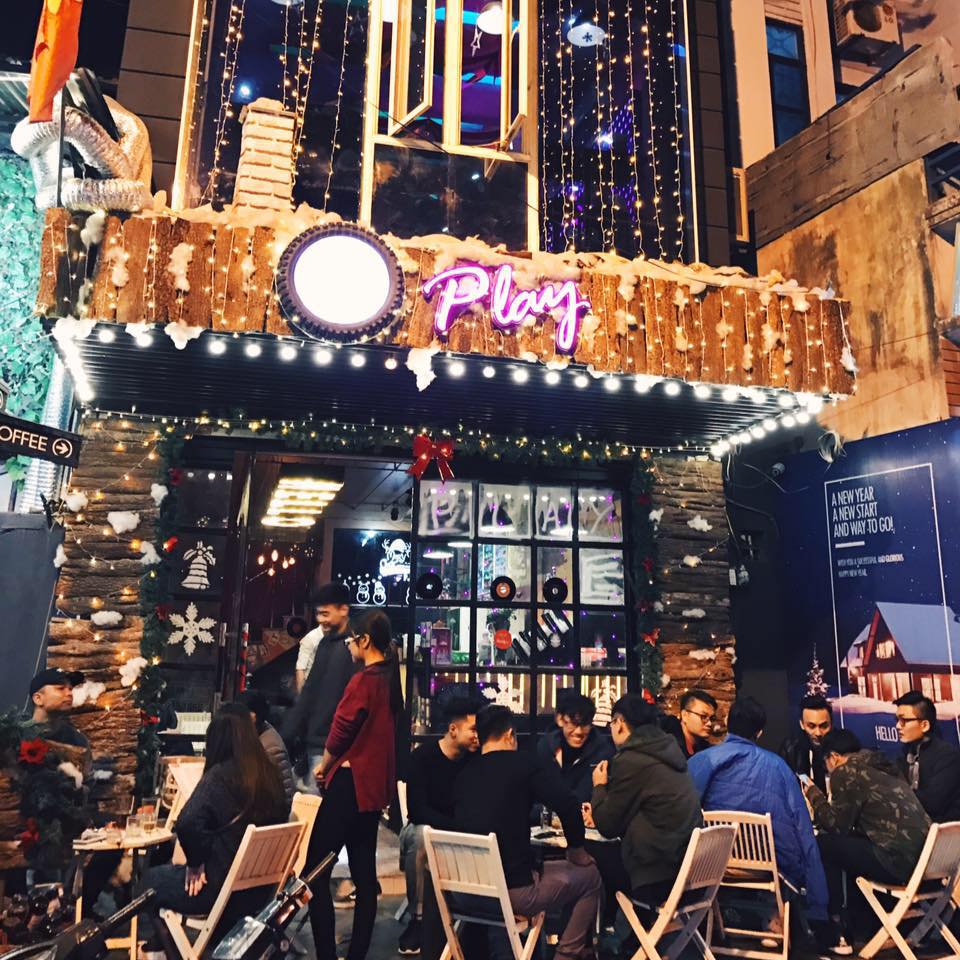 If coming to Ha Long, you do not forget to spend a little time to enjoy coffee at these addresses. Indeed, visitors will have unforgettable memories!
Read more about: