Ha Long is not only known as the beautiful beaches, modern and magnificent amusement parks but also extremely famous for its various types of seafood, rich in variety, which is very delicious and unique than other coastal cities. It is not difficult to find seafood restaurants in Ha Long that are very diverse in all three areas: Bai Chay, Tuan Chau, and Hon Gai.
If the Bai Chay and Tuan Chau areas mainly for tourists, the price will be slightly higher. Besides, Hon Gai area is often the eating place for the local people, so the price is more "soft." The local restaurant is more diverse.
Besides, Ha Long is home to fresh seafood such as shrimp, crab, fish, squid. Halong has some specialities that you should try: (sa sung), austriella corrugate (ngan), ruoc (shrimp paste), smasher prawn (be be), crabs. 
In this article, Vivu Halong will review the best restaurants so you take as reference to choose the most suitable one. 
I will divide restaurants into areas so that you can consider when staying in these areas. 
Restaurant in Bai Chay area
Bai Chay area has the most tourist, so the price is higher. If you go on holidays, Tet, you will have to wait a long time to be served, because of the large number of tourists. However, there are many options for you in Bai Chay area.
Phuong Nam Ha Long Restaurant
Phuong Nam Restaurant 1 (Hon Gai)

Tran Quoc Nghien Street – Ha Long City.
Hotline: 0904 290 808 (directions)
Phuong Nam restaurant 2 (Bai Chay Tourist Area)

Do Si Hoa Street – Cai Dam Urban Area – Bai Chay – Ha Long City (opposite Ha Ha Quarter). 
Hotline: 0901 599 598 / 02033.900.668 (directions)
Price: 250,000 – 350,000 VND / person
Luxurious and affordable space (suitable for group)
Website:

http://nhahangphuongnamhalong.com/
Phuong Nam Ha Long Restaurant has a large space, designed in harmony with nature, on the banks of beautiful Ha Long Bay. Besides, the airy restaurant space has a wide area, fully equipped with a sound system, lighting, screen. The restaurant is suitable for tour groups, in addition to being a familiar place for events, meetings of locals with reasonable prices depending on the needs of guests line.
Phuong Nam Ha Long Restaurant is famous for its bold Asian cuisine. Halong seafood dishes have a rich menu, diverse specialities of three regions, forest-sea … processed by the talented chef.
Golden Crab (Cua Vang) Restaurant
Address: No.32 Phan Chu Trinh, Bai Chay, Ha Long, Quang Ninh (Direction)
Opening hours:

10:00 am – 10:00 pm

Phone:

0203 826 274 or phone number: 0203 819 919

Price

: > 500,000 VND / person
Golden Crab restaurant is about ​​350m2, a large and spacious three-story space, luxurious design, which considers as one of the most sumptuous seafood restaurants in Ha Long.
 The restaurant's menu includes a lot of specialities such as sea crab, lobster, prepared in a completely different style, bringing a new and unique flavour to the dishes from the sea. Restaurant's specialities are made from crabs such as braised crab with bamboo shoots (cua om măng), nau thuc crab (cua nau thuc), Crab Vang hotpot with the water used from "family recipes", rich in taste but unique.
 Another difference in the restaurant is that all dishes are cooked in a clay pot, with a modern kitchen.
Restaurant's price is higher than other restaurants in Ha Long, but "you get what you pay for," the dishes are very quality and new. The average price of a person is 500,000 VND or more.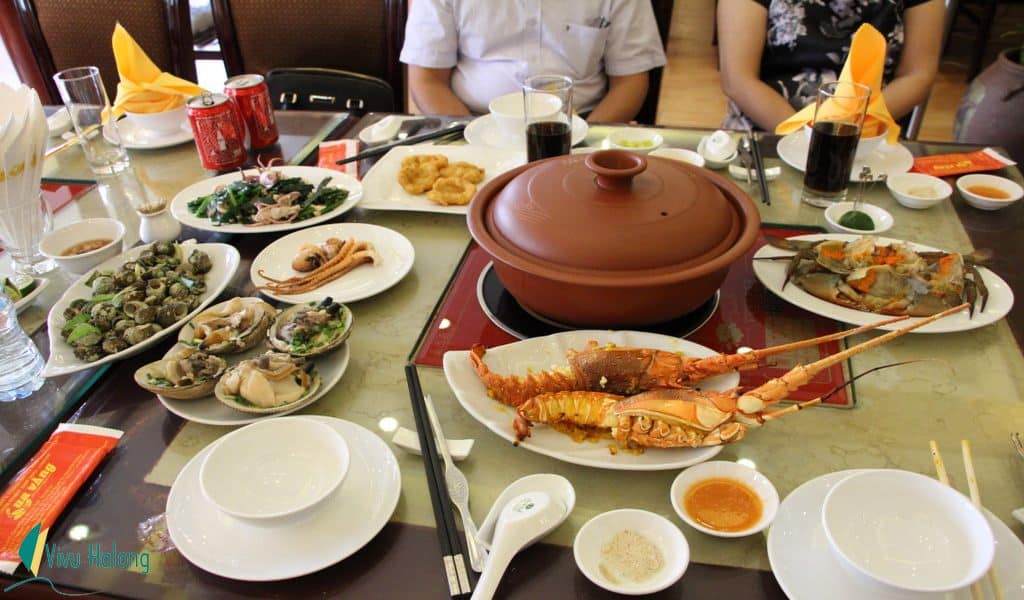 Hong Hanh 3 Restaurant
Address

: No.50 Ha Long, Bai Chay (Hoang Gia International Park beach area)

Opening hours

: 10:00 am- 9:00 pm

Phone number

: 0203 3812 345- 0906168868

Average price

:> 400,000 VND / person

Direction to Hong Hanh 3 restaurant
Hong Hanh 3 Restaurant is also one of the most favourite restaurants in the Bai Chay area with spacious, airy, clean space. Besides, you can admire the scenery of the beach and the Bai Chay Bridge. Not only famous for tourists, but the restaurant is also a favourite address of locals when organizing special events with all kinds of fresh seafood that you want to enjoy such as clam, squid, marine fish … prepared with a rich and delicious flavour. Besides, the staff is quick, attentive, and enthusiastic. Moreover, you do not have to wait long after ordering.
It can be said that Cua Vang and Hong Hanh 3 restaurants are two of the luxurious restaurants, suitable for gourmets, or groups, parties (birthday, anniversary). The price is very reasonable, depending on the type of seafood you call.
Note: You should book a table before arrival, as both restaurants run out of space, especially in private rooms.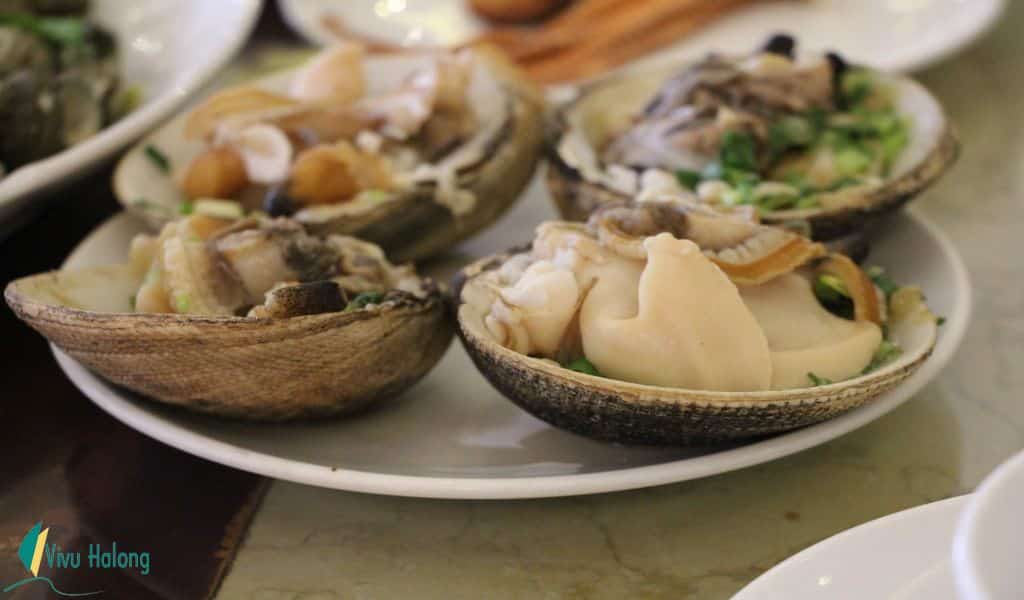 Sen A Dong Buffet Restaurant 
Address

: No.1, Ha Long and Bai Chay roads (near the foot of Bai Chay Bridge and the old ferry)

Opening hours:

11:00 am – 11:00 pm

Average price:

from VND 280,000 / person (Weekend VND 310,000 / person)

Phone:

082 608 3666

Direction to Buffet Sen A Dong Restaurant
Buffet Sen A Dong Restaurant is an excellent choice for both family or group to enjoy more than 100 dishes of Western, Asian and Quang Ninh seafood, including nearly HaLong's 50 delicious fresh seafood dishes. The restaurant has a capacity of more than 300 people and is quite crowded on weekends, so it also needs a phone to book in advance.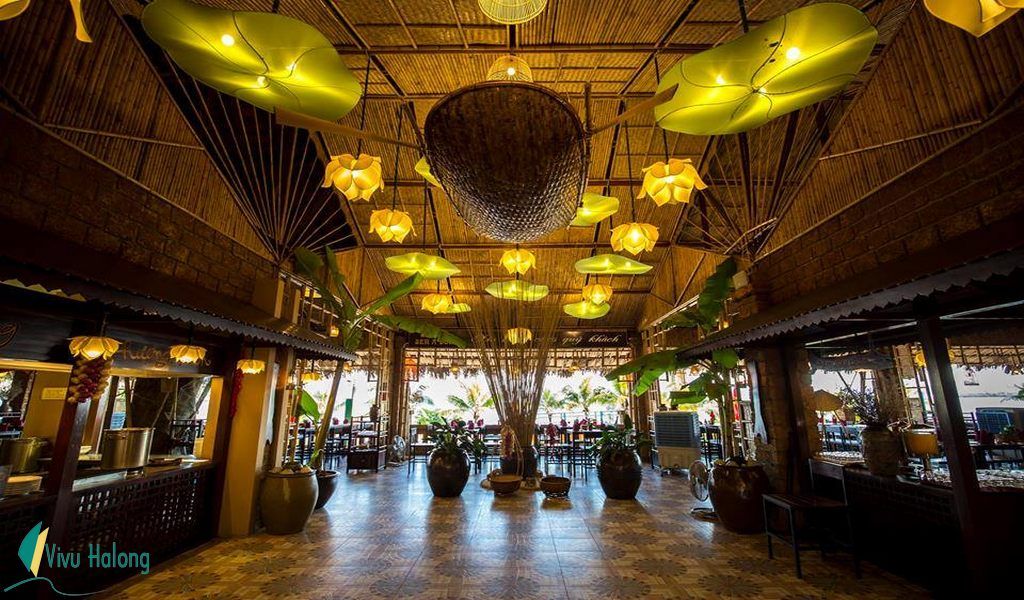 Thien Anh Seafood Restaurant
Address:

Group 5, Zone 9, Cai Dam Urban Area, Ha Long.

Opening hours:

8:00 am – 11:00 pm

Average price:

from 200,000 VND / person

Phone:

0203 3512 768- 0913267579 – 0936635199

Direction to Thien Anh Seafood Restaurant
Thien Anh Seafood is one of the "delicious- good-cheap" restaurants in Ha Long with a very favourable position: two- side street space, Southeast direction. Therefore, you always enjoy making fresh and cold wind from the Ocean. Also, parking is very convenient, airy, and comfortable.
The interior space of the restaurant is decorated with deep tones, creating a feeling of relaxation and closeness, which is very suitable for couples, families, or groups.
Like many other restaurants, you will choose fresh seafood and order on the 1st floor. The upper floors are the dining table area for guests. The food is served fast, and delicious dishes such as smasher prawn roasted with salt (be be rang muoi), squid of fried eggs (muc trung xao), fried shrimp (tom chien), sour soup with rice.
For those who want to enjoy sea snails in Ha Long, rustic dishes that fit the taste of many people, only snails, but have many choices.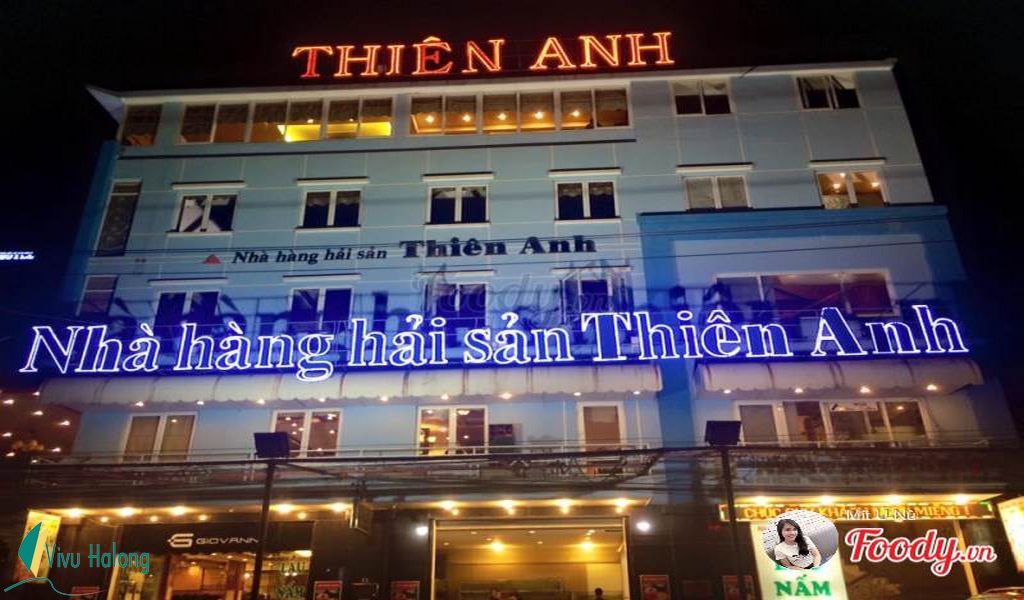 Kim Quy snail restaurant 
Address:

No.660 Ha Long road, next to Bai Chay tourist pier

Phone:

0203 3846114

Average price:

about 300,000 VND / person

Direction to Kim Quy Snail Supermarket
Kim Quy Super Market is one of the most famous and oldest brands in Ha Long specializing in snail dishes, including freshwater and saltwater. Therefore, this is a restaurant not to be missed when coming to Ha Long. All snail dishes are cooked following the taste of people in different regions of the North, the Central, and the South.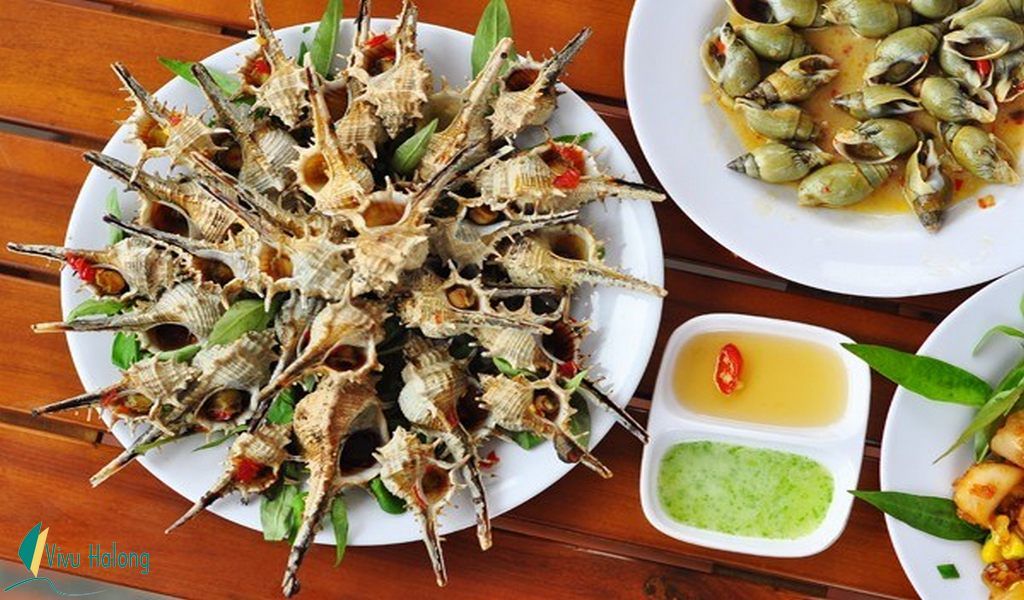 Ngoc Suong Snail Restaurant. 
Address:

Ha Long road, Cai Dam area

Phone:

0203 3846159

Kim Quy and Ngoc Suong are two of the first-mentioned snail restaurants in Ha Long.
Thuy Chung snail restaurant 
Thuy Chung seafood has a spacious, airy, cool space, clean wooden tables, and chairs. The food is both delicious and suitable for your favor, especially snails such as fragrant snail (oc huong), stone snail (oc da), razor shell (oc mong tay), sim squid (muc sim).
Besides, you can enjoy at other restaurants such as Toan Huong Restaurant, Hoang Quan Restaurant, Phuong Thuy Restaurant, Vinh Thang Restaurant, Gio Bien Restaurant, Van Xuan Restaurant, Ngoc Chung Restaurant, Cuong Hang Beer.
Cuong Hang Beer is a popular restaurant with a seafood beer of locals. The price is also reasonable and fresh seafood. The restaurant is a little noisy, so if you want a folk and comfortable space, you can come in here.
The restaurant in Bai Chay ancient town area 
The newly built old town locates at the centre of Bai Chay amusement park. There are many shops, eating houses, various cafes, which is suitable for young people to choose gentle dishes. The prices of these restaurants are also clearly listed on the menu, not being cut. But, if you go with a large group or family, you should still choose larger seafood restaurants and more diverse dishes for everyone.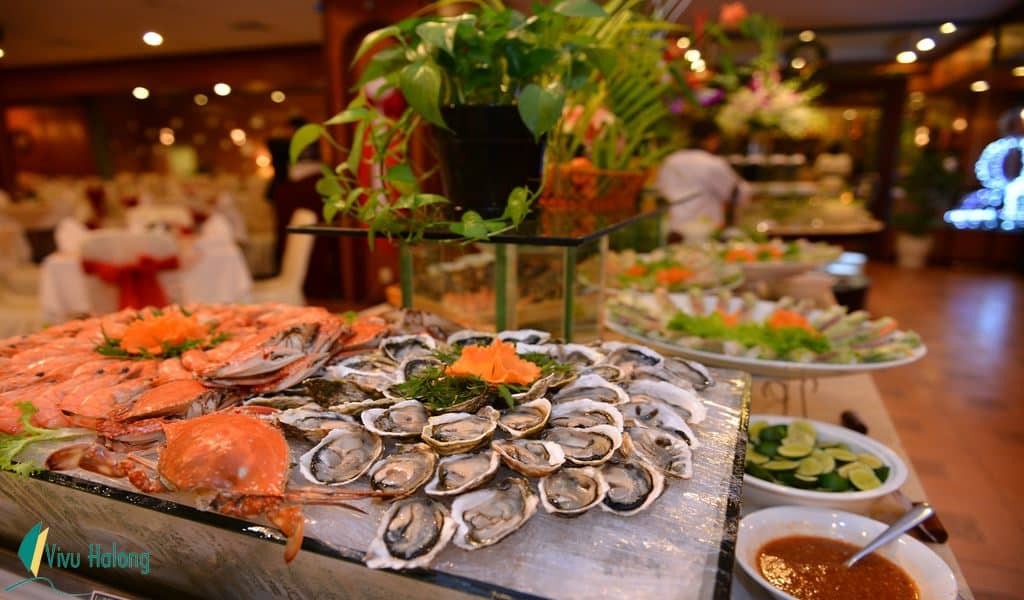 Street food in Bai Chay
Snail shop opposite Co Ngu restaurant

Smasher prawn noodle (bun be be): Basement of Union Hotel, Rang Dua road with the price: 50.000 VND/ 1 bowl

Seafood noodle: Village Fishing Restaurant, Marina Plaza night market with the price: 60.000 VND / 1 bowl

Smasher prawn noodle near Nam Phong Café with the price: 35.000-50.000 VND / 1 bowl
Restaurants in Tuan Chau area
Like Bai Chay area, Tuan Chau is also a place for tourists, which has many options and convenient transportation. However, the price is also relatively high. Some restaurants in this area may include:
Sandy Bay (Vinh Cat) Restaurant
 Bay Cat Restaurant is located on the coast, with a beautiful view, especially in the outdoor area. In addition to seafood dishes, the pizza is also the worth to try, made by an Italian chef, baked in a wood stove.
If you like to experience a "luxurious" restaurant, you should come to Sand Bay.
1958 Restaurant 
Address:

Near Ngoc Chau street and Tuan Chau Ferry

Phone:

098 971 11 02/0203 3900 866

Opening hours:

9:00 am – 11:00 pm

Direction to 1958 Restaurant
1958 Restaurant Tuan Chau considers as one of the luxurious and modern restaurants in Tuan Chau, which has delicious food, reasonably priced. The restaurant mainly focused on Vietnamese dishes, prepared in the style of Northern cuisine. It is very diverse in options for appetizers, main dishes, and desserts.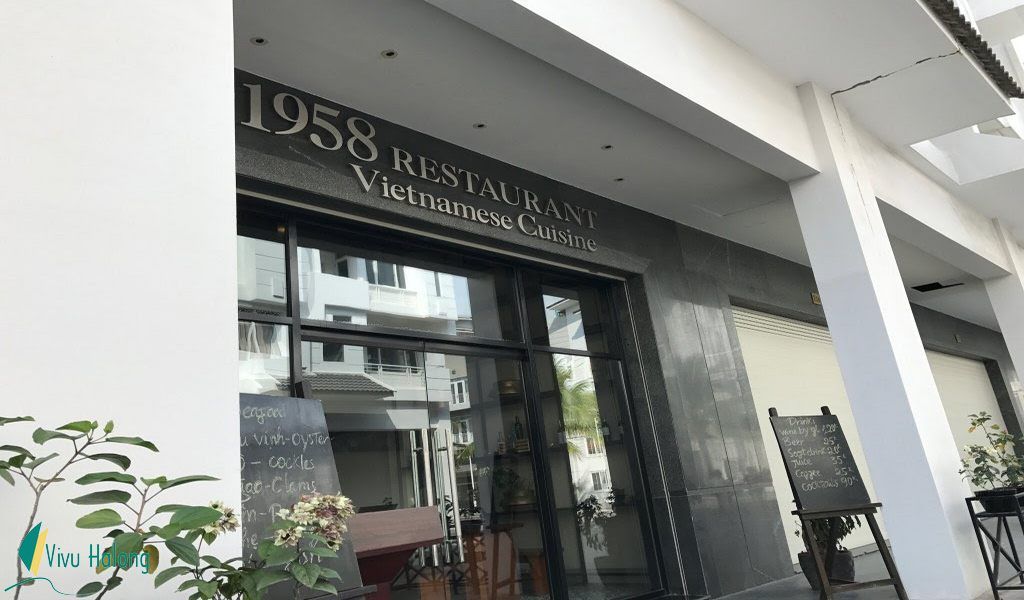 Yolo Beer Club & Coffee Restaurant
Address

: 14 Tuan Chau International Tourist Area, Ha Long city, Quang Ninh province

Phone:

0378 055 55
Yolo Beer Club & Coffee Restaurant is known as a large restaurant with an indoor area and outdoor area, decorated with sparkling, beautiful, and attractive lights. Yolo Beer Club is one of the great options for you in Tuan Chau area.
Although it is not an authentic seafood restaurant, seafood dish is also very delicious.
You should note that the evening has exciting music so that it will be a little interesting.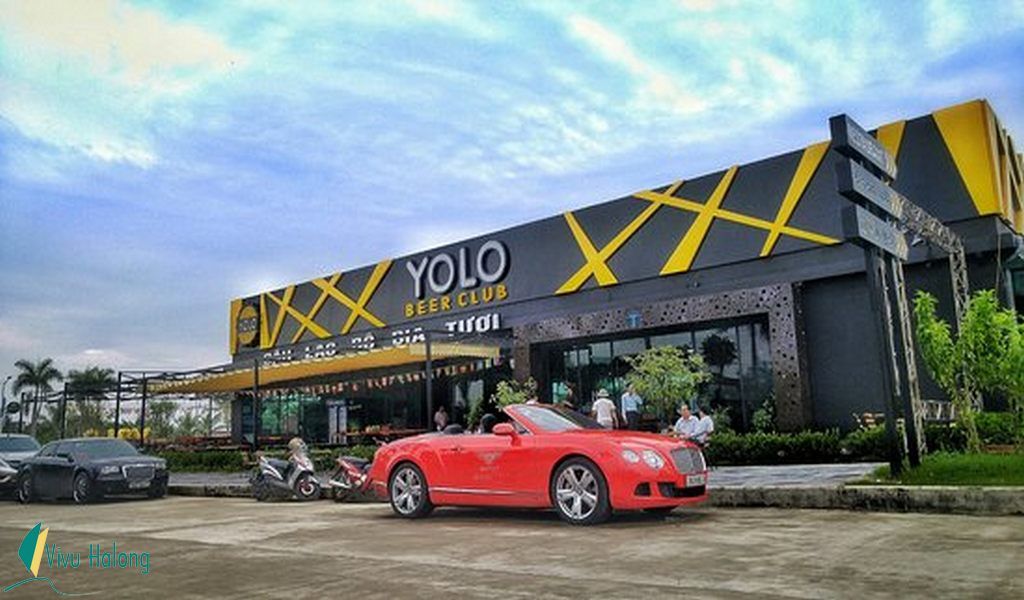 Restaurants in Hon Gai area
If Bai Chay and Tuan Chau are the two main areas for tourists, Hon Gai is a place for locals, tourists like to grope, find out, or customers go on business. The are many restaurants in Hon Gai, but the price is usually a little lower than that of Bai Chay and Tuan Chau. Some restaurants include:
Hong Hanh Restaurant
Address 1

: 442 Nguyen Van Cu, Hon Gai 

Address 2

: 30 Hai Phuong, Hong Hai
Huong Duyen Restaurant
Address:

66 Tran Hung Dao, Quang Ninh

Direction to Huong Duyen restaurant
Huong Duyen seafood is one of the favourite restaurants of the locals whenever there are special occasions such as birthdays, class meetings, celebrations, especially treating guests from far away. The restaurant is spacious, clean, has many private rooms (but usually must be reserved). The restaurant has a quick service.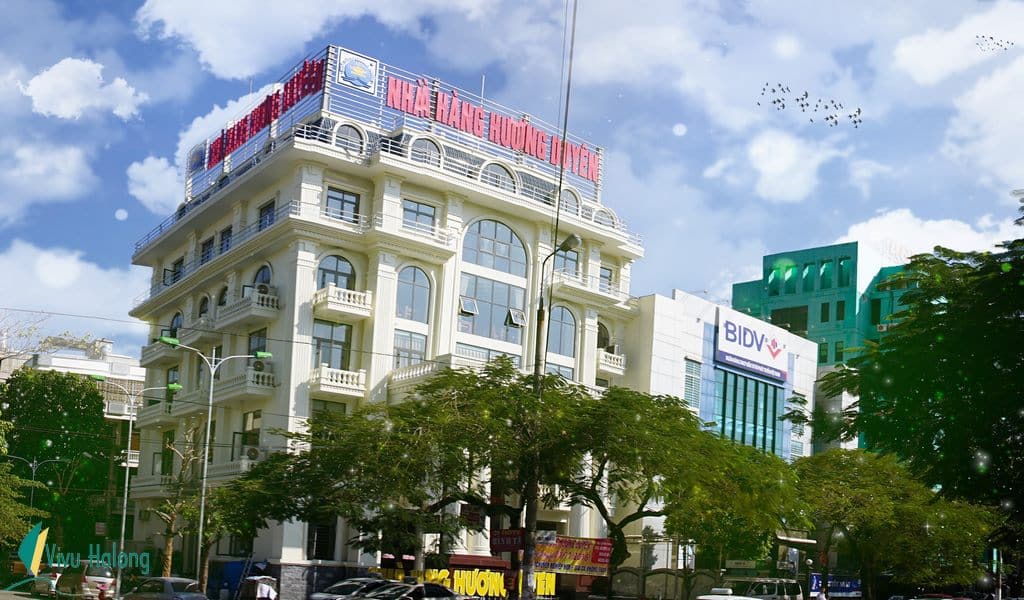 Other restaurants: Huong Lan restaurant, Anh Duong restaurant, Green Bay restaurant, Dang Hien restaurant.
In addition to the restaurants I recommend above, Ha Long has many other restaurants. You can refer to the information through the link below: http://halongcity.gov.vn/Pages/nhahang.aspx
Ha Long squid rolls (cha muc Ha Long)
Furthermore, if you want to change the menu with other dishes, I suggest some of the following:
Squid-pie white sticky rice (xoi trang cha muc):
Squid-pie is a famous dish in Ha Long, which is pounded. The taste is both delicious, golden, crispy, and crunchy with hot white sticky rice. You can have breakfast, lunch, or dinner without boredom.
Squid-pie rolled rice pancake (banh cuon cha muc):
Besides, eating white sticky rice, Ha Long is also famous for squid-pie rolled rice pancake. A thin piece of coated rice cake, with a bit of minced meat, mushrooms, ear fungus; fragrant onion, eat with fish sauce, pepper and a little spice of vegetables to create a gentle, delicate dish that cannot be ignored.
I suggest some places: shop next to Bach Dang theater (serving breakfast and lunch); squid-pie rolled rice pancake of Mrs. Ngan at 34 Doan Thi Diem; Ba Den shop in lane 1, Nha Hat street.
Grill restaurants:
The delicious grilled restaurant is at No. 45 Hai Long Street (the way down to High School Specialized in Ha Long)
The menu is diverse from noodle to hotpot, grilled, Korean dishes. The dishes Tare marinated in a rich flavor. The staff is always enthusiastic and fast. Space is fresh, airy, and spacious.
Ga Mach Hoach (Chicken) Restaurant
Address: lane 6, Hai Thinh (close to the sea boundary)
The restaurant has a spacious campus, a convenient parking space (for cars). Besides, all of which are made from chicken, but have a characteristic and rich flavor, hot and delicious. Fresh chicken meat, when eaten fragrant and sweet, is processed into many dishes, such as hotpot, steamed, roasted with salt, torn to milling …
Street food in Hon Gai area
– Eating Ngoc Lan steam hot pot – next to Bigc Ha Long: 150.000-200.000 VND / 1 capacity with all seafood.
– Vy baked: this shop has Beef and seafood combos, including two people, eat 300.000 VND of cows. The seafood is more expensive but clean and beautiful. Young people take beautiful pictures.
– Vy Seafood, Huong 2, Phuc Loc Tho …eat very well, which are not as expensive as Bai Chay.
– If you want to drink wine, or beer, sitting in the Bai Chay Bridge pier, having a row of beer stalls with PG pouring beer.
– Smasher prawn noodles Huy Chien is near the Northeast Coal Company with the price 40.000-45.000 VND / 1 bowl
– Squid-pie rolled rice pancake after Nhat Ha's wedding party is located at 25/4 road, before 9:00 am with the price: 35.000 VND/1 capacity
– Squid-pie rolled rice pancake is close to Bach Dang market, having fresh squid rolls.
– Bun fish is close to Bach Dang market (with fried fish and blanched fish): 35.000 VND / 1 bowl.
– Snacking on virtual living (Vinhome area), There are 25.000-50.000 VND salted egg cakes (banh bong lan trung muoi) … black tea milk (opposite the square 30/4) with the price: 30.000-50.000 VND, you should add the chess.
– Tuan Lien yogurt is very famous with the price: 50.000-100.000 VND, which is delicious and cheap.
I hope that the above information will help you pocket the eating places when coming to Ha Long. If you have more experience in new restaurants, you can share it with us in the comment section. 
If you are planning to visit Halong city and Halong Bay, check out Vivu Halong travel guide