Ha Long is known for the beautiful and poetic landscapes. When coming to Ha Long, you should find out the famous sightseeing areas to be able to spend all your time discovering the beautiful tourist city on this bay. In addition to taking a vacation cruise on Ha Long Bay, you should explore 3 tourist areas on the mainland with many famous attractions and things to do including Tuan Chau, Bai Chay, and Hon Gai.
In this article, Vivu Halong introduces top things to do in Halong, divided by specific areas. Let's start with the most famous attraction.
Cruise on Halong Bay, the natural wonder
Ha Long Bay is a scenic complex located in the northeast of Quang Ninh province, covering 1,553 square kilometres, including nearly 2000 large and small islands. Halong Bay was recognized as a World Heritage site by UNESCO. Halong Bay covers an area of 434km², comprises 775 islands and forms a triangle with 3 big islands: Dau Go Island (Driftwood Grotto) to the west; Ba Ham Lake (Three Tunnel Lake) to the south and Cong Tay Island to the east. 
Ha Long Bay can be divided into three areas.
  Ha Long Bay can be divided into three areas
Ha Long Bay central area
Bai Tu Long Bay area
Lan Ha bay area, adjacent to Cat Ba island (Hai Phong)
The local legendary story states that Ha Long Bay is the place where the Dragon landed on the earth to help the Vietnamese to fight. Each island is a pearl created by Mother Dragon, forming a strong rampart to struggle with the enemy warships. Each cave on the bay has a mysterious fairytale story. When visiting Ha Long Bay on the cruise, you will be told exciting stories about this legend by the tour guides. Visiting Ha Long Bay on cruise, classy experience
 The famous places on the bay include Titop Island, Sung Sot Cave (Surprise Grotto), Thien Cung Cave (Heavenly Palace Grotto), Dau Go Cave (Driftwood Grotto), Me Cung Cave (Maze Cave) and Tien Ong Cave (Amazing Ancient Cave), etc. Notably, all the cruises to visit the bay go through Trong Mai Island which is the statue of Ha Long bay in particular and Quang Ninh province in general. Here, you can comfortably check-in with the beautiful photos.
During the tour of the bay, you should go to Soi Sim Island. It is a small island, located in the southwest in the complex landscape of Ha Long, and approximately 700m from Ti Top Island. In this journey, you can combine to visit other places such as Sung Sot Cave, Bo Nau Cave, Me Cung Cave, Luon Cave, etc.
Soi Sim Island is the only place on the bay with wild rose myrtle (hoa sim). In the summer, you can visit the sea view and see the blooming rose myrtle flowers. The most favorite tourist spot, when coming to the main island is a natural beach with crystal water and a long beach.
If you follow a group, you should bring an awning and some snacks. You will enjoy a great party on the beach. As for the adventurous young people who like strong feelings, they can explore the Jetski, riding around the island.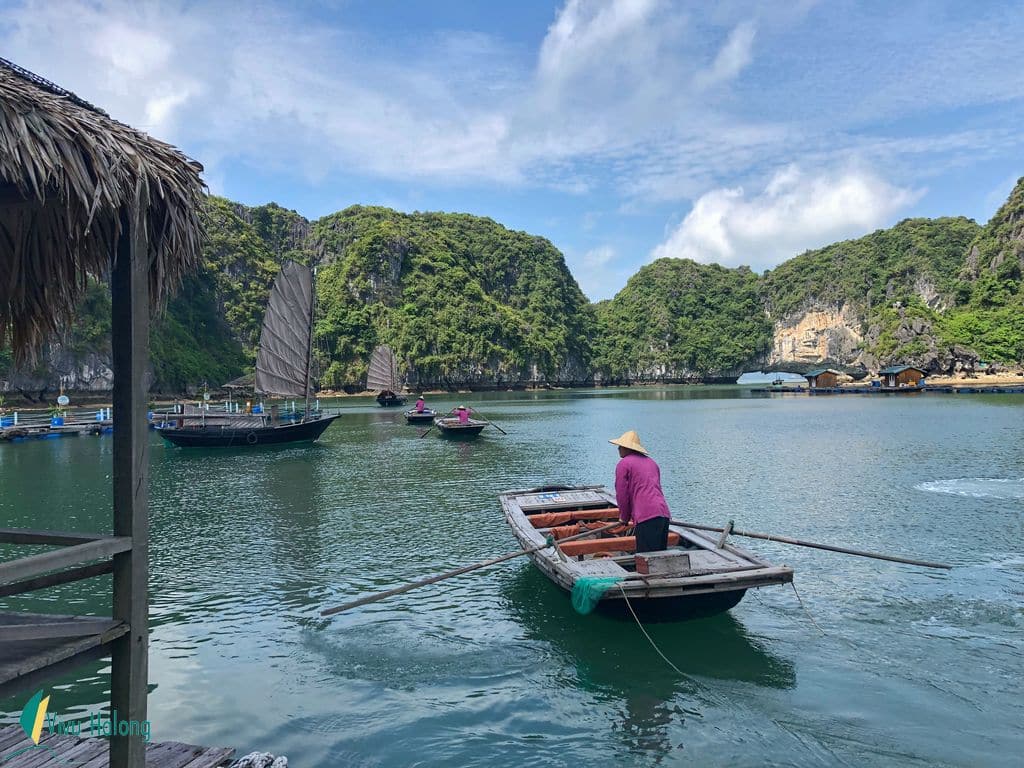 Visiting Ha Long Bay, you cannot ignore Cua Van fishing village. It is one of many famous fishing villages in Ha Long Bay. You are not only immersed in the peaceful space, watched the small wooden houses on the quiet water, but also learned about the cultural life of fishers, including how to row, raise nets, or fish. You can also buy fresh seafood here. The fishing villages are mostly moved to stabilize their lives on the shore, but there are still aquaculture activities and sightseeing boat services for tourists. Therefore, they are still unique attractions in Ha Long Bay tour.
Going a little further, you can visit Bai Tu Long Bay, Ha Lan Bay, or Cat Ba Island. To be able to experience in the best way, you should rent a night ship on the bay with the tour of 1 day cruise, 2 day cruise or 3 day cruise. 
The 5 -star cruises are highly appreciated such as  Athena cruise, Genesis Regal luxury cruise, Paradise Elegance, Indochina Junk, Alisa cruise or Au Co cruise. Here, you will enjoy the best quality services, overnight at the luxury rooms. You will participate in the tour activities such as go kayaking, go sightseeing, visit fishing villages and enjoy seafood. However, to experience these premium services, you need to spend a remarkable cost. (> 3,000,000 VND/person for the 2 days 1 night cruise tour)
Traveling on a cruise to visit Halong Bay, every season is beautiful because of its unique, exciting features. But, in my opinion, from April to October is the best time to visit Halong Bay. At this time of the summer, the weather is clear and suitable for watching the sea. If you are far away, you should keep in mind when coming to Ha Long during the cold months like July and August. On the storm days, boats are not allowed to go to the bay for safety reasons.
I have been traveling on the overnight cruise many times and found that this is a great experience. The boats look like hotels floating on the water. It is very comfortable and convenient if traveling with your family or group. The drinks onboard are more expensive than in the mainland's shop.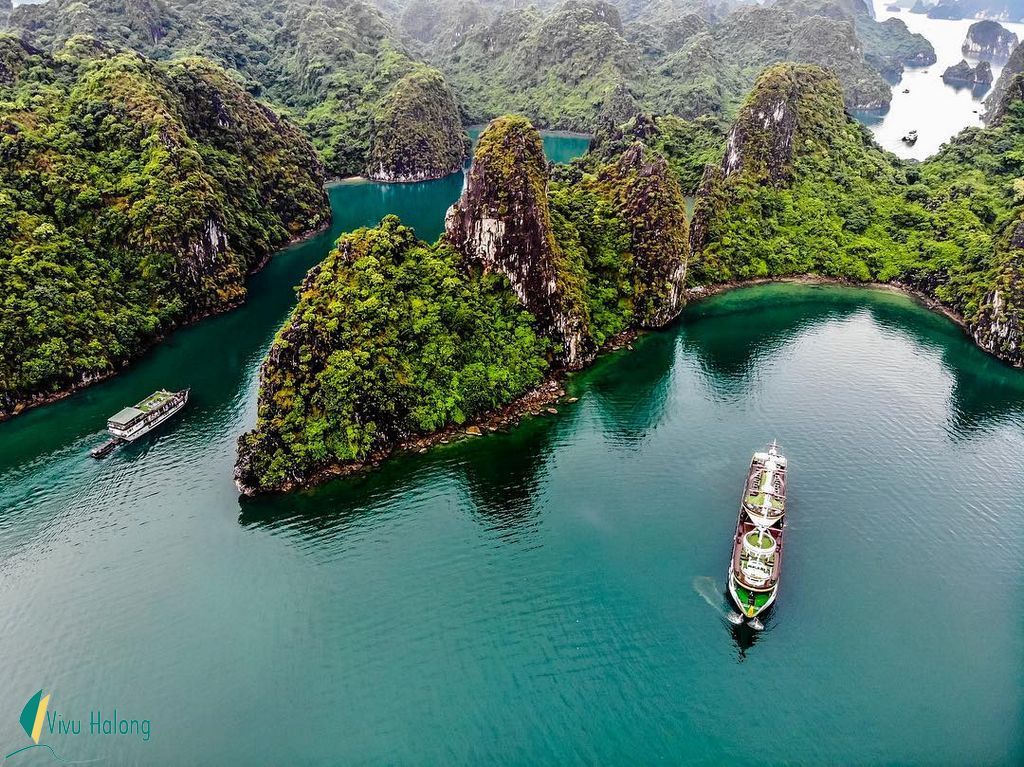 Tuan Chau Island, the resorts and entertainment areas
Tuan Chau Island separates from the shore. In the old-time, the island is less developed, only a few local people living on farming and fishing. Nowadays, Tuan Chau has a connected road, a large entertainment centre, the largest international port and a series of the hotel, as well as the entertainment spots for visitors.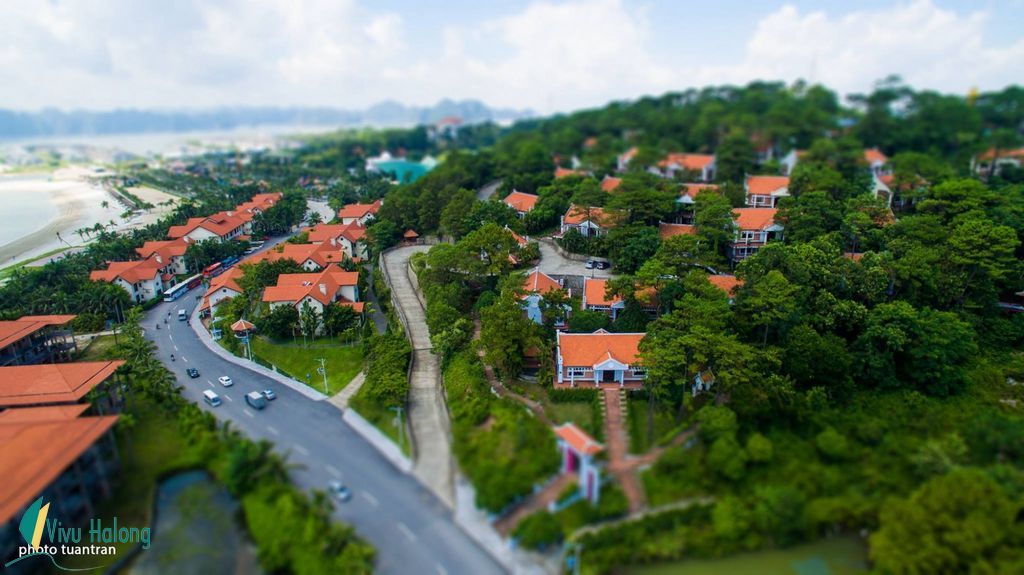 When visiting this pearl island, the first stop is the beach. With a ticket price of 40,000 VND, you can run around on the long sand and deep yourselves under the blue sea. You can also try underwater adventure sports such as windsurfing, Jet Ski, kayaking, canoeing, etc.
When coming to Tuan Chau, you cannot ignore the entertainment area. The 5-hectare outdoor entertainment area simulates many world natural wonders. Next, there are the water music performances; circus performances of seals and sea lions, crocodiles or monkeys; 5D movies; etc. in fixed time frames. Other games do not require the time frames, such as Kangaroo Ferris wheels, Merry-go-round, electric car racing, nursery house, online game on a large configuration and so on.
Compared to other entertainment parks, the price of Tuan Chau sightseeing ticket is quite reasonable. If you follow the group, you only have to spend 180,000 VND to discover all the beauty of Tuan Chau. As for retail customers, the ticket price is 200,000 VND, children under 1 meter are free.
You can choose to stay overnight in Tuan Chau with many beautiful hotels: Paradise Suite hotel, Mon Bay Hotel, La Paz Tuan Chau resort, or lovely homestays such as Banana & Rose 
Review for you: In general, if you want a quiet place to relax, but still have good entertainment, bars, restaurants, and hotel services, Tuan Chau is your best choice. You can also wander around the island because it is very quiet and beautiful. Read more about Tuan Chau travel guide 
Located along Ha Long Bay with a long beach, newly upgraded more modern amusement parks, long and beautiful beaches. Bai Chay has become the most exciting entertainment park in the North in the summer. Famous attractions in this area must include:
Sun World entertainment complex
As a part of Bai Chay Tourist Area, visiting Sun World, you will first admire the beauty of the sea with a 2km long cable car system. 
Besides, you will come to the Ba Deo (Hon Gai) – a complex of attractive attractions and exciting recreational activities.
Destinations should not be missed at the top of Ba Deo such as the Japanese Garden, the indoor play area of ​​the Mystery Castle, especially the Sun Wheel. The ticket to ride cable car is also quite soft with only 250,000 VND/person. The ticket for Dragon Park is only 350,000 VND/person, relatively suitable for tourists.
Dragon Park is a miniature world with adventure games. When coming to Dargon Park, you should try "Phi Long Than Toc," Furious rhino, Follow Dragon footprints n, Pirates, etc. If you intend to go with your family, you can try the list of an exciting and funny game. All will bring an inspiring entertainment space and memorable moments with your friends.
The Whirlpool in Water Park owns a system of 12 different, attractive water games, divided into three separate zones: entertainment area for families; entertainment area for Children and adventure areas for passionate enthusiasts.
You can try the feeling of free fall from a height of more than 20 meters on super-fast spiral skates, throw yourself 360 degrees in the "Tropical Storm" game or try to measure the guts on a giant funnel with a 45-degree incline called "tornado". Finally, the journey will experience "Riding dragon" to conquer the ocean.
Review for you: the distance from the gate to the beach is not very close, you should use the tram service to move quickly. In the entertainment complex, there are some adventure games. You should think before trying, especially if you're afraid of height or having heart disease.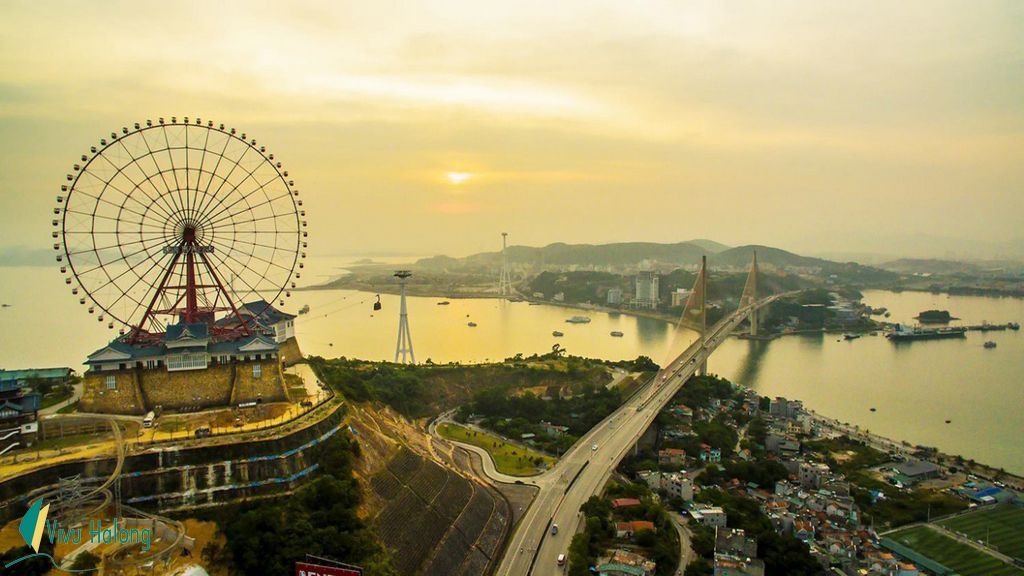 Bai Chay Quarter, the tourist city 
Bai Chay Quarter
This quarter is built based on the architecture of the Old Quarters of Hanoi and Hoi An. The Quarter has business lines such as food, cafe, and pub, massage. Bai Chay Old Quarter and night market are the most beautiful at night, especially on weekends (but it's also crowded with very many tourists). You will have significant experiences on the walking street and enjoy delicious food here.
It is noted that the price is relatively high. If you intend to eat at night, buy souvenirs or gifts, you should bargain before buying. It will help you avoid being ripped off and have an excellent impression of this tourist land.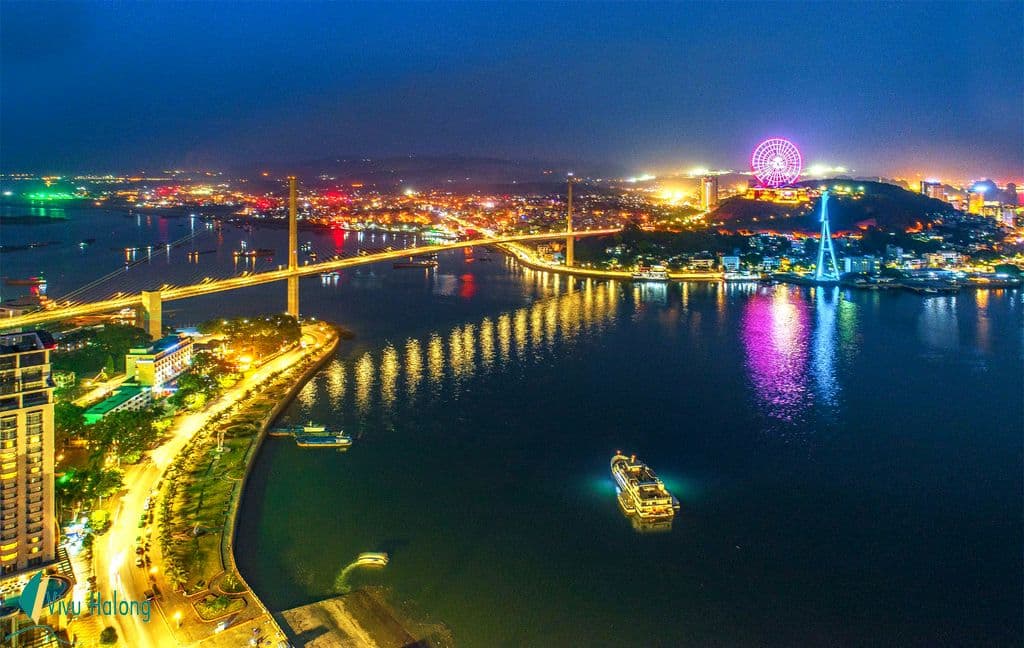 Bai Chay Beach
Ha Long' speciality is Vitamin SEA. The beach here is newly renovated, with white and long sandy beaches and beautiful blue seawater. The artificial beach has a length of up to 900m and opens for free. You will be immersed in the clear blue water, watching the bay of Ha Long. The coast has many new entertainment services, creating intense feelings such as windsurfing, kayaking, Jetski, high-speed canoes, etc.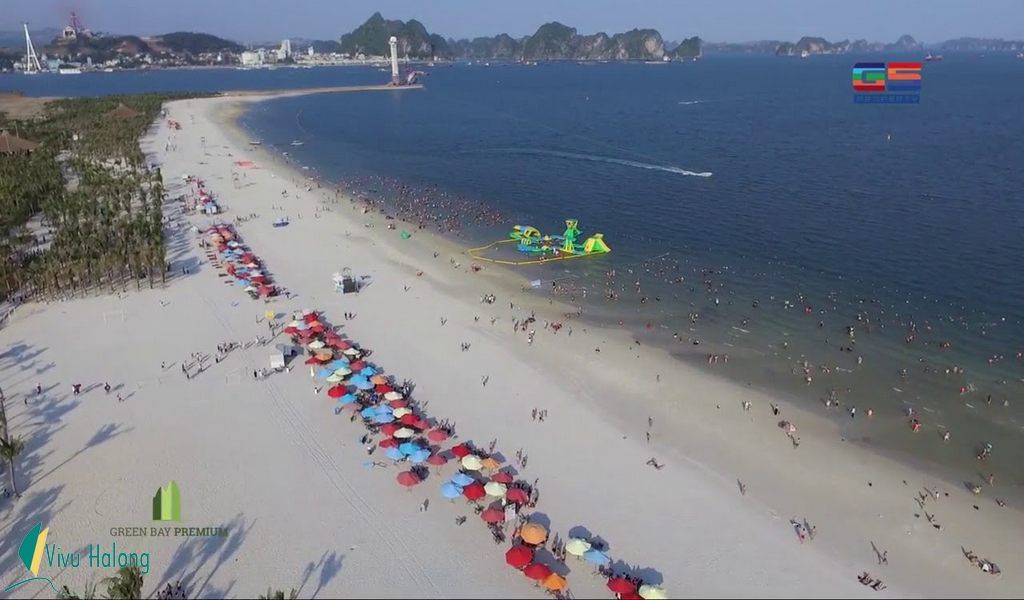 Read more about Bai Chay travel guide 
Hon Gai area: a destination with many cultural and historical attractions
Hot Gai has not many entertainment centers as Tuan Chau and Bai Chay. However, Hon Gai is a fascinating destination. You should explore many values of culture, history, and architecture. is also the area with fewer tourists staying. Therefore, you can easily find many restaurants and cafes at reasonable prices, but very delicious and unique.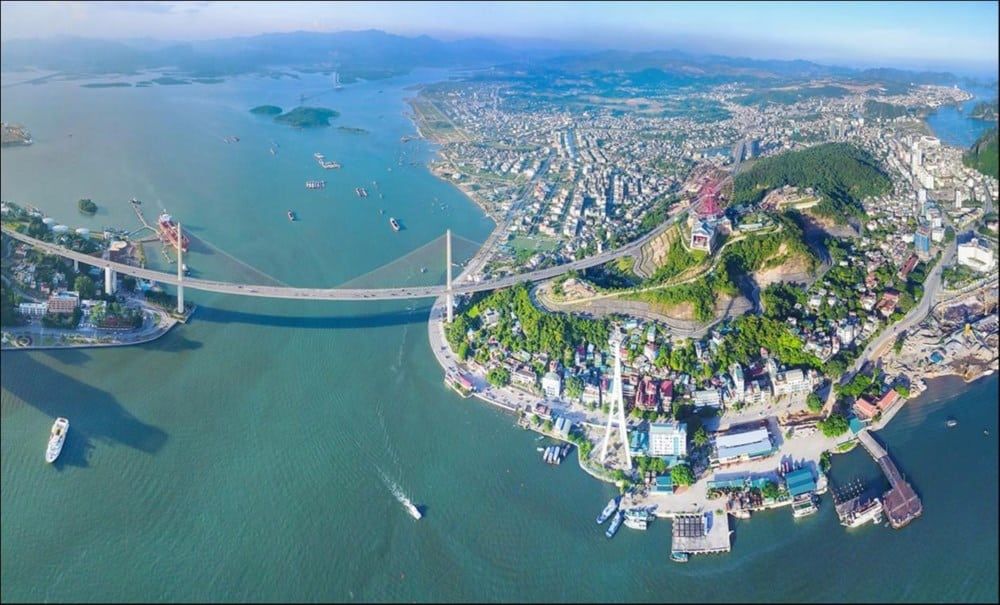 Bai Chay Bridge connects Hon Gai port and Bai Chay harbor. 
For a long time, Bai Chay Bridge Tis considered as a symbol of Quang Ninh people, and a unique tourist attraction every evening. It has sparkling lights and constant color changes, bringing a magical and paranormal space. Besides, this is the ideal "virtual living" checking for many young people. Exploring Bai Chay Bridge in the evening is a perfect time, you can watch from the foot of the Bai Chay Bridge or rent a motorbike to run over the view bridge.
Bai Tho Mountain – a panoramic view of Ha Long and the city
Bai Tho Mountain is an ideal place to admire the panoramic view of Ha Long Bay from above. Only about 200m high, you will take about 30 minutes on foot to reach the top of the mountain. The best time to come up here is in the early morning and late afternoon. If you intend to catch the dawn, climb from about 5:00 am, and around 4:00 pm if you want to capture the sunset moment. This place has the most beautiful bay view of Ha Long City, which is suitable for foreign tourists who love to take photos of the Bai Tho Mountain.
Long Tien Pagoda locates on Long Tien Street, at the foot of the Bai Tho Mountain. It is the largest temple, recognized as a famous historical site in Ha Long City. Not only is it highlighted by the ancient and ancient features, but Long Tien pagoda also has unique architectural features. Long Tien pagoda is built on the back of the mountains and has poetic landscapes. Those who love spiritual culture cannot ignore this address. When coming to Long Tien, the human heart is more pure and calm at the door of Buddha. The main pagoda festival is organized on the 24th day of March in lunar annually.
Besides, in Ha Long, there is a sacred temple known by the whole country. It is Cai Lan Temple worships Mau De Tam (Third Mother-Goddess). The temple is in Bai Chay Ward and listed as one of the oldest temples in Vietnam.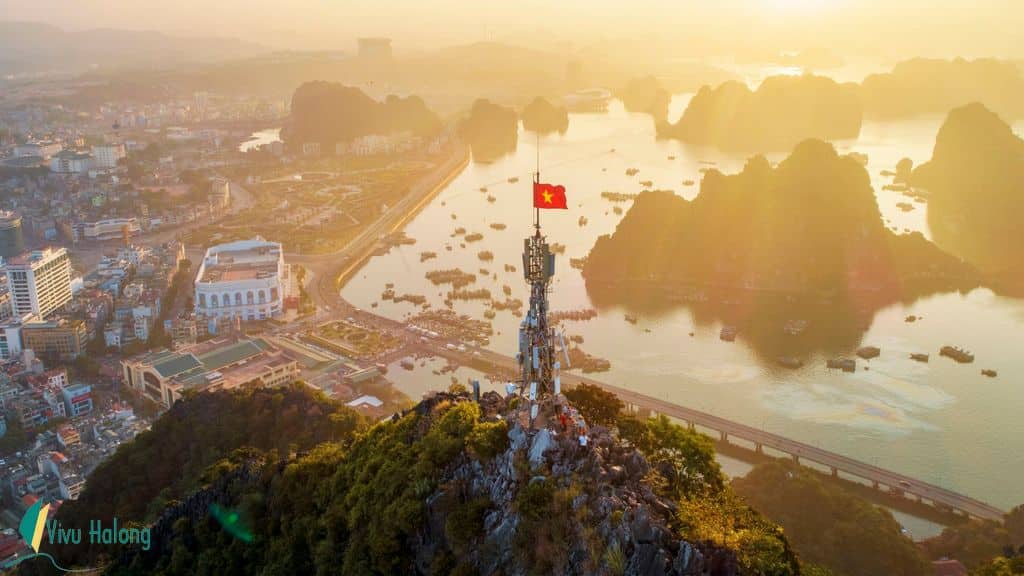 Quang Ninh Library – the work has many imprints
Located along the sea border of the city's East Coast. The architectural block of Quang Ninh Museum – Library is considered as a miniature model of Quang Ninh. It is a perfect culture of Ha Long people and a proud architectural symbol of Quang Ninh.
The part of the glass cover outside the Museum – the library has black color of coal. It is a huge mirror reflecting the image of Ha Long Sea, making the first impression unforgettable for visitors. With only 30,000 VND, you will visit the entire space of the Museum with 3 floors, sketching the most typical features of Quang Ninh. In particular, the exhibition of culture and life of 14 ethnic groups living on the land has always been of particular interest to tourists.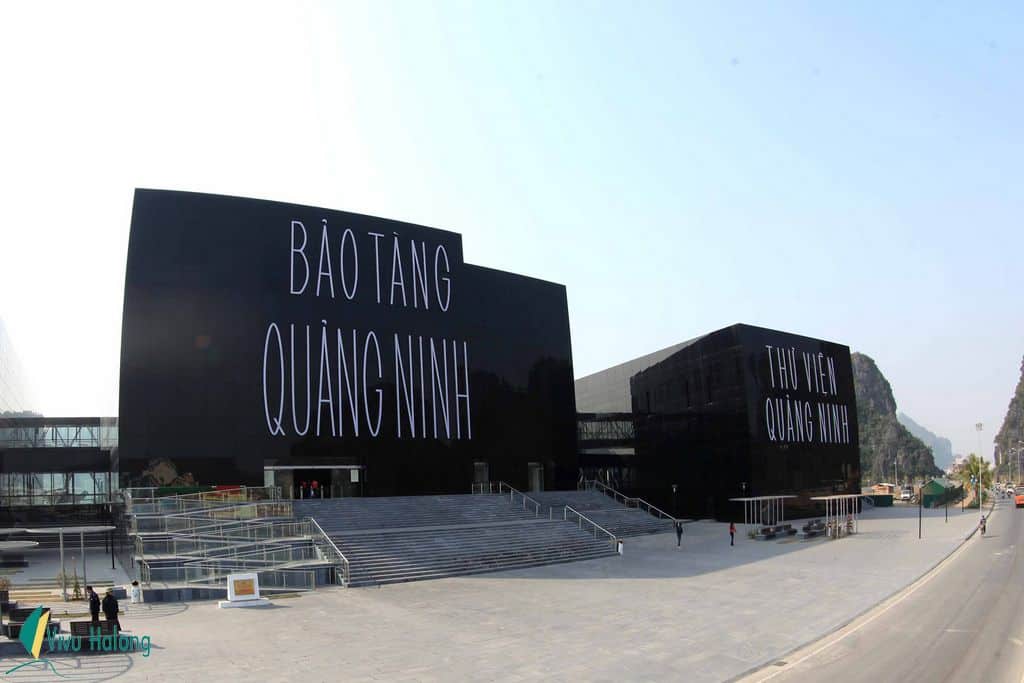 Ha Long Seafood Market 
Ha Long Market is located in Bach Dang Ward, on the side of Hon Gai, right by the sea coast, next to the Vincom Trade Center in Ha Long. It is the largest wholesale market for local people. It is also a shopping address where you can find all specialties of Quang Ninh. The market seems the most special in the early morning when the boats bring fresh seafood caught to sell. It is a busy trading area with an abundance of unique fish and seafood. If you want to buy more things like dipped squid, salted shredded shrimp, and dried seafood, Ha Long market has a lot of options for you.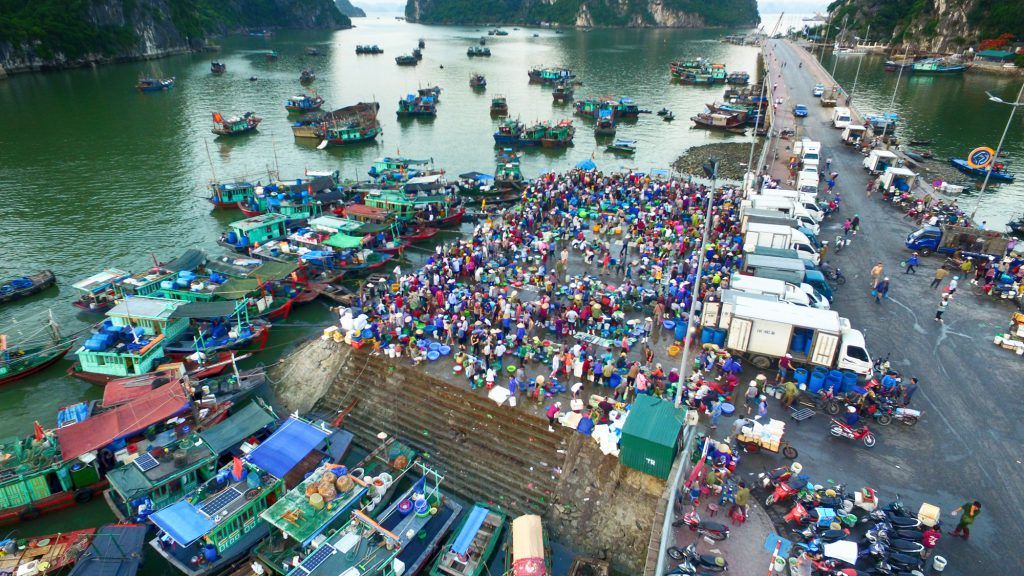 Read more about Hon Gai travel guide 
Ha Long has many exciting destinations that take many days to discover. This article is listed from the spectacular landscape of Ha Long Bay to the bustling Bai Chay tourist area, from the new Ha Long water park to Bai Tho Mountain and the peaceful Long Tien Pagoda. However, Vi Vu Ha Long just listed a few of top things to do in Ha Long that you should come. We hope that Vivu Halong's information will help you and your family have an exciting experience! If there is more information about any other fascinating destinations, please share with us.