Bai Chay – Ha Long is one of the favourite tourist destinations in the North, especially in the summer. In recent years, Bai Chay has become more bustling and attracted more visitors with a series of projects, a unique experience for tourists. The overnight cruise tours also have more options with better service quality. In this article, Vivu Halong shares some information about Bai Chay to help you plan your trip!
First, when you come to Bai Chay, you will visit and have fun in any places:
SunWorld Halong Ocean Park: The largest entertainment complex in the country, Dragon Park, the water park, with many different types of games.
SunWheel cable-car: to ride the Queen's cable-car with the cabin as big as a double-decker with a capacity of 230 people per turn, you will see the bay at night and will take the highest solar rotation in the world, discover the Ba Deo amusement park.
Bai Chay beach: based on a small natural beach, an artificial beach with extensive white sandy beach, stretching 4.5km, suitable for team building activities. 
Bai Chay Ancient Town: Simulated by the ancient town of Hoi An and Hanoi's old town, is a favourite photographic location for young people, with many trade activities, eating, entertainment. This area is very bustling in the evening.
Ha Long night market 
Fun facts about Bai Chay
The original name: there are two hypotheses about Bai Chay's name:
Old people often tell their children that, in the past, this land was a coastal sandy beach, people often used fire to burn boat so that acorn barnacle (con Ha) could not get in, to avoid damaging the ship, the name "Bai Chay" came from it.

Another theory of the name of Bai Chay is that, at this sea area, the food boat crew of the Nguyen Mong invaders were burned by the Tran Dynasty, the army, and the people, drifted ashore, fired the nearby forest, since then people called Bai Chay. 

Bai Chay coast has a sandbank which is 500m longer and more than 100m wide

Bai Chay – Ha Long has more than 300 accommodation facilities and more than 300 boats visiting the bay
How to travel to Bai Chay?
Getting from Hanoi to Bai Chay
The distance from Hanoi to Bai Chay is about 150km, and it is very convenient when you go from Hanoi. Therefore, there are many ways for you to choose:
Train: you can select trains to travel from Hanoi to Ha Long. Using this vehicle, you can see the scenery along the journey, understand more about the lives of local people in places where trains pass through. You can book train tickets on the website of Vietnam Railways: https://dsvn.vn/#/timve. Some notes if you choose this mode of transport:
The station originating from Hanoi is Yen Vien station and Halong station. From Halong station, you will have to move about 5km to reach the harbour or centre of Ha Long

There is a trip, the time from Hanoi at 4:55 am and arrives in Ha Long at 11:34 (travel time is about 6.5 hours). This route only has the option of "hard chair," the fare is VND 70,000 /person/way. 
However, we do not recommend you to take the train to Halong Bay as it is not convenient and time-consuming. 
Private car: you can drive to Ha Long by yourself or rent a private car to drive to Ha Long. The average car rental price is from VND 1,900,000 in two days. If you need to book a vehicle, you can contact me for more information, and the cost can be flexible according to the requirements and schedule of each group.
Local bus: this is the most used option for convenience, richness, and economy. There are lots of vehicles and trips every day, prices also fluctuate, according to the car company, and the line of cars serves customers. You can buy tickets on the website or go directly to the bus station to buy. Passenger cars to Ha Long (Bai Chay wharf) usually depart from My Dinh bus station every 15 – 30 minutes with a fare of 100,000 VND / person/ way. Some prestigious cars: Kumho Viet Thanh bus. 
Limousine van Hanoi – Ha Long: if you want to travel on the road smoothly, more comfortable and comfortable in 2.5 hours, try this van. It is a new limousine van, usually has nine seats, the fare is from VND 180,000 – VND 260,000 /person/way (ticket depends on the seat you choose). Also, the welcome / return point is also very flexible. The cars will try to arrange to pick you up at the point where you request, or the closest point possible. Some car manufacturers you can choose from
Xeluxury (Special 7-seater Sedona)

Phuc Xuyen Limousine

Hà Vy Limousine

Van Don Xanh 

Vip Anh Huy
Hai Au Seaplane: an extremely new and exciting experience. The flight departs from Noi Bai airport to Tuan Chau port, and flight time is 45 minutes. Some trips have an additional 15 minutes of a scenic flight. If you choose seaplanes, you should select the flight with sightseeing, very satisfied, amazing when Ha Long collapsed in your sight.
Flight information and fare you can check directly with Hai Au Seaplane
After landing in Tuan Chau, you can take a taxi from Tuan Chau port to Bai Chay (about 10 km).
Getting from Ho Chi Minh City to Bai Chay
From Ho Chi Minh City, you can fly to Noi Bai airport (Hanoi), Cat Bi Airport (Hai Phong), Van Don Airport (Quang Ninh). After that, you can take a taxi or a private car (I suggest you take your private car, because the drivers of the individual vehicle usually know the road, and do not take the time to call or negotiate the price as taxi drivers). The time to travel from Noi Bai airport to Bai Chay is about 3 – 3.5 hours, and from Cat Bi Airport is about 1 hour, from Van Don airport, is about 30-45 minutes.
Getting around Bai Chay – Ha Long city
Renting bicycles and motorbikes: some travel, hotel or homestay companies can rent bikes or motorcycles for visitors to visit freely and flexibly.

Take a taxi: here are some taxi companies that you should save the information to use when you need it:

Mai Linh Taxi: 0203. 3628628 

Taxi Hong Gai: 0203. 3848484 

Ha Long Taxi: 0203. 3626262 

Taxi Thanh Hung: 0203. 3659659 

Taxi Thinh Hung: 0203. 3616161 

Sao Mai Taxi: 0203. 3822822 

Quang Ninh Taxi: 0203. 3656656 

Bai Chay Taxi: 0203. 3646464

You can also choose electric vehicles, environmentally-friendly vehicles to move in Bai Chay area (Contact: 091148 9366)
Where to stay when traveling to Bai Chay?
Bai Chay beach area has many options for staying. However, you should note, if you go on holiday, Tet or weekends, book before you go, because these occasions are often full very early, or if you are lucky, the room price will be higher than usual.
We suggest you some hotel options:
4- 5-star luxury hotel: Novotel Halong Bay, Vinpearl Halong Bay Resort, Muong Thanh Luxury Quang Ninh Hotel, Wyndham Legend Halong, Royal Halong Hotel.  Read more about top 5-star hotel in Halong 
2-3 star hotel: Starlight Hotel, The Light Hotel
Homestay & Apartment: There are many choices of homestay and apartment in Halong city, read more about top rated homestay & apartment in Halong 
Restaurants in Bai Chay?
After moving and looking for a hotel, you must be hungry all the time. We need a place to eat and drink. Thinking about the sea, seafood. I suggest some "delicious – good – cheap" places:
"Delicious – good – cheap" must mention to the night market in Ha Long (located in the commercial and entertainment complex Halong Marine Plaza, on Hoang Quoc Viet street): the market opens from 6 p.m to midnight. The night market has many kinds of fresh seafood, from fried snails (stir-fried tamarind, stir-fried chili) to squid, shrimp, oysters, sea clams. 

Cua Vang Restaurant (No. 32 Phan Chu Trinh, opens from 10:00 am to 22:00): the restaurant serves both Vietnamese and international visitors. Cua Vang attracts tourists with luxurious space, fresh seafood, rich menu, agile staff, and the point is that visitors do not have to wait long. You try crab dishes. The average price ranges from 500,000 VND / person. + Cai Dam Market: 3km from Bai Chay, seafood is diversified; especially since there are many types of snails.
Hong Hanh 3 Restaurant (No. 50 Ha Long Street, opening: 10:00 – 22:00), besides fresh seafood, the restaurant also has beef dishes (individual beef hotpot). The staff of the restaurant is enthusiastic.

Other famous restaurants: Kim Quy Snail, Thuy Chung Seafood Restaurant, Thien Anh Restaurant
Read more about the top-rated restaurant in Halong city 
Things to do in Bai Chay?
As the center of Ha Long tourist area, Bai Chay has many entertainment and sightseeing places.
Bai Chay Beach
With a beach sandy beaches stretching nearly 4.5 km, the new beach is very green – clean – beautiful. You should not miss the opportunity to swim here to "smash" the heat, feel sea ​​flavour. Besides, you will be able to sunbathe, relax, see the new day or sunset, and relax, peacefully walk along the beach. You also can remember to record beautiful pictures as memories!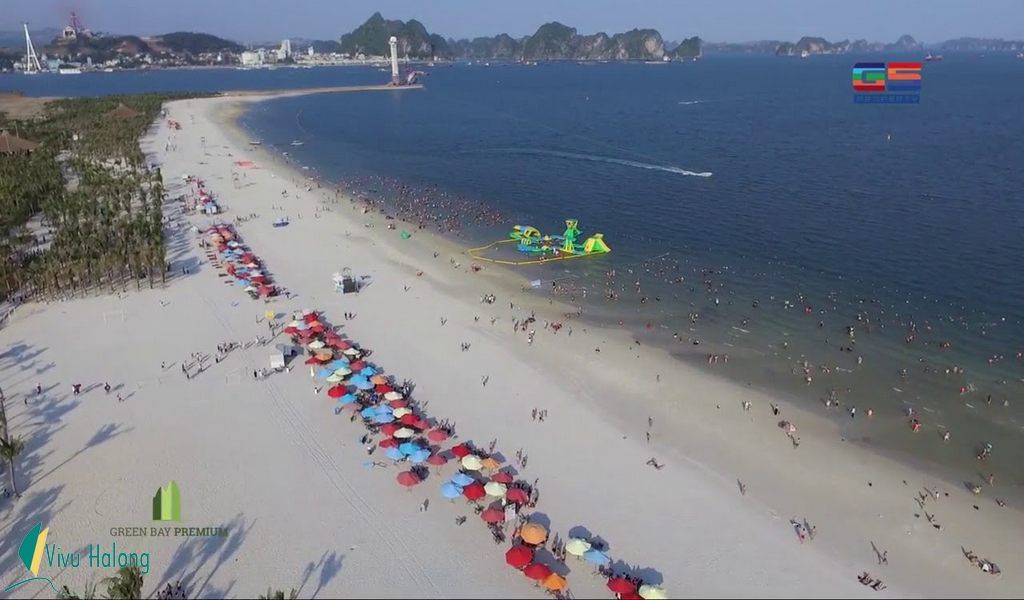 Bai Chay Bridge
It is the first cable-stayed bridge to be built in Vietnam, setting a world record with span length. Bai Chay Bridge at nightstands out with sparkling, brilliant and romantic beauty. During the day, relax on the bridge and see the bay. Besides, watching the yacht, you want time to stop to retain the beautiful moments.
Bai Chay Night Market
Located in the Halong Marine Plaza commercial and entertainment complex, on Hoang Quoc Viet street. Bai Chay night market serves a variety of Quang Ninh seafood dishes such as snails, grilled squid, grilled oysters and sells many souvenirs.
SunWorld Halong Ocean Park
The new amusement park in Ha Long, covering an area of 214 ha, including many discovery and experience areas such as Queen cable car route, Sun Wheel solar rotation, Japanese Zen Garden, Dragon Park Park Details for amusement parks, ticket prices, you can find out more through the information page: http://sungroup.quangninh.vn/sun-world-ha-long-park/
Bai Chay Ancient Town
very crowded and bustling with many souvenir shops, shops, cafes, pubs not different from Hanoi ancient town or Tay Bui Vien street in Saigon.
Halong Marine Plaza commercial and entertainment complex 
In this area, Little Vietnam, with old townhouses in Hanoi and Hoi An, is not crowded till now. There is also a CGV cinema and a giant Ferris wheel in this area.
Taking an overnight cruise on Halong Bay 
Cruising on Halong Bay to enjoy the breathtaking nature and the beautiful bay. There are hundreds of cruising boats including wooden boats and steel vessels to provide you a comfortable stay on the bay with many interesting outdoor activities and onboard experience. 
You also can read more about luxury cruises on Halong Bay 
Café in Bai Chay?
Milk Tea Ding Tea, 112B kiosk, Sun World Ha Long park

Sky bar, Royal Lotus Hotel Ha Long

Nam Phong Café: 701 Ha Long Street and 1st floor, Novotel Ha Long Hotel Pool

The café shops reading along the Bai Chay coastal road
Read more about top cafes and bar in Halong 
What to buy as a gift in Bai Chay?
Grilled squid: the most famous in Ha Long is the Thoan grilled squid

Fresh seafood at Ha Long market (you can make foam boxes and use ice to keep cold)

Dried squid and dry peanut

Souvenirs such as bracelets, necklaces, wind bells built from the seashells, pearls at Halong night market.
If you are planning to visit Halong city including Hon Gai, Bai Chay, and other tourist areas, check out some suggestions by Vivu Halong
We hope that my information can help you when planning to visit Bai Chay – Halong. Please share with us your experiences in the comment section.