Being different with Tuan Chau or Bai Chay- the tourist centres in Quang Ninh, on the other side of Cua Luc, across Bai Chay Bridge, Hon Gai (otherwise known as Hong Gai), is one of the areas with the history of formation and development of Halong City. Hon Gai is a tourist area. It is peaceful but attractive in the daily life of a local city on the shore of Ha Long Bay.
If you want to find the local area, but not too crowded and to have the unique experiences about life, culture and cuisine, Hon Gai is a place to go to in Quang Ninh. Vivu Halong suggests some information that might help you plan your trip. 
Things to do in Hon Gai 
Quang Ninh Museum

Bai Tho Mountain – Tran Quoc Nghien Temple – Long Tien Pagoda

Ha Long Market

Vincom Plaza Ha Long Trade Center

Overnight cruise on Bai Tu Long Bay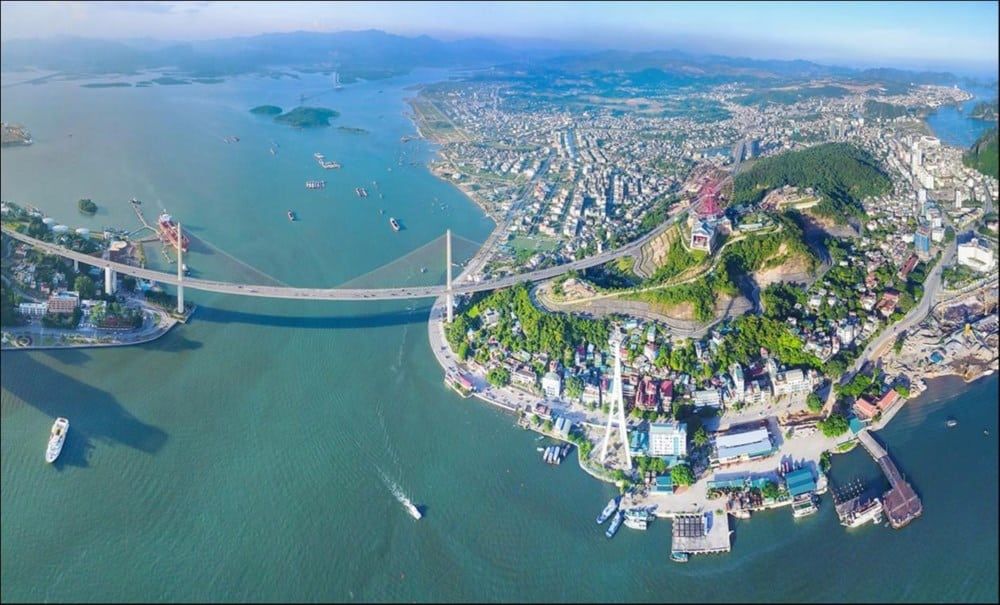 Where is Hon Gai located?
Ha Long city is divided into two main zones, including:
Bai Chay entertainment and tourist area

The cultural and political centre of Hon Gai
Cua Luc Bay separates these two areas, just passing Bai Chay Bridge will reach Hon Gai. Hon Gai Town is the former name of Ha Long City. Hon Gai is divided into different small areas: Hon Gai – economic and cultural centre; Column 8 – political centre; Column 5, Cao Xanh – residential district; Ha Lam, Ha Tu, Ha Khanh – coal mines.
Getting to Hon Gai
Hon Gai is still in Ha Long City, so moving from Hanoi to Hon Gai is similar to going from Hanoi to Bai Chay. You can refer to this article for information about the types of cars, buses, limousine van or train from Hanoi.
However, to get to Hon Gai, you must pass the Bai Chay Bridge. For those of you who have a lot of time to explore and learn about Ha Long, you can refer to learning both these areas, because it is very convenient to travel.
The distance from Bai Chay to Hon Gai is about 5km.
Hotels in Hon Gai
Hon Gai is a perfect choice for tourists who love the quietude, relaxation, and refreshing. Besides, the price of renting rooms and hotels in this area is also "soft and pleasant" than the regions where it is crowded with tourists, especially during peak periods, holidays and weekends. I suggest some options as follows:
4-5 star hotel: Halong DC hotel, FLC Grand hotel (Read more about 5-star hotels in Halong) 

2-3 star hotels: Paradise Hotel, Thuy Nga Hotel, Full House Hotel, Seoul Hotel, room rate 400k – 700k depending on the type and season of travel

Homestays & Apartment: Dragon Bay Apartment, Deja vu house (Read more about homestay and apartment in Halong) 
Enjoy fresh seafood in Hon Gai
Hon Gai is a residential district of ​​Ha Long city, so most of Hon Gai restaurants are to serve the needs of the city people. You will enjoy special dishes of Quang Ninh people, enjoyed fresh seafood and prices are very reasonable. You should try eating seafood on a raft, feeling sitting on a floating raft, a little tossing, but the seafood is fresh a great feeling. (Price range> 300.000 VND / person).
I suggest some places to eat in Hon Gai: 
Hong Hanh Restaurant 1, column 8- Hon Gai

The raft of Hong Dam – the sea road of column 5Anh Duong Restaurant, Huong Lan Restaurant, Green Bay Restaurant are all located in the sea road of ​​column 5

Huong Duyen Restaurant (No. 66 Tran Hung Dao Street), you should come early or book a table in advance because it is fast.

Floating restaurant Jumbo Ocean (near the Hong Dang raft), like a floating ship on the water 

If you like eating snails, you can go to the snail shop opposite the Vietnam – Japan Culture Palace (Le Thanh Tong street); or snail shop on Nguyen Van Cu street, next to Quang Ninh museum.

The horseshoe crab is also a dish to try, Ba Ty horseshoe crab in lane 6 Cao Thang is the most famous in Hon Gai.
Read more about top-rated restaurants in Halong 
Things to do in Hon Gai 
Quang Ninh Museum 
Located on Tran Quoc Nghien Street, is an architectural work, a unique artistic space along with many valuable exhibits. Unlike other museums, the Quang Ninh Museum impresses visitors from the first sight with the black glass cover.
The Museum has two display areas, which are outdoor and indoor areas with a diverse, vibrant and unique exhibition space, associated with the history, life, and culture of the local people, from the current large objects, natural resources, agri-fishing tools related to the life of fishers
Besides, the Museum also has exhibitions of thematic space.
For more information, you can refer to Quang Ninh Museum's website at http://www.baotangquangninh.vn/.
 Opening time of Quang Ninh museum
Open weekdays (except Monday)

Time: Morning: 8:00 – 11:30
Afternoon: 13:30 – 17:00
The price of admission to Quang Ninh Museum
Adults: 30,000 VND / person;

Students: 15,000 VND / person

Children: 10,000 VND / person
* Note: Students are people who have student cards, issued by schools belonging to the national education system in Vietnam.
* Free for visitors with height less than 1.20m
Bai Tho Mountain – Temple of Dong Hai Dai Vuong Tran Quoc Nghien – Long Tien Pagoda
 Bai Tho Mountain is a symbol, a pride of Halong people. Bai Tho Mountain has many caves and diversity of plants such as an orchid. Standing on the top of Bai Tho Mountain, you can enjoy the panoramic view of beautiful Ha Long Bay, which is a great place to check-in. However, recently, if you want to go to Bai Tho Mountain, depending on the time, you may need to ask for permission and get approval from the local government.
At the foot of the mountain is the temple of the Great King Tran Quoc Nghien and Long Tien Pagoda. Although located in the centre of Ha Long city, this place is almost separate from the noisy life.
Ha Long seafood market
The market is built three floors, has a large scale, the stalls are arranged scientifically, easy to find with many different goods: clothes, shoes, consumer goods, and seafood stalls. A unique feature of Ha Long market is a fish wharf area where the seafood is collected from the fishing boats of the local people, sold in the morning from 4 am – 7 am, have many kinds of fresh seafood and the price is also reasonable. Quang Ninh seafood is too famous. I love going to the fish pier in Ha Long market early in the morning, crowded and bustling, especially, not everywhere.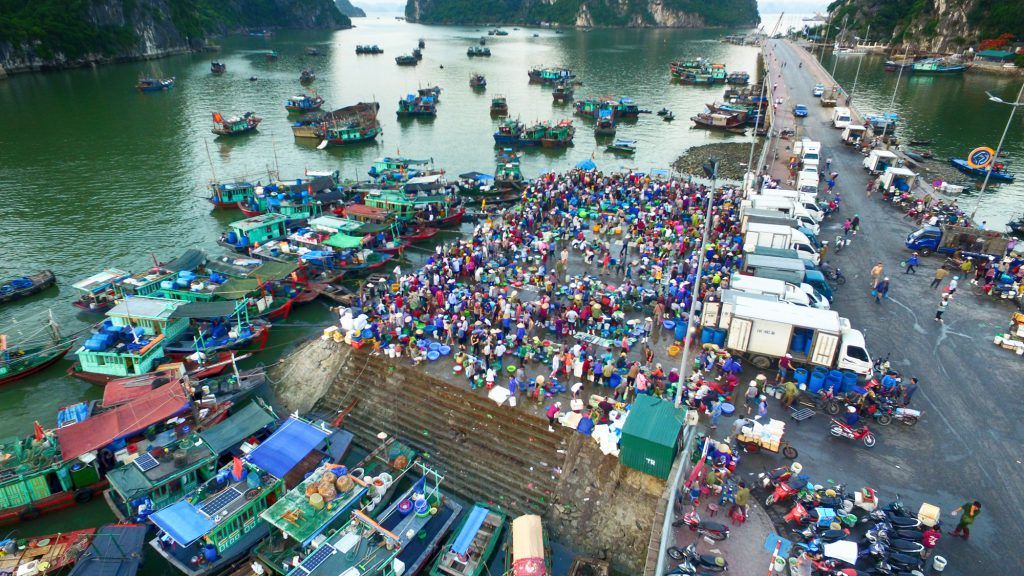 Vincom Plaza Ha Long Trade Center 
Officially opened on October 2014, the commercial district is a modern shopping and entertainment complex. At Vincom Plaza, you can enjoy shopping with many products from high-end brands, enjoy a plentiful culinary world (traditional flavors of Vietnam, China, Thailand …), shopping at Vinmart supermarket, experience the first skating- rink here, or experience outstanding high technology with modern screen, crisp sound, enjoy blockbuster movies at CGV theater.
Coastal road 
If you want to immerse in nature and love the sea, take the time to go for a walk at the waterfront near Vincom. This road has just completed, so it is clean, fresh, and incredibly romantic, this is also the most beautiful seafront in Ha Long city.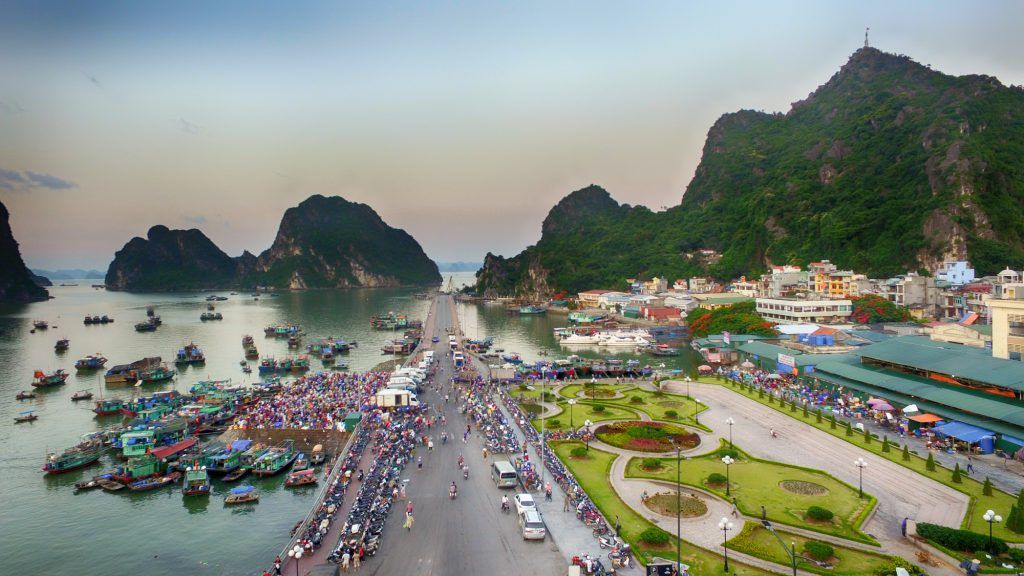 Overnight cruise in Bai Tu Long Bay 
Hon Gai harbour, the starting point for a cruise was visiting deserted Bai Tu Long Bay with destinations such as Thien Canh Son cave, Vung Vieng fishing village (or Vong Vieng), the beaches. Some cruise following this route like:
Dragon Legend, Dragon's Pearl, Prince, L'Amour belong to Indochina Junk Company

Oriental Sails and Starlight

Bai Tho Junk

Swan Cruises
Check out the best deals for Halong Bay cruise here: https://vivuhalong.com/en/cruise-type/luxury-cruise/
Hon Gai also has a lot of coffee shops that chat. The shops have beautiful views
Dupin Coffee & Bar (at Halong DC building)

Rooftop Coffee & Bar (1st street April 25)

Old Town Café on Tran Quoc Nghien Street (castle café)

Highlands Coffee (Hoang Long street)

Play Pub (young, modern space)
Read more about cafe and bar in Halong 
Tips: Hon Gai is also the place where speed boat departs for Co To island, Quan Lan island, you have plenty of time to be able to combine to discover these locations together.
If you are planning to visit Halong city including Hon Gai, Bai Chay, and other tourist areas, check out some suggestions by Vivu Halong
I hope that some of the above information can help you plan your trip to Hon Gai. If you have more sharing, please let us know.