Lan Ha Bay is an amazing place to visit for a trip this year. It owns good caves, and fresh air, and is an ideal destination for outdoor activities. Even if you have a short time, we can give you a Lan Ha Bay 1 night cruise with a detailed itinerary to make it unforgettable. 
Vivu Halong is the #1 local travel agency specializing in tours, cruises, and transfers to Halong Bay and Lan Ha Bay. Contact us to plan your trip!
2 day 1 night to explore Lan Ha Bay
Many tourists do not have much time for traveling; they spend one day visiting the most famous destination in Lan Ha Bay for a short tour of the spot. They depart early at 7 am, and then come back in the late afternoon, enjoying a meal, and spending one night on the beach. The next day, you can have breakfast and come back to the city.
Although Lan Ha Bay 1 night cruise is not enough to discover all the tourist attractions, you can get a great tour with such activities: as visiting Bright Cave, kayaking, swimming, and more water activities. In the evening, you can enjoy seafood with the traditional cuisine of Vietnam,  breathe fresh air and watch Lan Ha Bay in peace. 
This tour is listed as 2 day 1 night but you actually have nearly 24 hours on this tour
Embarking time: 12:00 at noon (1st day)
Disembarking time: 11:00 am (2nd day)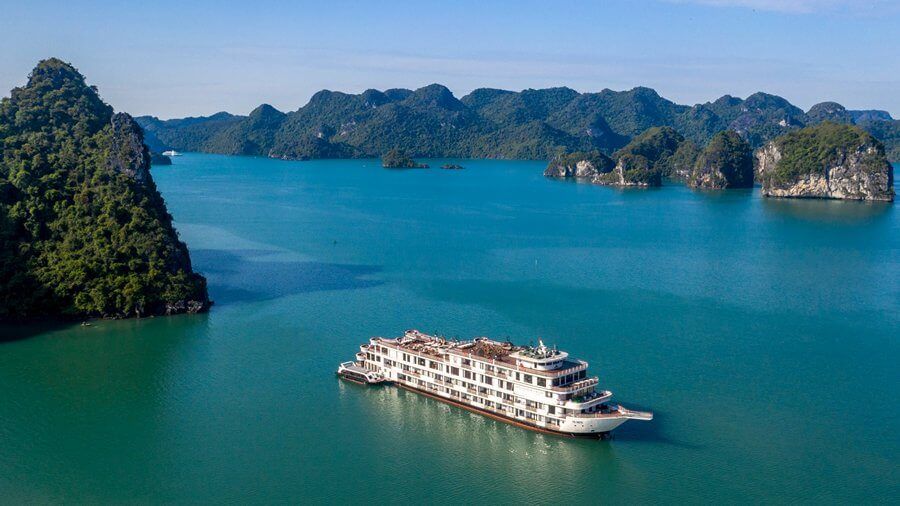 Lan Ha Bay 1 night cruise price
The price of Lan Ha Bay 1 night cruise ranges from 150 USD – 255 USD/person, applied for 2 persons / cabin.
This price will include: 
Accommodation for 1 night ( 2 persons/cabin) 
Meals: 01 breakfast, 1 dinner, 1 lunch, 1 brunch 
Activities: Kayaking, Bamboo boat, Sunset Party, Cooking class 
English-speaking tour guide on board
Free complimentary in the cabin
Sunset party
All entrance fee of visiting sites 
The price does not include: 
Transportation from and to the cruise port
Massage service
Beverages
Tips and other expenses
Taxes
Service charges on Christmas, New Year's Eve and the Vietnamese Tet holiday
| | | | | |
| --- | --- | --- | --- | --- |
| Cruise  | Elite of the Sea  | Capella Cruise  | Stellar of the Sea Cruise  | Heritage Cruise  |
| Price  | 255 USD/pax | 199 USD | 235 USD/pax | 215 USD/pax |
| | | | | |
| --- | --- | --- | --- | --- |
| Cruise  | Scarlet Pearl Cruise  | Galaxy Cruise  | Adela Boutique Cruise | Rosy Cruise |
| Price  | 189 USD/pax | 170 USD | 155 USD/pax | 175 USD/pax |
Tour Itinerary
For such a Lan Ha Bay 1 night cruise, most travelers start the tour from Hanoi with pick up by shuttle bus at hotels in Hanoi Old Quarter.
Please, find the detail in this itinerary: 
Day 1: Hanoi – Tuan Chau – Lan Ha Bay – Kayaking
In the morning: 
The morning is the time for tourists to move from Hanoi's capital. You can join a shuttle bus or rent a private car to get to the place at noon. Arrive at Tuan Chau International harbor then take a tender /canoe transfer to Gia Luan (where the boat anchor) 
Transfer from Tuan Chau harbor to Gia Luan: 30 minutes on canoe or tender
In the afternoon: 
Embarking on the cruise at 13:00, check in your cabin and enjoy lunch with seafood and Vietnamese food. Then let's take so many pictures with your cameras, and enjoy kayaking to feel the clean water and fresh air, get closer to the rocky islands, and admire the stunning nature of the bay. This is an outdoor activity most tourists take part in on a trip to this destination. 
The kayaking area
In the evening: 
Coming back to the cruise, you can enjoy a sunset party while listening to music. Happy hour is a great time to relax and spend time sightseeing. At night, you can have a good dinner on the top deck or in a sparkling restaurant with seafood. After that, tourists can take part in squid fishing and watch the stars in the night sky before going to sleep.
Day 2: Bright cave – Tuan Chau – Hanoi
In the morning:
On the second day of the trip, in the morning, it is time to have breakfast on the cruise and immerse yourself in nature and the strong winds of the sea.
Explore the Bright cave on a traditional rowing bamboo boat with locals then have a brunch meal before leaving boats for transfer back to harbor at 10:30 am. 
Back to Tuan Chau harbor then get on the bus back to Hanoi. 
In the afternoon
Arrive at your hotels in Hanoi at 15:00. Trip ends.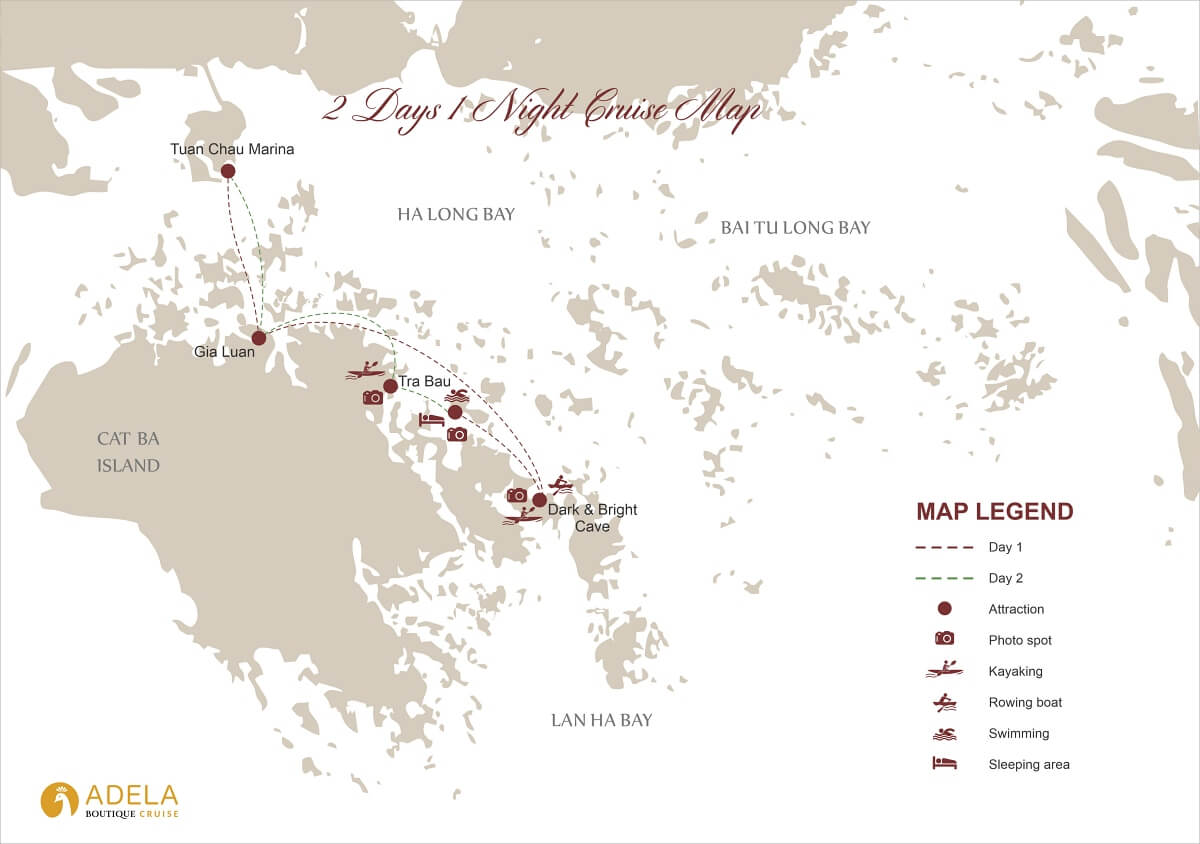 *This itinerary might be changed depending on cruise operators but the activities and visiting sites remain the same. 
Experience on Lan Ha Bay 1 night cruise 
What can you experience on a Lan Ha Bay tour for 2 days and 1 night? Let's see the list and you can get the best moments. 
Kayaking
Kayaking is among the top must-try activities in Lan Ha Bay. The bay has clean water, cool wind, and fresh air, suitable for you to join in outdoor activities. The kayaking activities are included in the tour, you might go kayaking in the afternoon or in the morning depending on each cruise operator. 
Time for kayaking: 45 minutes – 1 hour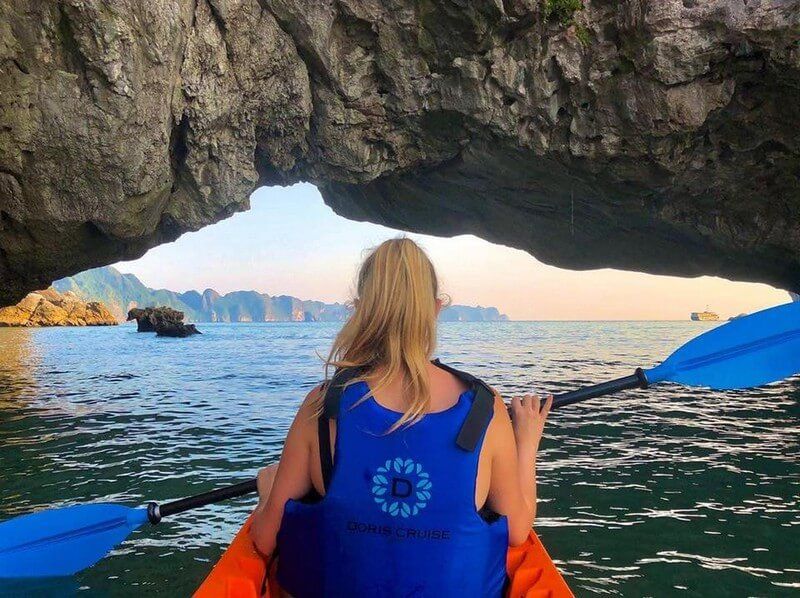 Visit Bright cave on a bamboo boat
Being a part of the Lan Ha Bay 1 night cruise, you can discover Bright cave, a famous destination. This cave is 3 meters in height, 100 meters in length, and 4 meters in width, not big enough for a cruise but for a local bamboo boat. Surrounding it, you can see many lush trees and stone cliffs, which make the cave more majestic and mysterious, and attractive to many tourists out there.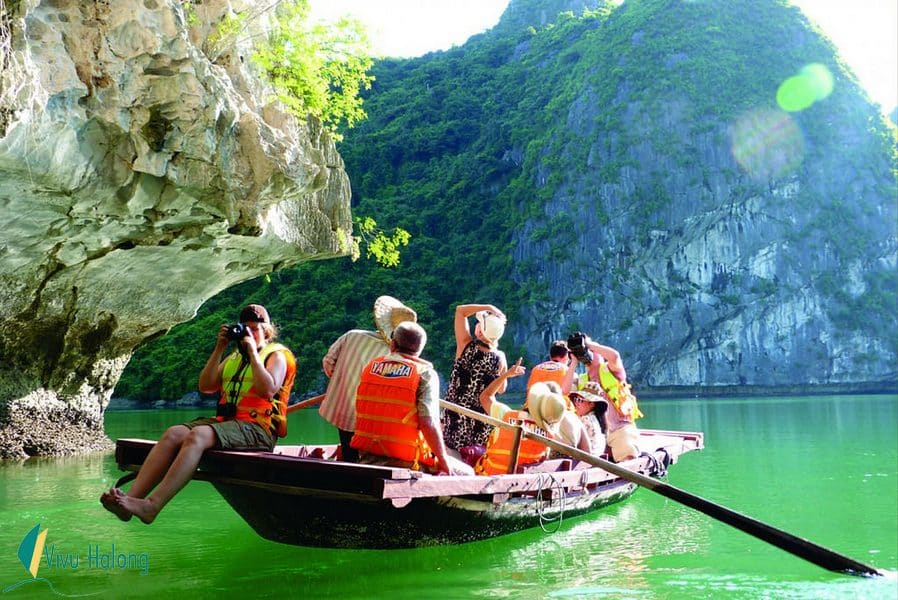 Swimming & water activities
If you spend time on the beach, never miss swimming and other water activities. The clean water in the area is charming and swimming in the sea is fantastic. Besides that, you can also play some sea sports with friends, or diving, fishing,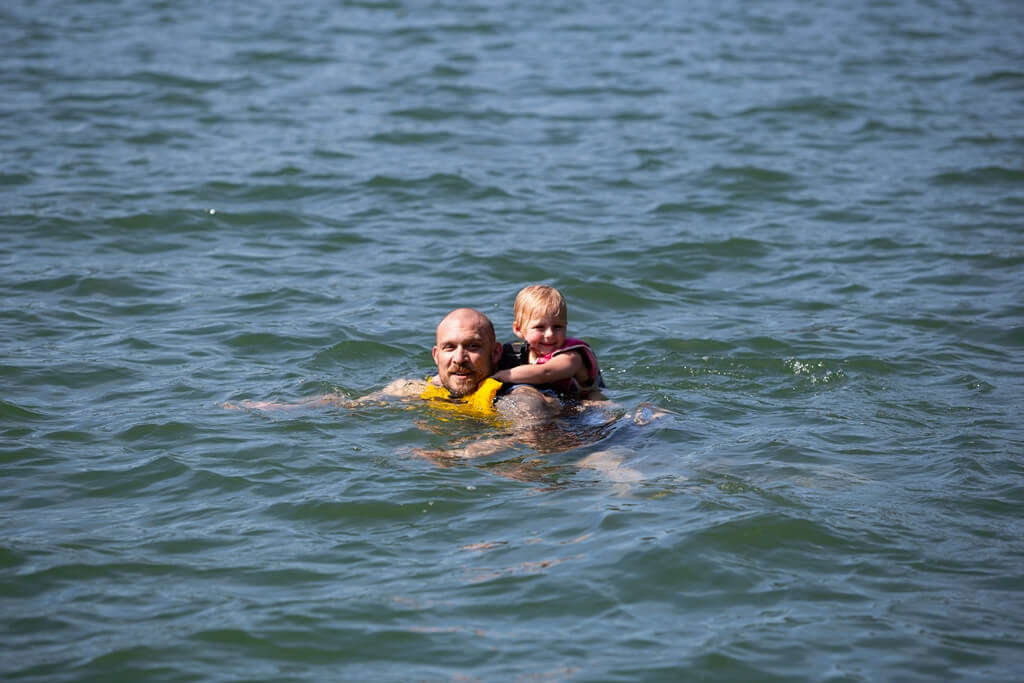 etc. 
Service on cruise
A 1-night cruise ranges from 3-star to 5-star choices, so it depends on your budget to get the different services. 
Accommodation
The accommodation on such a Lan Ha Bay cruise can satisfy you, with a comfortable bed and aircon. Each tourist has a private balcony, and a private bedroom and you can relax in the cabin, watching the bay through the window. Lan Ha Bay cruises also offer an air-conditioner to make it cool in the summer, and warmer on cold days.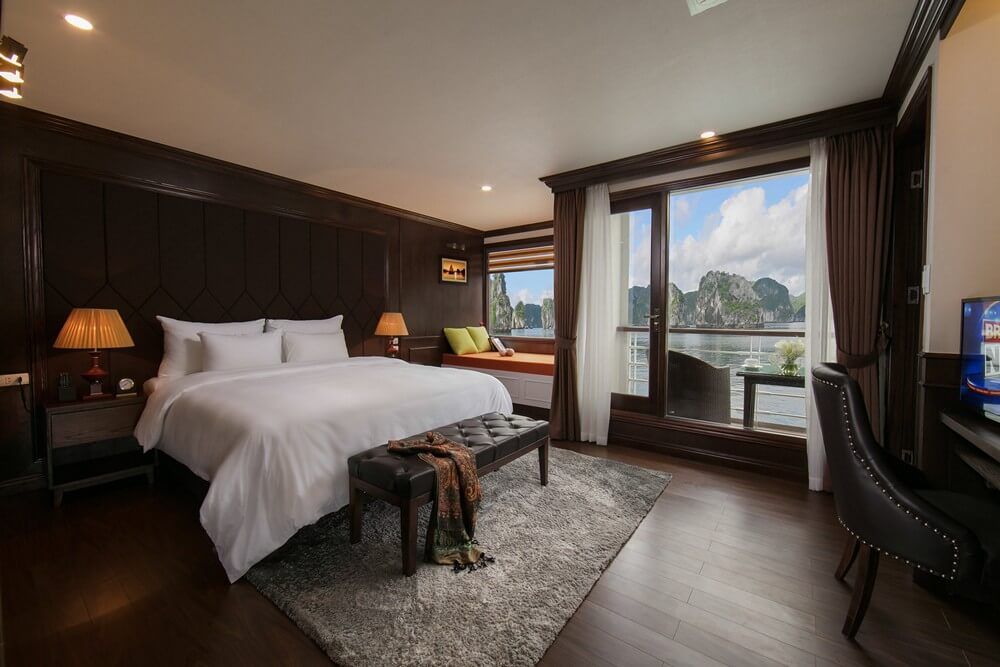 Meals on the cruise
The cruises can serve the customers well with two breakfasts, two lunches, and one dinner. It would be a set-menu or buffet meal depending on each cruise operator. On the second day, you can enjoy a meal, get to Tuan Chau island, and have lunch before getting back to Hanoi. Food is fresh, yummy, and tasty for all visitors. The menu will serve seafood, meat, and local vegetables… Vegetarian meals are available on request. 
1 breakfast, 1 lunch, 1 dinner, 1 brunch 
Set Menu or Buffet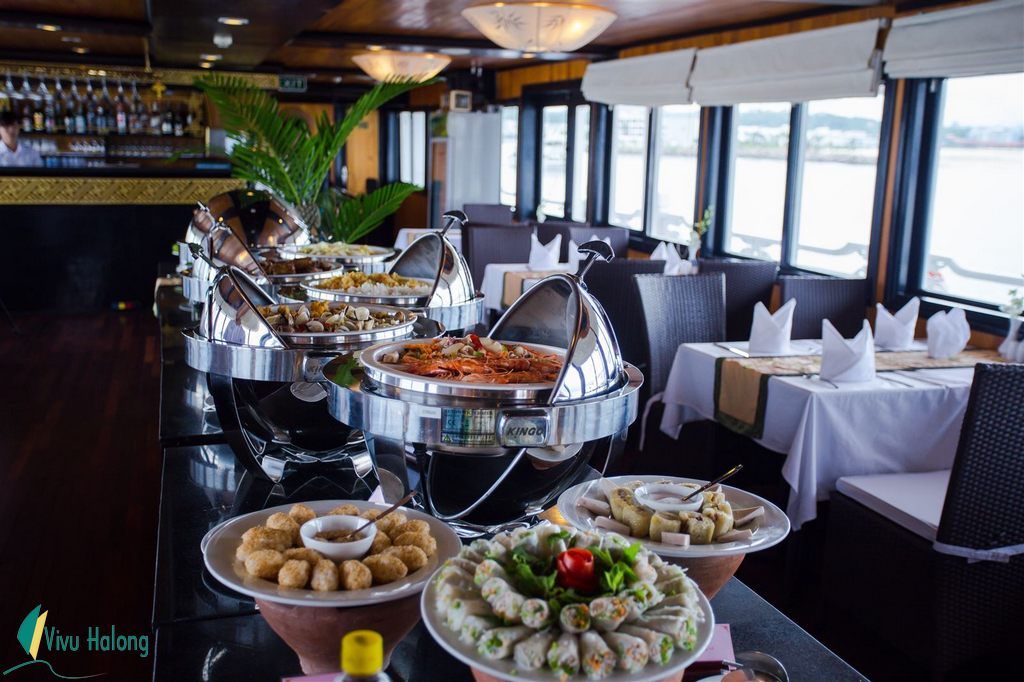 Facilities
If you choose a 4-star or 5-star cruise, the facilities are well-equipped. From the sundeck to the swimming pool, all are very modern and clean. The restaurant on the cruise offers a good menu, with an experienced chef who can cook both Asia and European dishes. 
En-suite cabin with private bathroom, balcony 
Restaurant & Bar 
Lounge 
Sundeck 
Pool 
…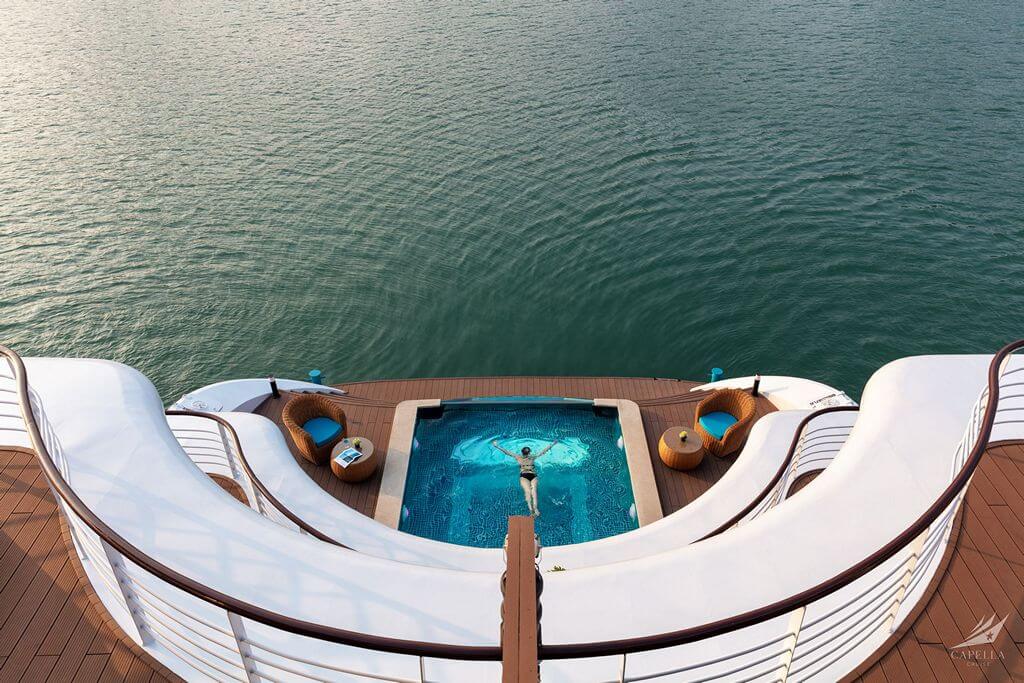 Onboard activities
Many care about the onboard activities such as cooking class, spa room, and happy hour with delicious tea. It depends on the cruise you choose, some cruises can even offer yoga classes and birthday parties for tourists. 
Sunset Party 
Cooking class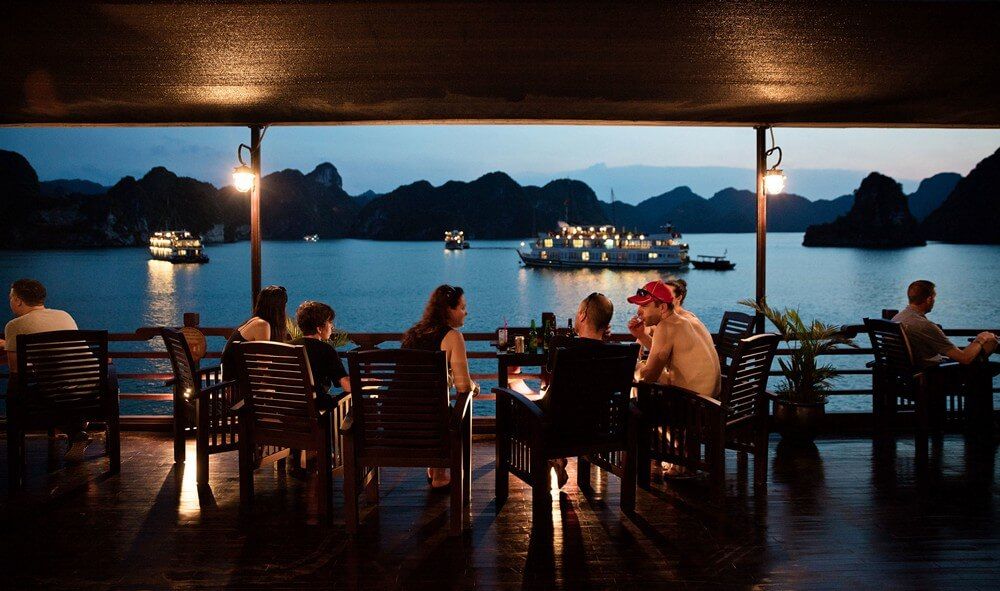 How to book a Lan Ha Bay 1 night cruise?
If you want to enjoy a 2 day 1 night Lan Ha Bay tour, we suggest you book the holiday from cruise operators, OTAs, or travel agencies.
Book directly with the cruise operator
The cruise operator offers to book online services, tourists can call the hotline, chat with supporters and ask for the trip to the destination. You can get reasonable prices this way and feel safe for the holiday. But it may be difficult during peak season because travel agencies may book almost all the cabins. 
OTAs
Nowadays, many OTAs appear and become important for many people who like to travel around the world. To visit Lan Ha Bay, you just search for a trusted OTA such as Booking, Agoda, Expedia, Viator, and Airbnb to book the cruise you fall in love with. 
Travel agents
Travel agencies and tourism companies give a high price, but they give you tips for tours, good itineraries, and travel insurance for bad situations. If you do not know much about Lan Ha Bay, and this is the first time you get to the place, choosing a good travel agency can help you a lot. 
Vivu Halong is the #1 Halong Bay & Lan Ha Bay cruise booking, our experienced travel consultants will support you to find the best deal! 
Recommended cruise for 1 night cruise on Lan Ha Bay
Elite of the Sea 
Elite of the Seas is the newest 5 stars cruise on Ha Long Bay – Lan Ha Bay. The cruise is designed based on the idea of contemporary, luxurious, quintessential style.
Elite of the Seas features 35 spacious rooms, all with private terraces & ocean views bathtubs. The fine dining restaurant, outdoor and indoor bar, wine and cigars cellar, mini golf course, open year-round large swimming pool, sauna spa & massage, fitness room, and children's playroom will bring you the best vacation on the sea of Lan Ha.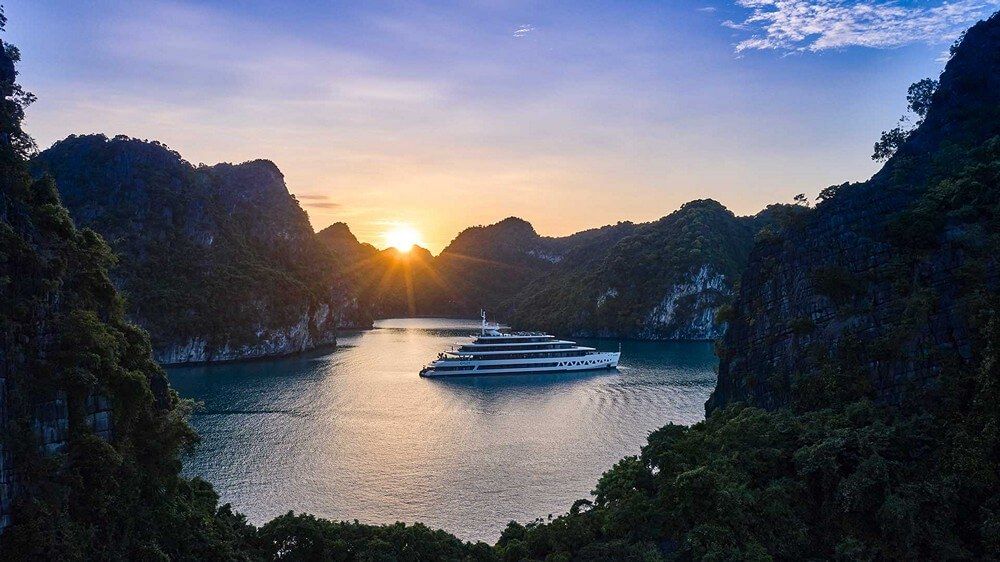 Heritage Cruise 
Heritage Binh Chuan cruise is a 5 stars cruise on Lan Ha bay. Inspired by the legacy of ship king Bach Thai Buoi successfully launched the Binh Chuan ship in Hai Phong exactly 100 years ago, Heritage designed the Indochine style but was still able to express the tradition and culture of past time.
The cruise features 20 cabins luxurious, including 6 Delta Suites, 10 Ocean Suites, 2 Captain Suites & 2 Regal Suites, ranging from 33 to 46 sqm, and clad with high-end amenities. All cabins are spread across the three-deck with en-suite bathrooms, panoramic windows, a sitting area, and expansive ocean views from an oversized terrace with two sun beds.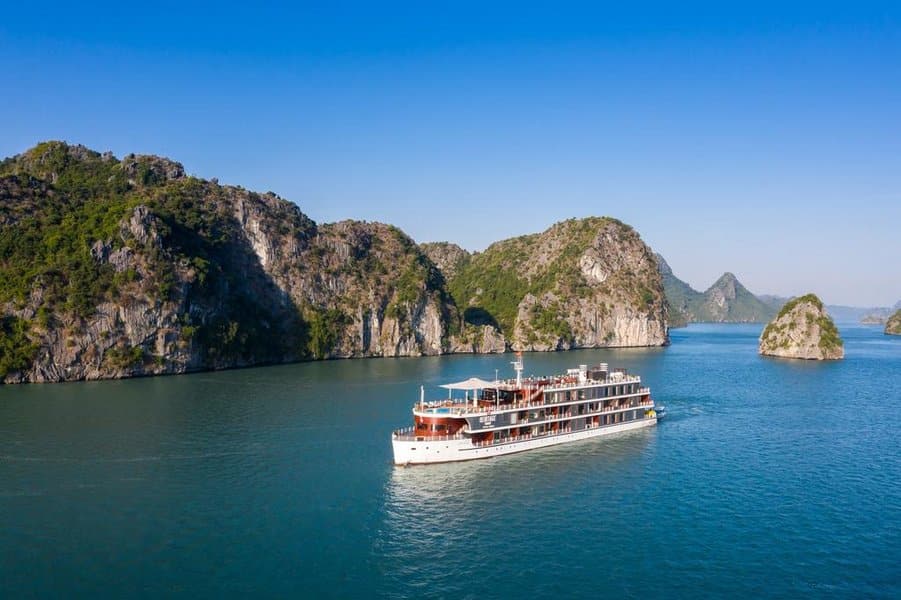 Stellar of the Sea 
Stellar of the Sea Cruise, known as a superyacht on Lan Ha Bay, get impressed by its modern and luxurious design. The cruise has the same feature as a Western-style yacht and a luxury 5-star hotel. The cruise itself brings you a fantastic holiday on the sea, but it has more experience travelling to discover Lan Ha Bay.
The cruise features four floors with 22 luxurious rooms, and four different room categories (Junior, Senior, Executive & President). The rooms have balconies and private bathrooms, and large windows.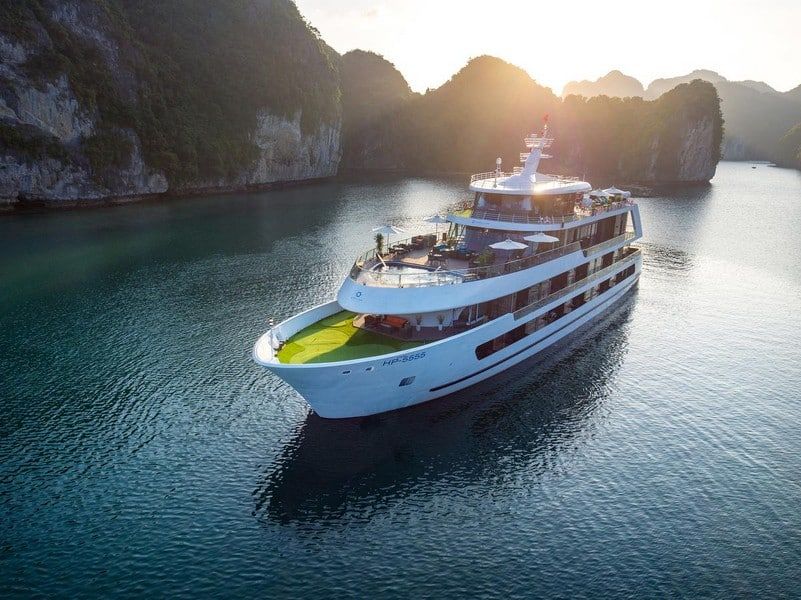 Mon Cheri cruise 
Mon Cheri Cruise offers 5-star cruise service on Lan Ha Bay. The two vessels feature 18 and 25 spacious cabins, an elegant restaurant, a bar, fitness, and spa service. The vessel's design is a perfect blend of classic European style and the rustic essence of Vietnam.
Mon Cheri I Cruise: 18 cabins 
Mon Cheri II Cruise: 24 cabins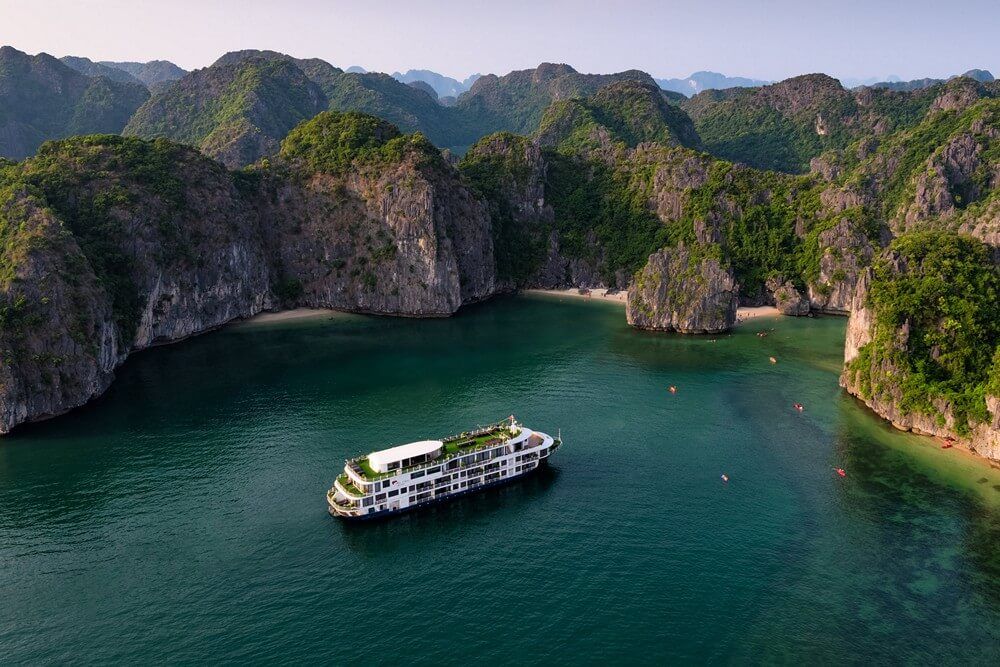 >> More cruise deals at: https://vivuhalong.com/en/cruises/ 
We hope our advice can give you some tips before traveling to Lan Ha Bay on your next trip. Enjoying the Lan Ha Bay 1 night cruise is great, and you will never forget the day.