In the previous article, Vivu Halong introduced to you a details guide for two days 1-night Halong Bay cruise. In this post, we review the 3 days and 2 nights Halong Bay cruise tour package. If you are planning to travel to Ha Long and stay onboard for 2 nights, or do not decide to stay 1 night or 2 nights on Halong Bay, you should read this article. 
3 day 2 night  Halong Bay cruise, extraordinary cruising experience 
Compare to the two days and 1-night cruise trip, you will have a more exciting experience on a longer cruise journey 
The 3 day 2 night Halong Bay cruise is a package tour with transfer from Hanoi. This tour includes meals, accommodation, onboard activities, and an outdoor experience. You will follow the scheduled itinerary during a 2-night stay on the cruise. 
With the 3 days 2 nights cruise tour, you will board the cruise, and enjoy all the services lasting from noon on the first day until noon on the 3rd day.
Depending on the itinerary you choose, you will depart at different ports to visit the bay.
Bai Tu Long Bay & Ha Long Bay itinerary > Depart from Ha Long International Habour

Lan Ha Bay itinerary> Depart from Tuan Chau International Habour
If you travel from Hanoi, follow the itinerary with pick up from Hanoi around 8:30 – 09:00 am to arrive harbor in Halong Bay at 12:00. Embark on the cruise and start cruising to the bay, you will stay 2 nights and experience many exciting activities: kayaking, swimming, bamboo boat riding to visit a cave, cycling (Cat Ba island)… After that, by 11:00 pm noon on the 3rd day, you can check out. Finally, you will get on the shuttle bus and get back to Hanoi at 3:00 pm.
Spend 2 nights on a cruising vessel 
Experience: kayaking, swimming, visiting caves, cycling… 
Meals: 3 lunches, 2 dinners, 2 breakfast 
Start cruising at 12:00 (at noon) from the harbor in Halong Bay (1st day).
Ends at 11:00 AM at the harbor (3rd day) 
Halong Bay 3-day cruise price & what included 
Most of the cruise operators will offer you the 3 day 2 night cruise, the price of this longer cruise will double the price of 1 night cruise
| | | | | |
| --- | --- | --- | --- | --- |
| Cruise  | Adela Boutique Cruise  | Capella Cruise  | Stellar of the Sea Cruise  | Heritage Cruise  |
| Price  |  265 USD/pax |  370 USD/pax |  410 USD/pax |   405 USD/pax |
| | | | | |
| --- | --- | --- | --- | --- |
| Cruise  | Scarlet Pearl  | Elite of the Sea | Le Theater Cruise |   |
| Price  |  355 USD/pax |  450 USD/pax |  320 USD/pax | |
This 3-day cruise price will include 
Cabin with private bathroom, big windows, private balcony… 
All meals on board as mentioned in the itinerary
English-speaking tour guide on board
Free complimentary in the cabin
All entrance and sightseeing free 
Kayaking, bamboo boat rowing, cycling on the island, fishing activities 
Tai Chi practice in the morning, Sunset Party… 
The price will not include 
Drinks 
Transfer to Halong Bay 
Extra service: massage… 
Tips… 
>> Book a 3 day cruise: Call or WhatsApp: +84.789.455.888 
3 day cruise itinerary and which route to choose
Cruising on Halong Bay for 2 nights, you can choose one of the 3 main routes with its own unique experience 
Halong Bay cruise route 
Lan Ha  Bay – Cat Ba island cruise route 
Bai Tu Long Bay cruise route 
Let's explore the different 3 day cruise itineraries
Halong Bay cruise route 
The journey to the center of Ha Long Bay is the most popular route for travelers, you can find here many famous visiting sites: Thien Cung Cave, Dau Go Cave, Stone Dog Islet (Hon Cho Da), Dinh Huong Islet, Trong Mai Cave, Sung Sot Cave, Ti Top Island. Soi Sim Island, Me Cung Cave… 
Depart from Halong Port or Tuan Chau Marina (Tuan Chau island)
Visiting sites and Experience: 
Natural caves: Amazing (Sung Sot) cave, Thien Cung grotto, Me Cung cave, Trinh Nu cave…
Beaches and islands: Titov Island, Soi Sim Island…
Kayaking in Hang Luon
Floating villages: Ba Hang, Cua Van floating village…
Pros: It is the most popular and famous cruise route of Halong Bay, you can visit the most well-known attractions on the bay and explore a beautiful area
Cons: It could be crowded, for both domestic tourists and international travelers (especially in the peak season)
3 day Halong Bay cruise itinerary
DAY 1: HABOUR – HALONG BAY – SURPRISING CAVE –  TITOV ISLAND
12:00 Welcome guests at  Halong International Harbour. Complete the luggage check-in procedure at the waiting lounge before boarding for the cruise.
13:00 Enjoy lunch at the restaurant onboard.
14:45 Visit "Sung Sot" Cave (Surprising cave) – the biggest and the most beautiful cave in Halong Bay.
15:45 Explore Titov island with a nice sandy beach and reach the top mountain for a panoramic view of Halong Bay.
17:00 Back to cruise and relax.
18:00 Enjoy a sunset party with freshly prepared snacks and your favorite drinks while waiting for sunset on Halong Bay
18:30 Cooking class
19:00 Dinner onboard
20:30 Free time for evening activities (music lounge, sundeck relaxing, squid fishing…)
DAY 2: FLOATING VILLAGE – ME CUNG CAVE
06:30 Morning Taichi Excercise
07:00 A light breakfast is ready to serve at the restaurant
08:30 Transfer to a dayboat to discover a rustic floating village and another stunning cave in Halong Bay
10:00  Arrived at Tung Sau Area, the village with local fishing life will be discovered by kayaking
12:00 Lunch onboard
13:30  Explore "Me Cung" cave (Maze cave)
15:00  Back to the boat and relax
18:00 Sunset party
18:30 Cooking class
19:00 Enjoy sparkling dinner onboard
20:30  Freetime for evening activities
DAY 3: KAYAKING – HALONG BAY – HABOUR
06:30 Morning Taichi on the sundeck
07:00 Breakfast at the restaurant
08:00 Explore Luon cave by kayaking or bamboo boat rowing
09:00 Check out of your cabin
09:30 Enjoy a brunch buffet at the restaurant after check-out while cruising toward the port
10:45 Transfer by tender back to Halong International Habour and disembarkation.
>> Book a 3 day cruise: Call or WhatsApp: +84.789.455.888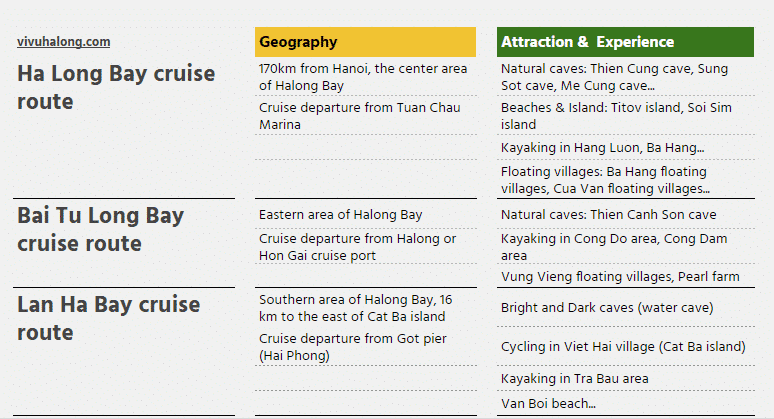 Bai Tu Long Bay cruise route
This journey is to visit an eastern part of ​​Halong Bay, named Bai Tu Long Bay. It is a large area, quieter and less tourists than the centre area. The cruise in Bai Tu Long Bay brings you to visit Thien Canh Son Cave, Cong Do, Cap La fishing Village, Thay Cave, and Vung Vieng floating fishing village. 
The cruise starts from  Halong International cruise port
Visiting sites and Experience: 
Natural caves: Thien Canh Son cave 
Beaches and islands: Hon Co island, Cong Dam 
Kayaking in Cong Do area, Cong Dam area 
Floating villages: Vung Vieng floating village…
Pros: The bay is less traveled, and not many boats cruise in Bai Tu Long Bay
Cons: Limited choice of cruising boats, higher budget than Halong Bay cruise route
3 day Bai Tu Long Bay  cruise itinerary
DAY 1: HA LONG INTERNATIONAL HARBOR – BAI TU LONG BAY – CAP LA 
12:00: Embark at Ha Long International Harbor
12:30 – 12:45: Check-in, enjoy a welcome drink & cruise briefing.
13:00 – 13:40: Have lunch onboard
16:00 – 17:00: Enjoy paddling around Cap La and Tra San by kayak.
17:30 – 18:15: Back to junk for relaxing.
19:00 – 21:00: Have dinner and overnight on board in Cong Do
DAY 2: CAP LA – THIEN CANH SON – BBQ LUNCH ON BEACH
07.30 – 08.30: Morning view of the Bay's landscape with a cup of tea or coffee. Have breakfast in the fresh air.
08.30 – 09.45: Start cruising to Hon Co Island while discovering the geological values of Bai Tu Long Bay.
09.45 – 11.00: Enjoy swimming on the beautiful beach on the island or kayaking through the rocks.
12.00– 13.30: Have a BBQ lunch on the beach (Depending on the availability and weather conditions)
13.45 – 15.45: Explore the well-hidden Thien Canh Son cave.
16.00 – 17.30: Back to junk for relaxing while cruising to Cong Do.
19.00 – 21.00: Have dinner & overnight on board.
DAY 3: CONG DO – VUNG VIENG – HA LONG INTERNATIONAL HARBOR
07.30: Enjoy the fresh air & gentle breeze of the bay in the morning. Have breakfast on board.
07.30 – 08.45: Cruise to Vung Vieng fishing village.
09:00 : Visit Vung Vieng fishing village by a rustic rowboat, meet the local people and pass through the floating school and fish farm.
10:00 : Check out of the cabin, and start cruising towards the harbor.
10:45 : Have lunch on board.
11:40 – 11.45: Disembark at Ha Long Harbor.
The cruise route to visit  Lan Ha Bay and Cat Ba island 
This journey is new in recent years. Lan Ha Bay is in the south of Ha Long Bay, close to ​​the Cat Ba archipelago. The visiting sites include Luon Cave, Ba Ham lake, Nam Cat Island, Monkey Island, Bright, and Dark Cave… 
The cruise starts from Tuan Chau harbor
Visiting sites and Experience: 
Natural caves: Bright cave 
Kayaking in Tra Bau, Ao Ech, Viet Hai pier 
Floating villages on Cat Ba island 
Pros: Lan Ha Bay has more than 300 islands and limestone outcrops,  just as beautiful as those of its superstar neighbor but feels more isolated and untouched. Lan Ha Bay also has the additional attraction of numerous white-sand beaches, which aren't found in Halong Bay
Cons: There are not many caves to climb up as in Halong Bay
3 day Lan Ha Bay  cruise itinerary
DAY 1: TUAN CHAU – LAN HA BAY – BRIGHT CAVE
11:45 – 12:00 Welcome to Adela Boutique Cruises lounge at Tuan Chau International Habour and complete check-in procedures.
12:00 Transfer to Adela Boutique Cruise by a tender boat.
12:30 Embark Adela Boutique Cruise, and enjoy a welcome drink while listening to cruise briefing and safety instructions.
13:00 Have lunch at The Dawn Restaurant while Adela Cruise takes you from Ha Long Bay to Lan Ha Bay.
15:00 Explore Bright cave on a traditional rowing bamboo boat with locals.
16:30 It's time for swimming and water activities, immersed in the green bay with floats.
17:30 – 18:30 Enjoy a Sunset party with some complimentary while waiting for twilight over limestone islands. Take the chance of HAPPY HOUR to have your favorite drinks
19:00 Dinner on the top deck, a special memorable dining experience in an intimate and romantic setting.
21:00 Enjoy evening views of the bay and try your luck with squid fishing. The bar is open until late.
DAY 2: VIET HAI VILLAGE – BA TRAI DAO BEACH
06:15 Watch the sunrise with a Tai Chi session on the sundeck
07:00 A light breakfast is served at the Dawn Restaurant.
08:00 – 08:30 Transfer to Viet Hai pier by speed boat, where we'll take an opportunity to explore the local life of an ancient village on Cat Ba island.
09:00 Arrive at the pier, you'll choose to take a ride by bicycle or electric car to Viet Hai village. The 6km-ride takes you along a beautiful lagoon and a lovely cave to the hidden village of Viet Hai.
11:30 Relax and enjoy your lunch in a local restaurant.
14:00 Start exploring the fish farms at Viet Hai pier by kayak.
15:00 Transfer to Ba Trai Dao, it's time for more swimming or just lying on a small & pristine beach and watching the clouds drift by.
16:00 Back to the cruise to relax and wait for the sunset, maybe with a cocktail in hand.
19:00 Enjoy a delicious dinner at the restaurant. After dinner, indulge in drinks at the open bar on the top deck, try squid fishing, a spa treatment or relax in your cabin.
DAY 3: TRA BAU – LAN HA BAY – TUAN CHAU
6:00 Start a day with a Tai Chi session, enjoy the fresh air and watch the sunrise on the bay.
6:30 Have a light breakfast on board.
7:00-8:00 Explore the Tra Bau area by kayaking, get closer to the rocky islands and admire the stunning nature of the bay.
9:00 Return to the cruise, check out.
9:30 Enjoy brunch at the restaurant while cruising back to Tuan Chau port.
11:00 Disembark at Tuan Chau port.
>> Book a 3 day cruise: Call or WhatsApp: +84.789.455.888 
Experiences when joining 3 day 2-night cruise 
3 day 2 night cruise let you explore more places and exciting activities as you have more time to relax and enjoy stunning nature 
Kayaking
Kayaking is the most popular and exciting activity on Halong Bay cruise. You will be guided to the boat and visit the natural water wave scenery.
If you are a professional paddle, this activity is exciting. As for those who have never experienced it, it would be fine, because the tour guide will lead you enthusiastically and the water is calm. Then you get your free time to explore the watery landscape. 
On the 3 day 2 night cruise, you will have more time for kayaking on the first day and second days of the trip. Especially, on the second day, kayaking on Cat Ba island is fantastic, the chance to witness local floating life and amazing landscape.
*You have more time for kayaking on 3 day 2 night cruise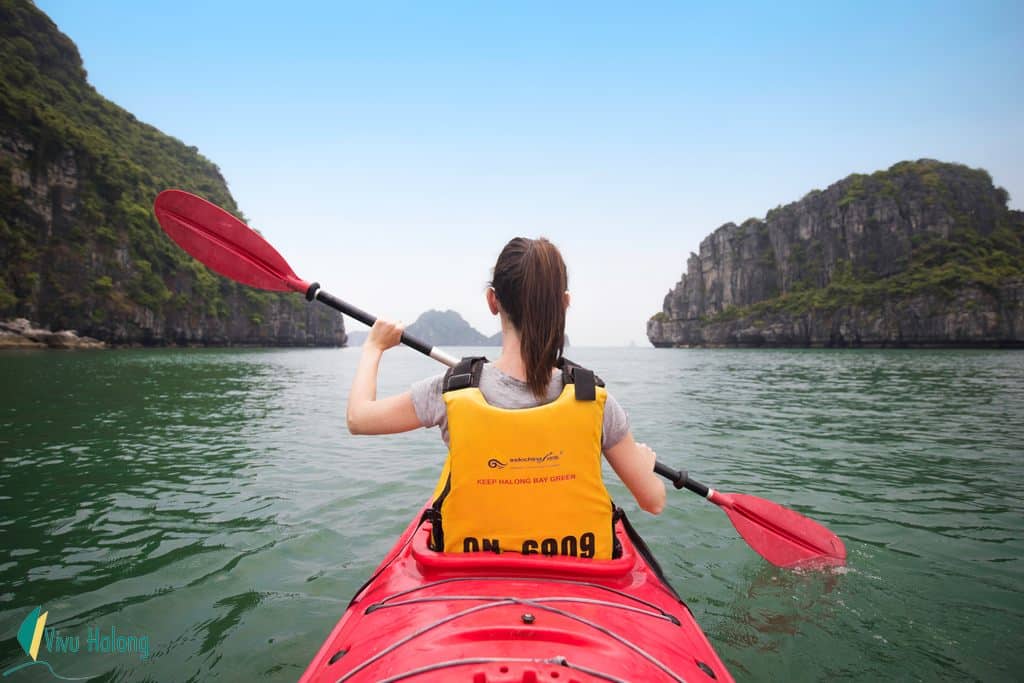 Visiting the island, and the cave
In Ha Long Bay's population, there are thousands of small and large islands. You will visit many famous places. Specifically:
Halong Bay: visiting Sung Sot Cave, Thien Cung Cave, Dau Go Cave, Me Cung Cave, Titop Island, Soi Sim Island
 Bai Tu Long Bay : visiting Thien Canh Son cave, Cong Do, Thay Cave, and Vung Vieng fishing village. 
Lan Ha Bay and Cat Ba island: visiting Luon Cave, Ba Ham Lake, Nam Cat Island, Monkey Island, Bright and Dark Cave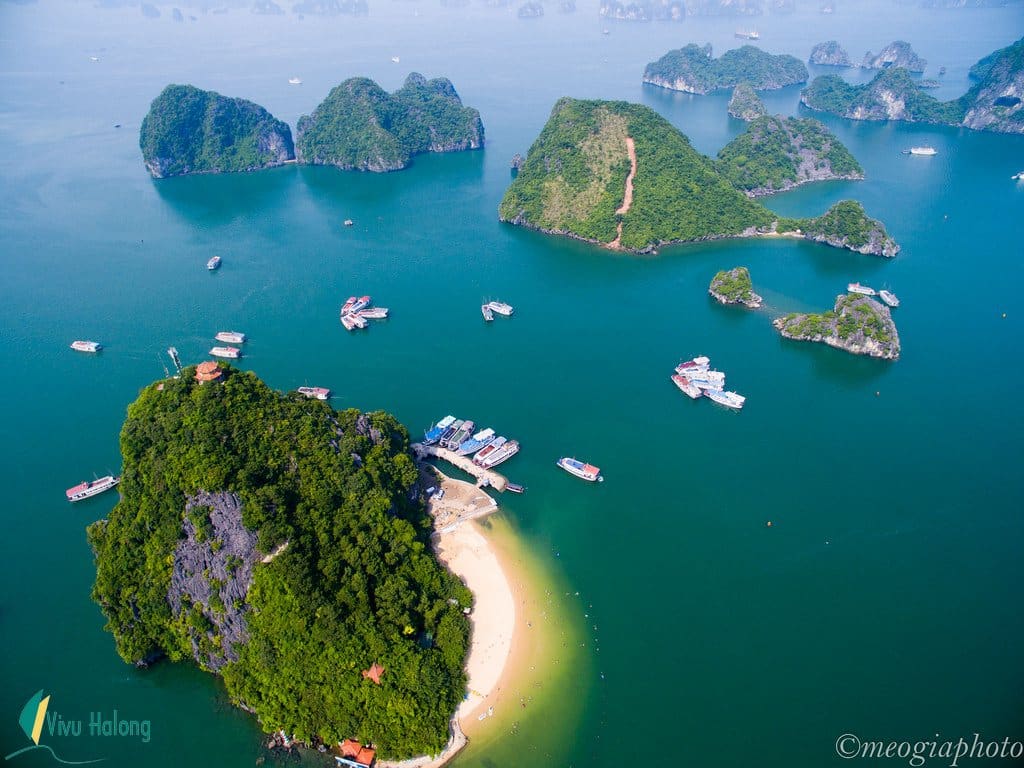 Visiting fishing village
The fishing village is a very prominent destination in the journey. You can find the beauty of culture as well as learn about the local life of a fisherman on Halong Bay.  Exciting activities in the fishing village as fishing, and participating in farm fishing. Besides, you can also buy local seafood to support fishers. After that, you can thank the cook on the cruise to savor the flavorful dishes of the sea.
Vung Vieng fishing village (Bai Tu Long Bay)

Cua Van fishing village, and Ba Hang fishing village (Halong Bay)  

Cai Beo village (Lan Ha Bay)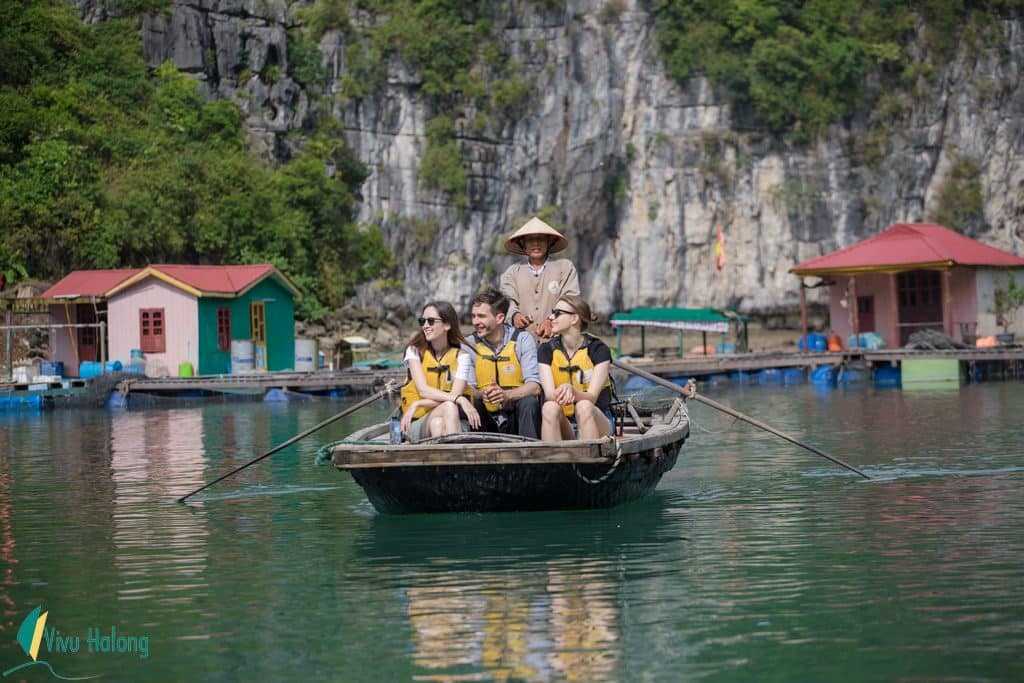 Facilities on cruise 
Like a  five-star hotel, the system of facilities on the vessel is guaranteed to be synchronous and convenient from bedrooms, and dining rooms to restaurants, and bars for customers.
The restaurant system and bar counter served 24/7 delicious food and drinks. Also, if you want to entertain, the cruise has an age-based play area and a new mini-golf course.
Luxury cabin 
The cabin on the cruise is well equipped for a comfortable stay with King size/Queen size bed, air conditioning, a private balcony, ocean view window and a private bathroom.  The area of the bedroom is large and clean and comfortable. All rooms have full-frame windows overlooking the sea. You can relax, read books, and admire the immense bay space. With the five-star cruise, the bathroom will have a Jacuzzi tub, a relaxing massage area to bring a sense of relaxation.
Balcony or Terrace
Hairdryer
Kettle Tea
Saving Safe
Shower bathtub
Telephone
Towel
Air Conditioner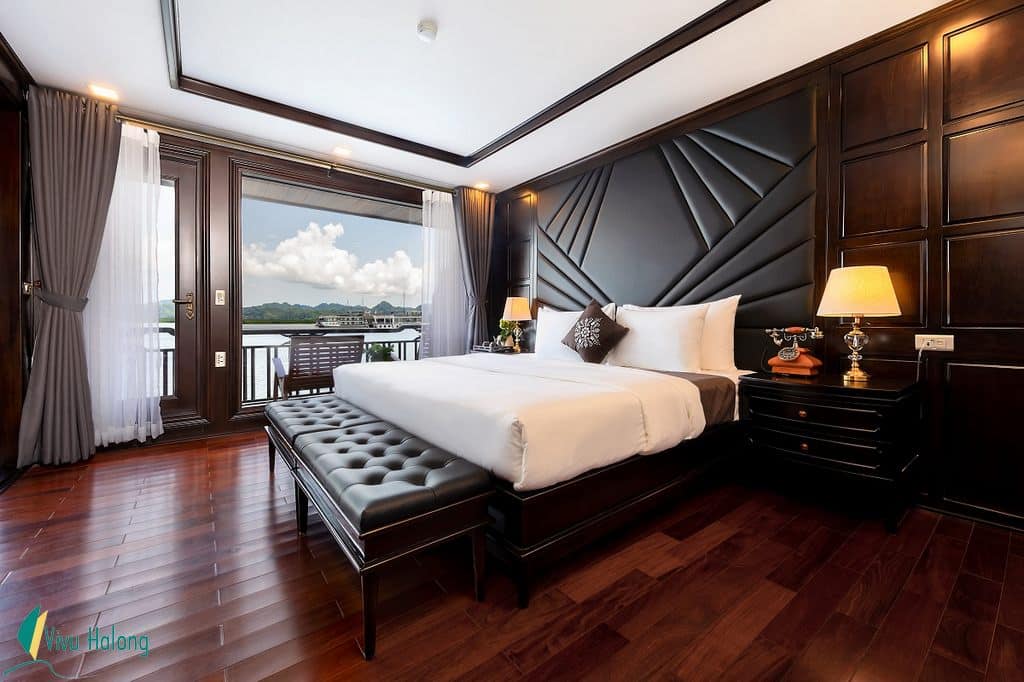 Restaurant & Bar 
The Restaurant *& Bar boasts panoramic views over the poetic bay. A varied menu of Vietnamese and International food will be served to you by our professional crew.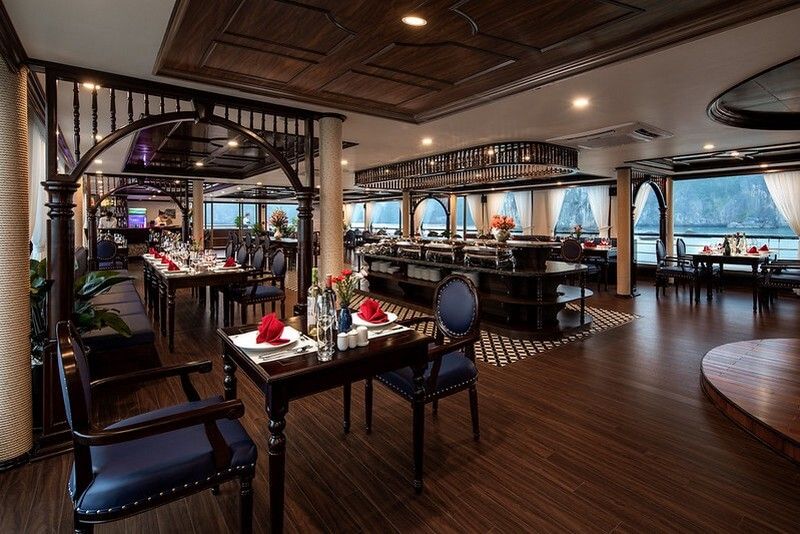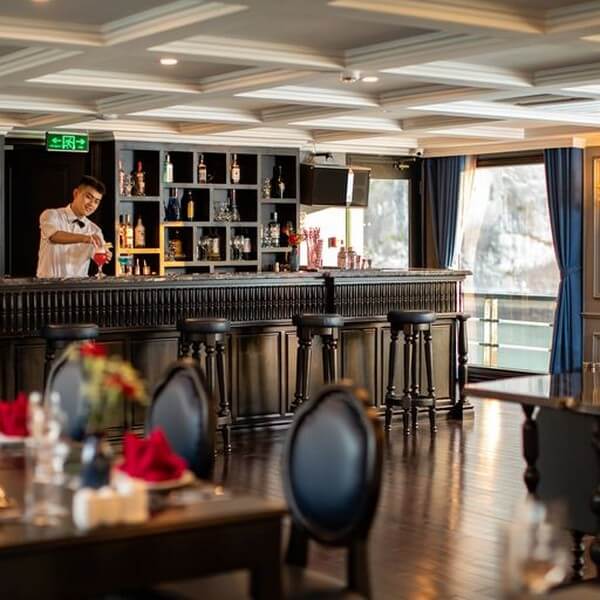 Catering service 
Because of booking a package tour, customers do not need to worry about meals. During 3 days and 2 nights journey, you can enjoy four main meals and two breakfasts on the cruise with a varied and rich menu.
Breakfast on the board usually serves from 7:00 to 08:30 am.  Besides, the tour price covers meals, and if you want to use drinks like wine, beer or soft drinks, you must pay according to the external invoice, and not included in the tour.
* A quick note: the price of drinks on board is more expensive than on the mainland.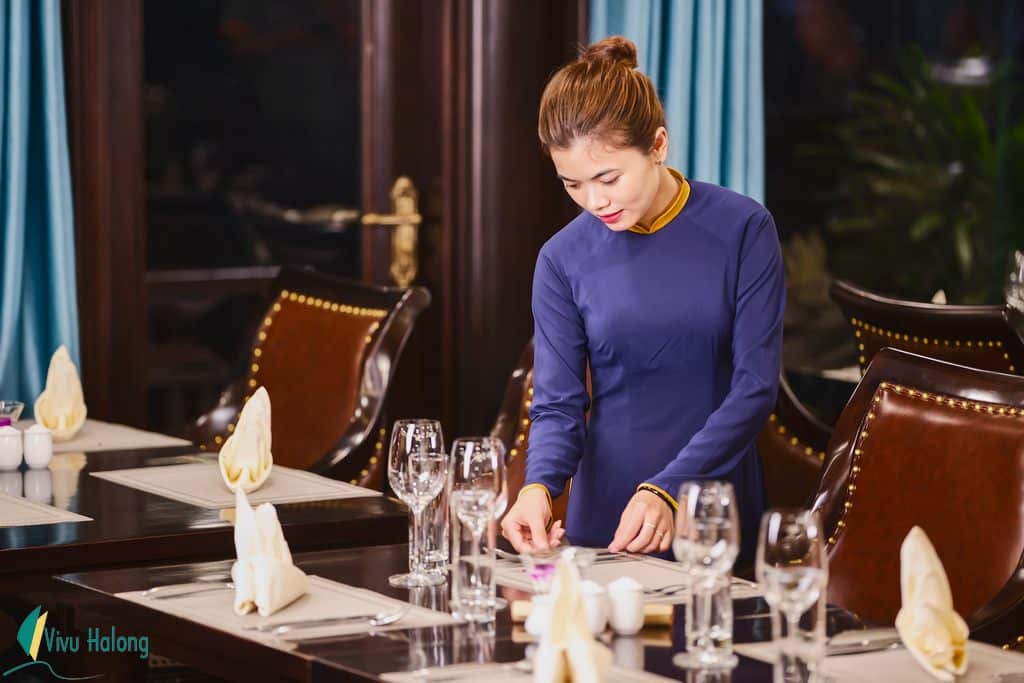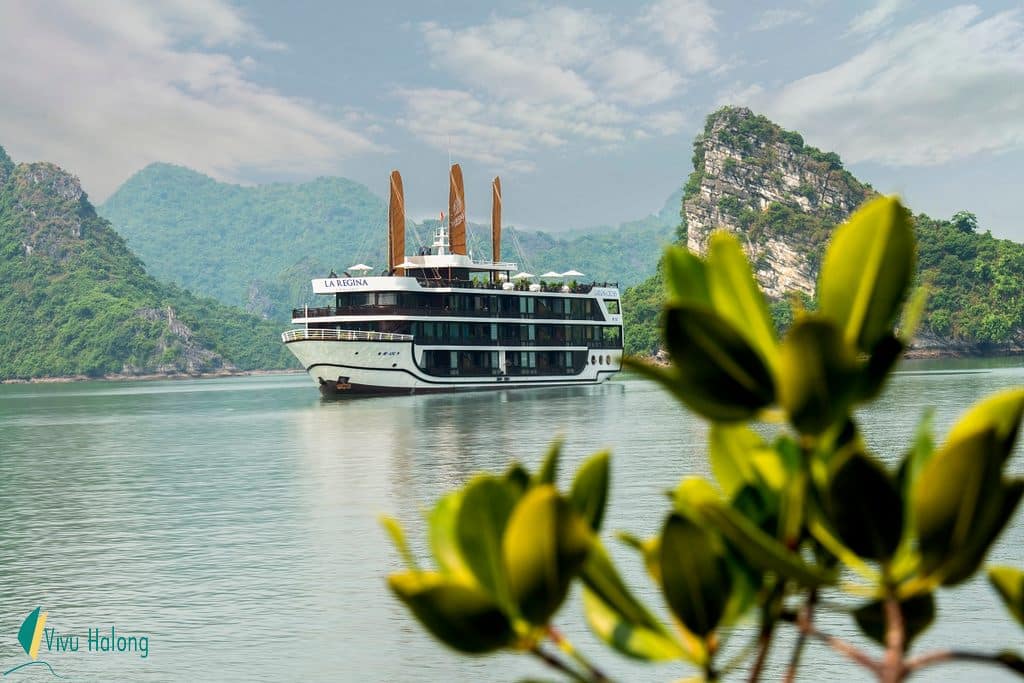 Cruise & tours recommendation 
With an increasing number of customers coming to Ha Long, many boats are selling 3 days and 2 nights cruise tour such as:
These cruise vessels are four and five-star quality cruises, as well as highly appreciated by the tourists, including the modern facilities, and professional, enthusiastic and thoughtful staff. You will experience the most luxurious and classy service among the large sea waves. More cruise options (with detailed itineraries and rates) are listed in the Halong Bay luxury cruise collection by Vivu Halong.