2 day 1-night cruise is the perfect timing to discover Halong Bay, to explore the beautiful and majestic natural scenery and experience onboard services. So, if you are not aware of a tour to explore Halong Bay, what experience do you have, how to eat, and what to play during 2 days 1-night tour package on Halong Bay cruise?  You can follow our guidelines before making a cruise booking.
After reading this article, you'll get to know. 
Different cruise routes of the overnight cruise on Halong Bay 

Which activities to enjoy during this 2 day 1-night cruise 

Should you stay on boutique wooden boat or steel vessels? 

Expected service, food, staff? 

Any recommendation for cruise operators? 
And more… 
Two days 1-night cruise tour, incredible experience on Halong Bay
Two days and one night is a time not too long to explore and experience, but the schedule with many activities arrange reasonably. You have time to experience nature, private time to relax and discover the natural wonders of the world.
Overnight cruise on Halong Bay is a package tour, include transportation (usually from Hanoi to Halong Bay), comfortable rooms, meals, activities and onboard service All the experience wil.be packed in a journey, for nearly 24 hours cruising on the bay. 
It is a fact that you will join a two day one night cruise. But in fact, you are only on the boat for nearly 24 hours, lasting from noon on the first day until noon of the next day. The remaining time is driving time between Hanoi to Halong. However, thanks to the highway, the driving time is now shortened to only 2.5 to 3 hours.
If you come from Hanoi, the journey will start at 08:00 from Hanoi, check-in at noon, embark and start exploring Halong Bay. You will stay on board, enjoy meals, explore caves, go kayaking, visit floating villages then back to Hanoi.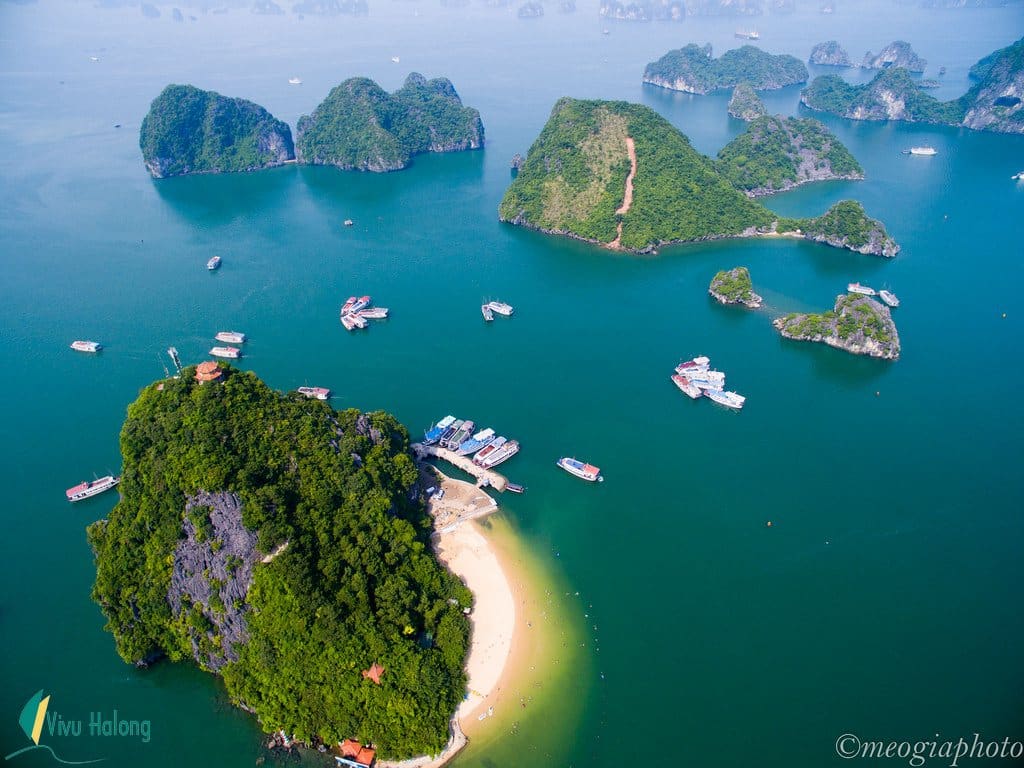 The best time to visit Halong Bay? 
Traveling on a cruise to visit Halong Bay, every season is beautiful because of its unique, exciting features. But, in my opinion, from April to October is the best time to visit Halong Bay. At this time of the summer, the sky is bright, sunny, and suitable for outdoor activities. Moreover, this is the low season with lots of promotions for travelers, and we should take advantage of this offer to have the best deals of cruise booking.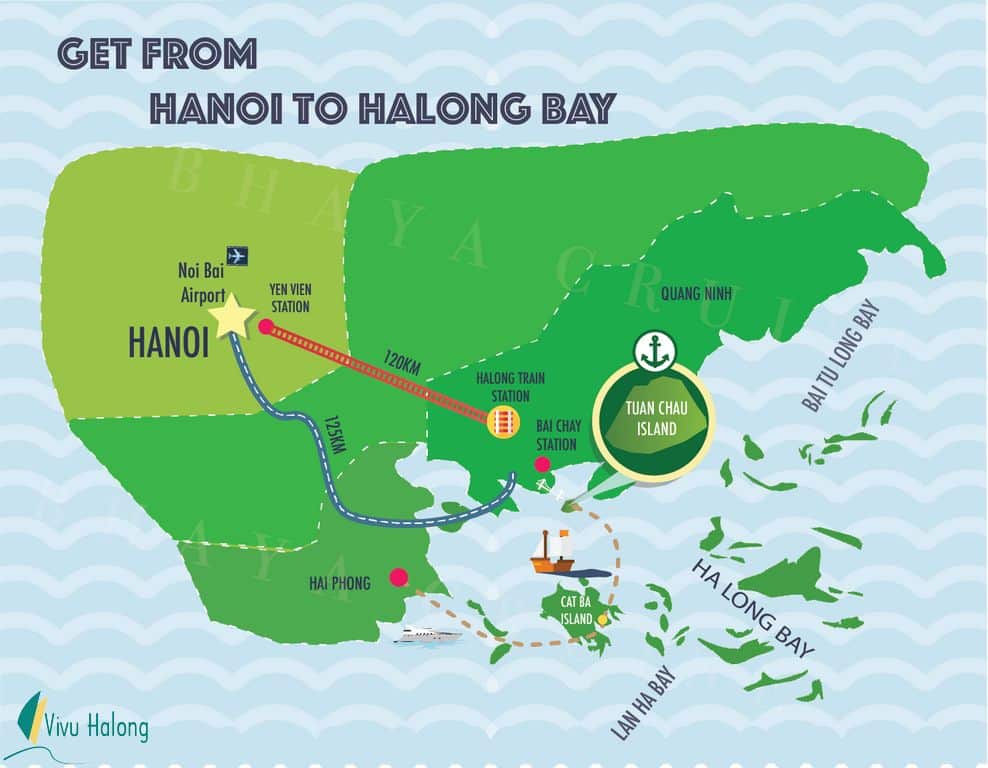 Which cruise route to take? 
Currently, there are three popular cruise routes to visit Halong Bay. I will review these cruise routes to help you choose the best option. But, be sure that whatever you want, you still fully experience the natural wonder of Halong Bay. 
The cruise route to visit Halong Bay center 
The journey to the center of Ha Long Bay is the most popular route with famous visiting sites: Thien Cung Cave, Dau Go Cave, Stone Dog islet (Hon Cho Da), Dinh Huong Islet, Trong Mai Cave, Sung Sot Cave, Titop Island, Soi Sim Island, Me Cung Cave. This route starts from Tuan Chau International Port. Many cruise companies are operating this tour.
Pros

: the cruise route passes through the most highlighted areas of Halong Bay, which has been the most popular cruising area on Halong Bay with many exciting experiences

Cons

: the tourist attractions are so crowded, especially in the summer with many domestic tourists. 
The cruise route to visit Bai Tu Long Bay
This journey is to visit a quieter area of ​​Halong Bay, named Bai Tu Long Bay. It is a large area, be more silent. You will take the chance to visit Thien Canh Son Cave, Cong Do, Hang Thay, Vung Vieng Fishing Village. This journey departs from Hon Gai Port or Halong cruise Port 
Pros: the tour passes through a quiet area, which is fewer tourists than the central area of ​​Halong Bay
Cons: there are not many cruise vessels options, which has mainly high-class vessels at higher costs.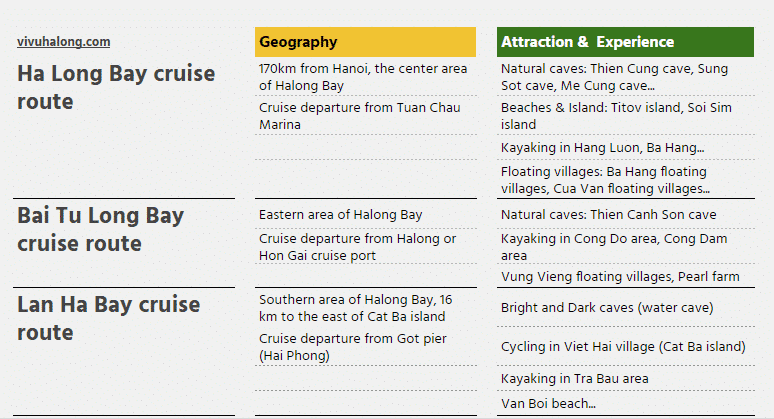 The cruise  route to visit Lan Ha Bay – Cat Ba island
This journey is to discover Lan Ha Bay, which locates located in the south of Ha Long Bay, and the bay area of ​​Cat Ba archipelago (Hai Phong). Visitors will discover Luon cave, Ba Ham Lake, Nam Cat Island, Monkey Island, Ba Trai Dao beach, Bright and Dark cave, Cat Ba island, Viet Hai village. The journey starts from Got pier (Hai Phong).  The cruise tour has been put into operation in many recent years. 
Pros:

The new cruise routes, being advertised as quieter than Halong Bay center, as an alternative cruise option. 

Cons:

The area is not significant as Halong Bay so in the future when more cruising vessels operate, it could be crowded.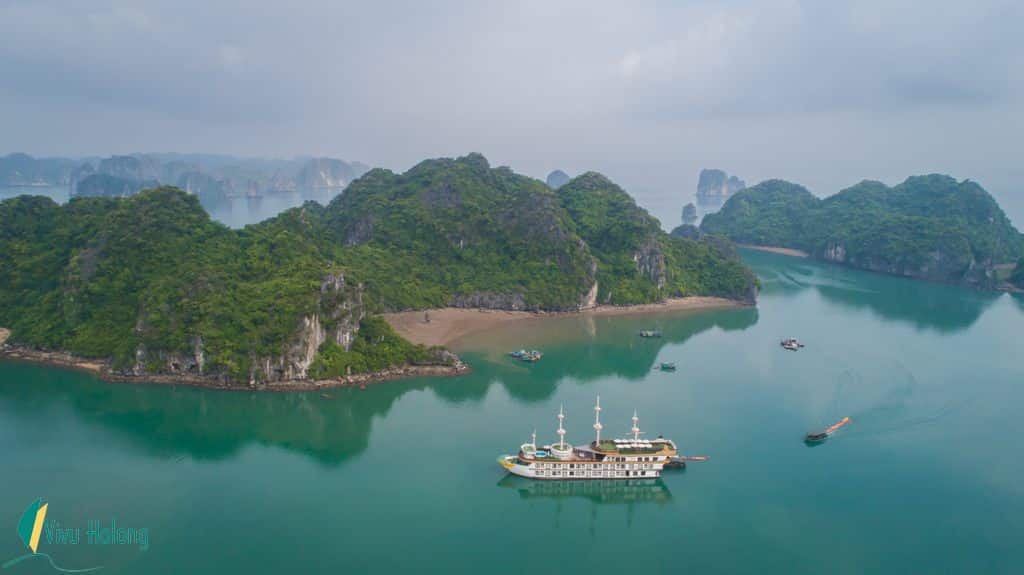 Wooden boat or steel vessels? Which boat to choose? 
Previously, cruising tour on Halong Bay is mainly operated on wooden boats, and each has less than 15 cabins. This wooden boat has the sails, and facilities are made from wood to create a very cozy and warm space onboard. They are also exquisite with sails while cruising in the green bay. 
In recent years, steel vessels are made to be more luxurious and comfortable. Each ship has more cabins to accommodate guests. The cabin is large, as modern as a hotel's room in the city center with every equipment for a comfortable stay. 

Wooden boat – a traditional cruising boat on Halong Bay
Pros: this boat is designed with the classic style, completely wooden cabin creating a very cozy feeling. It is usual for a small group on these wooden boats. 
Cons: the cabin size is smaller than steel vessels (10m2 – 15m2). Other service packages and facility are also limited than the steel one, and there would be a bar, restaurant, sundeck to serve your trip. 
Price range: from> 2,500,000 VND per person to join a sharing tour, two people in 1 room with food, activities, entrance fee and transfer from Hanoi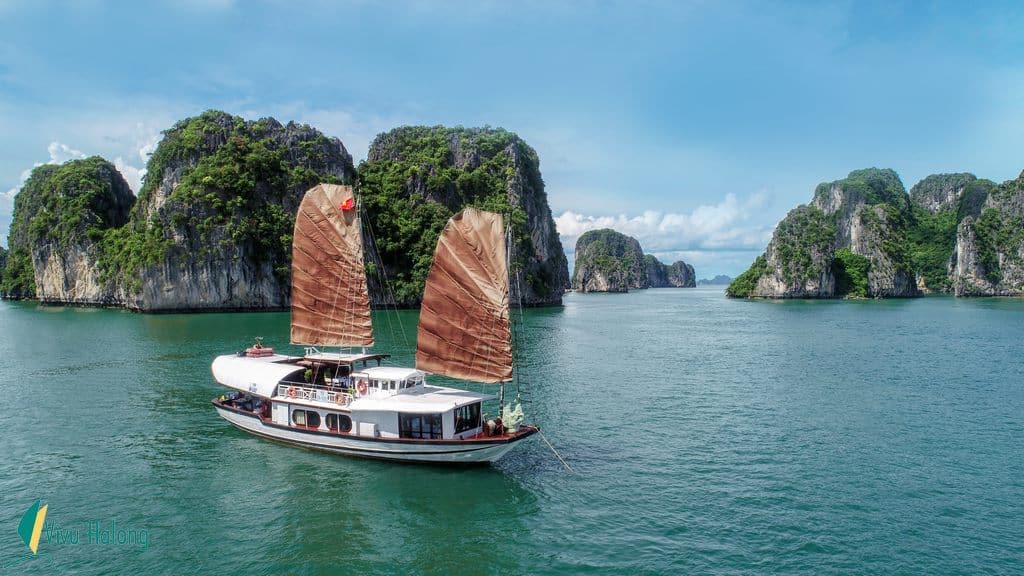 Steel vessels, the new generation of cruising boat on  Halong Bay
For a long time, most cruising boats to Halong Bay are wooden boats with sails and covered with brown colors. It is the traditional boats to create a cozy space for tourists. In recent years, the steel vessels are produced with more cabins to meet the rising demand of tourists and provide more modern facilities for tourists. Each steel vessel has 20 – 40 spacious cabin, the cabin size is 25m2 – 90m2 and some have a private balcony. 
Pros: steel vessels

have modern equipment, modern facilities, and spacious cabins(> 20m2) and a high standard of comfort and use.

Cons: usually a large yacht, many guests join the trip.
Price: from> 3,200,000 VND per person for a package tour, two people sharing one cabin, meals, activities, and transfer from Hanoi included.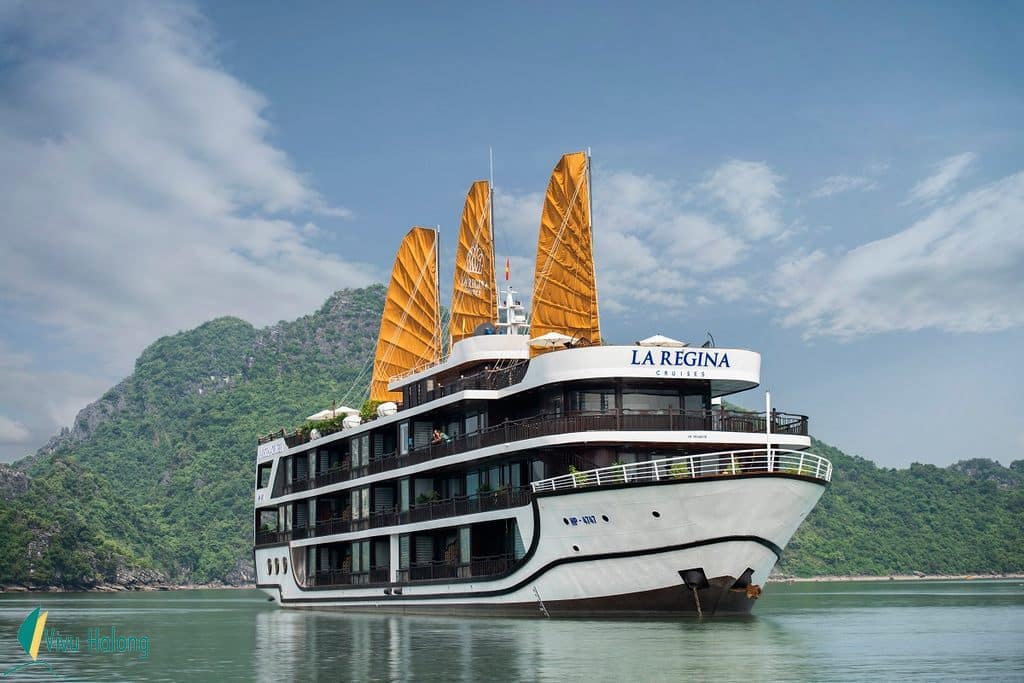 Visiting sites and experience on two days 1-night cruise
During two day one night cruise on Halong Bay, the boat will not cruise for the whole time but stop for outdoor activities. The most popular events are kayaking, taking local bamboo boats, visiting caves, fishing village or cyclings in the islands. 
Kayaking in Halong Bay 
The best experience to explore Halong Bay "closer." The water in Halong Bay is calm, so you are free to enjoy kayaking around the limestone island. 
There would be double kayak ( for two persons) or single kayak (for one person). Some cruise company offers stand-up kayak (you stand and paddle, it seems attractive). 
It is not hard to learn to paddle if it is your first time. Listen to the tour guide instruction and follow him during kayaking time, you will be safe and spend a lovely time to enjoy the nature of Halong Bay. 
Besides, you should spread the paddle, go kayaking, and get closer to the limestone islets or wriggle through the water cave.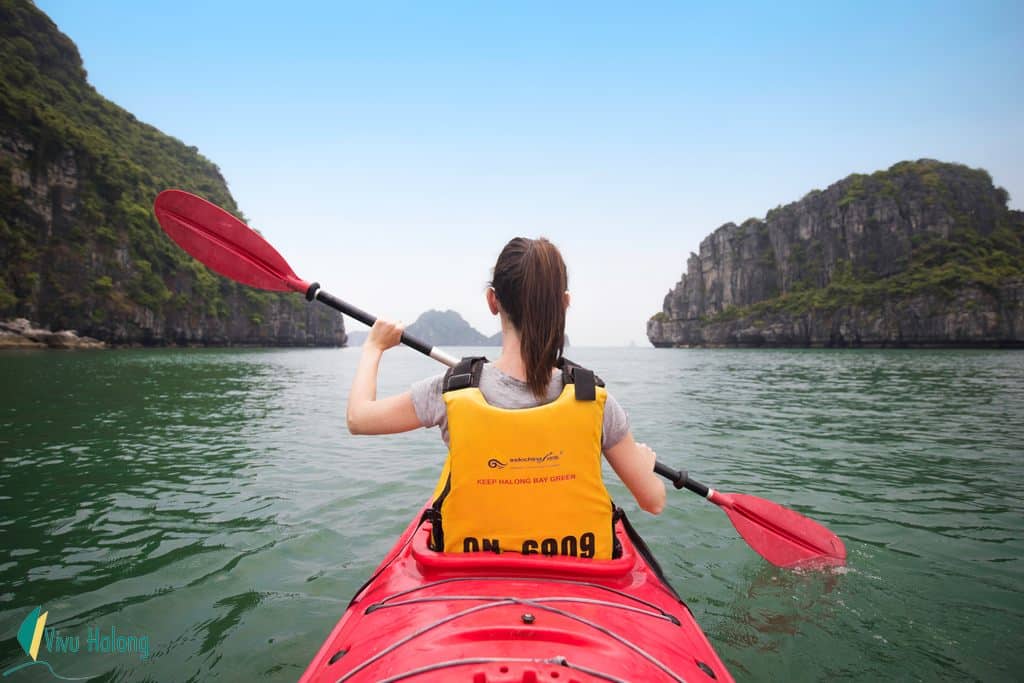 Visiting the natural caves
Halong Bay is famous for its natural caves with unique geology, aesthetics, and archaeology values. It takes a little trek to reach the cave's entrance, but once you are in, you will be amazed by the beauty of this cave. 
You'll find unique rock formation when getting inside the caves. Some famous cave in Halong Bay: Sung Sot Cave, Thien Cung Cave, Dau Go Cave, Trinh Nu Cave, Trong Cave, Me Cung Cave, Thien Canh Son Cave. With locals, each cave is associated with mysterious stories from old time.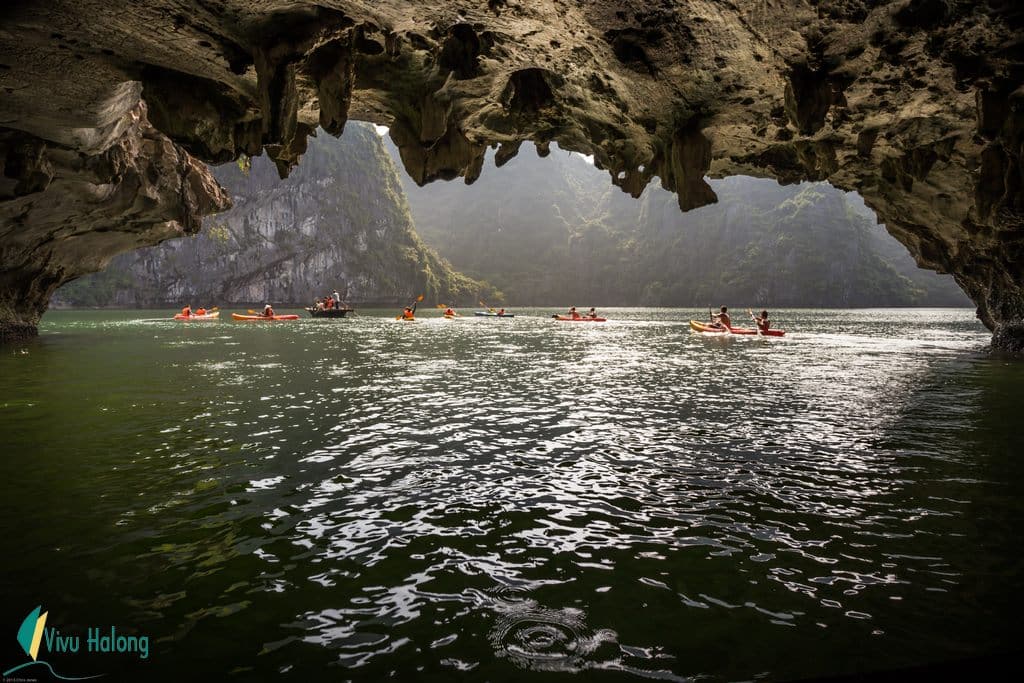 Visiting fishing village
If you want to discover beauty as well as learn about local community living in Halong Bay, you should not miss the fishing villages. Within the 2 days 1-night cruise schedule, time for visiting the fishing village will be arranged in the morning of the 2nd day. It is the best time to see the living of locals here. 
There would be locals with their bamboo boat to take you around the villages for a specific time (usually lasting for 45 minutes to 1 hour). It could be a pearl farm can be located next to these fishing villages, and you might stop by to see how they rise the mussels for pearls. 
Depending on the specific route, you will visit different fishing villages. Among them, three main fishing villages, attracting many tourists are Vung Vieng fishing village (Bai Tu Long Bay), Cua Van fishing village, and Ba Hang fishing village (Halong Bay) and some others in Lan Ha Bay, Cat Ba island.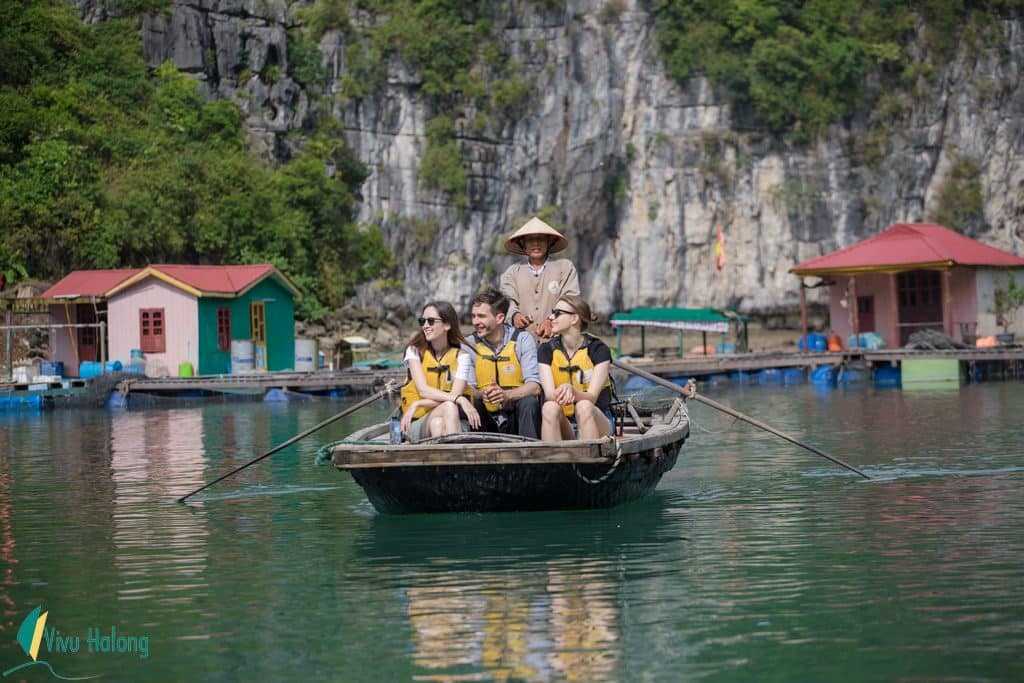 Visiting the island
The most famous islands which you could visit during this journey are Soi Sim Island, Titop Island, and Hon Co Island. Visitors are impressed and surprised by the white sand beaches, the blue seawater, and rich flora and fauna. 
The best thing when visiting these islands is you can trek to the top and enjoy a panoramic view of  Halong Bay. 
Sung Sot cave 
Sung Sot Cave locates on Bo Hon Island, toward the northwest Halong Bay, about 15 km to the South-East of Tuan Chau Marina
To reach the cave, you have to climb up 100 or so steps to the entrance of Sung Sot Cave. The grotto covers 10,000 square meters. 
Getting inside the cave, it separates in 2 caverns. The first caverns are smaller and connected by a small passageway to the giant cavern, which is big enough to hold 1,000 people or more. The entire cave is unique with stalactites and stalagmites in a different formation. 
Sung Sot cave could be included in tour program of a day tour (6-hour journey) or overnight cruise in Halong Bay cruise route and worth a morning or afternoon visit.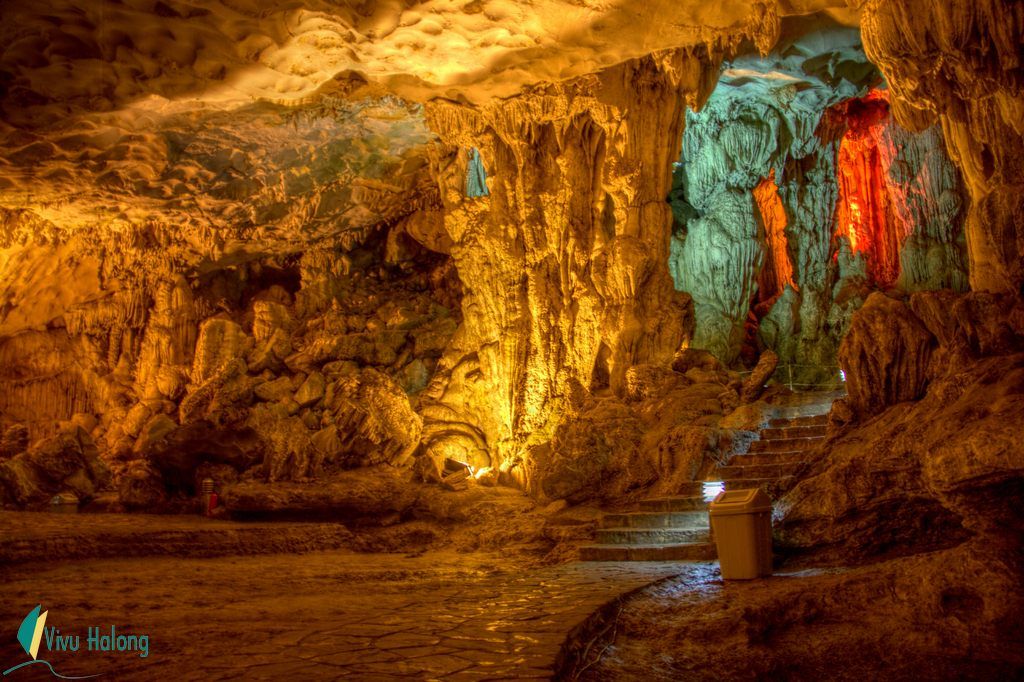 Titov island 
Titop Island locates in the center of Halong Bay, just eight kilometers from the harbor. 
Visit Titop island, enjoy a climb of a few hundred steps to have a panoramic view of Halong Bay, and it is definitely worth the effort.  
There is also a sandy beach where you can swim or sunbathe, spend some time relaxing. Although it is relatively small, Titov island is regarded as one of the most picturesque islands in the bay. 
The visit to Titov island could be included tour program of  a day tour (6-hour journey) or overnight cruise in Halong Bay cruise route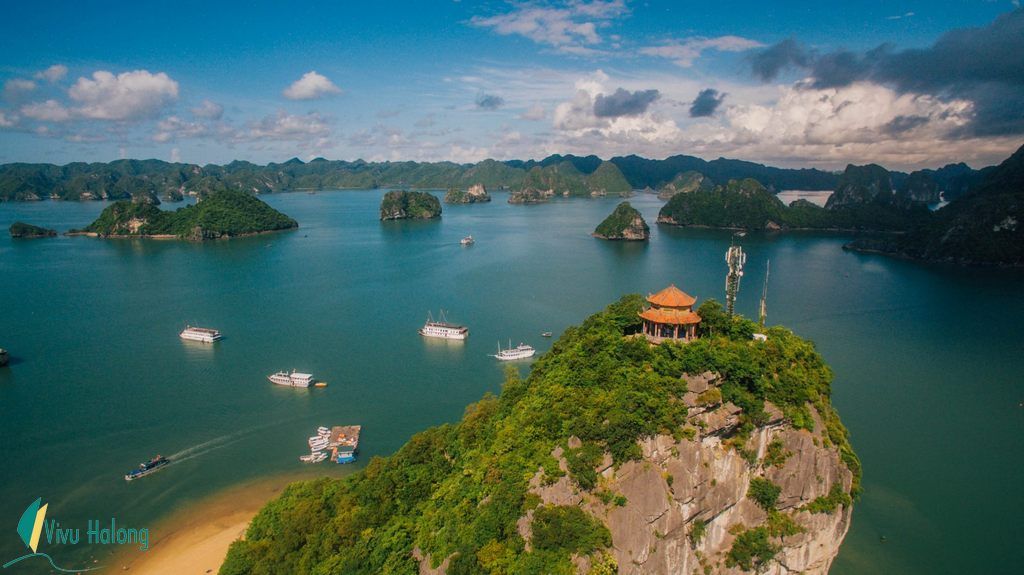 Cat  Ba archipelago
Cat Ba Island belongs to Hai Phong City, about 10km southeast of Halong Bay, 30km from the city center of Hai Phong. Cat Ba archipelago composed of 367 islands on the water of Lan Ha Bay. You can stay overnight at hotels in Cat Ba island. If taking an overnight cruise to visit Lan Ha Bay, you will get on Cat Ba island for hiking or cycling to visit local villages.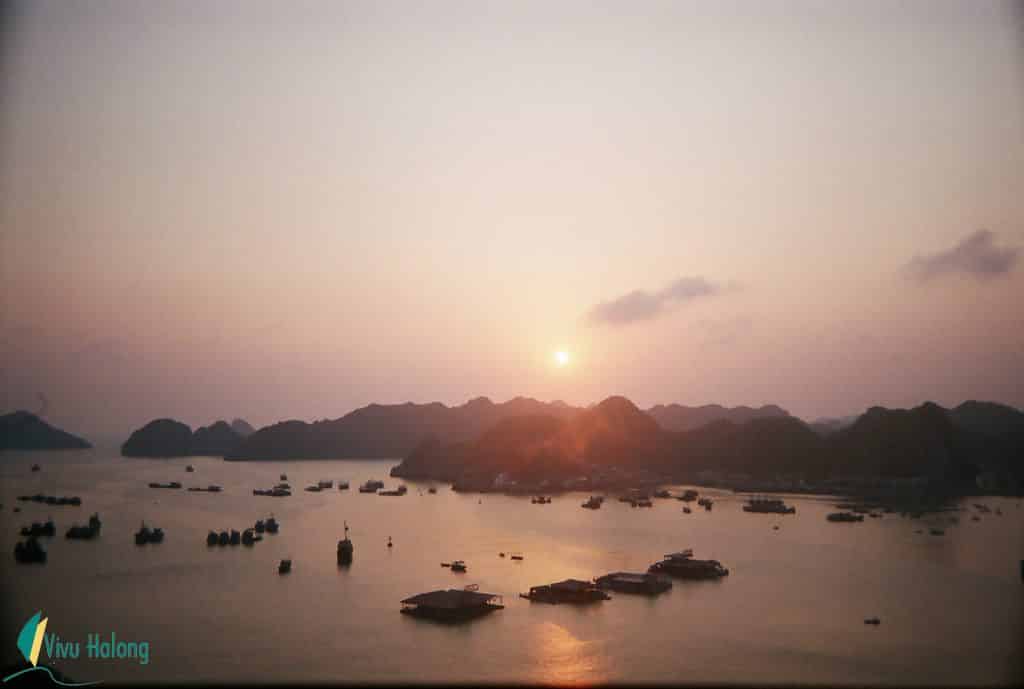 Viet Hai village 
Viet Hai Village locates in Cat Ba island, about 18 kilometers from Cat Ba town. 
Visit Viet Hai village. Visitors can enjoy the natural beauty, tranquil atmosphere, and local life. Cycling to visit Viet Hai village is included in an overnight cruise program of some cruise operators in Lan Ha Bay.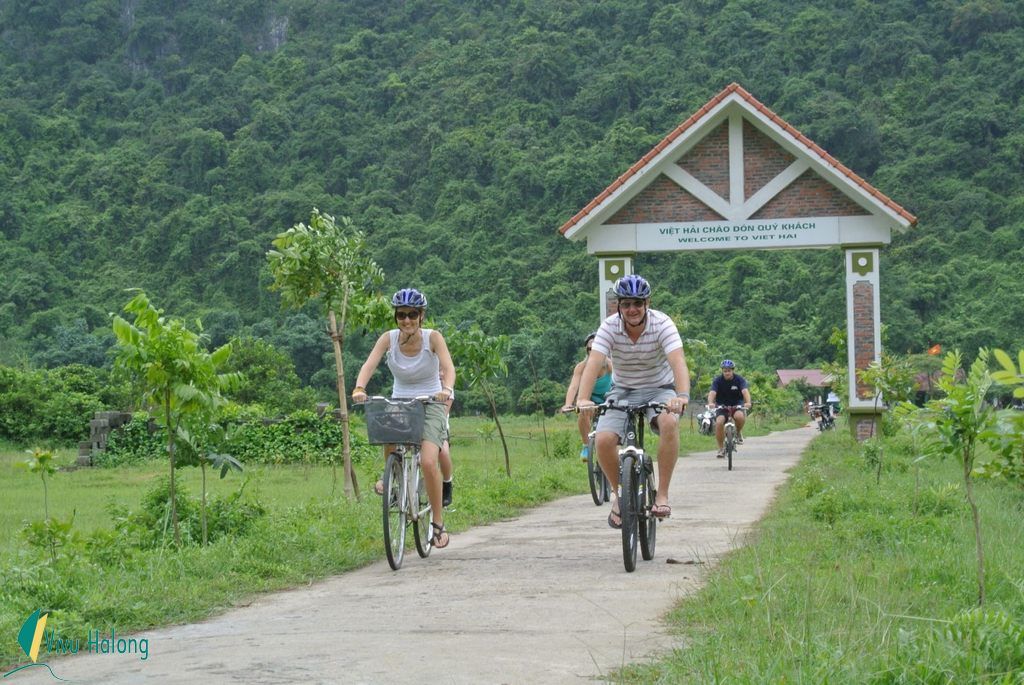 Thien Canh Son cave 
Thien Canh Son cave is in Hon Co island (Bai Tu Long Bay), you will climb up to 100 steps to reach the entrance of the cave. The door is small, so you need to duck down slightly so as not to hit your head on the low access. Thien Canh Son Cave has two caverns each one strewn with stalactites and stalagmites.  The visit to Thien Canh Son cave will be included in overnight cruise to Bai Tu Long Bay.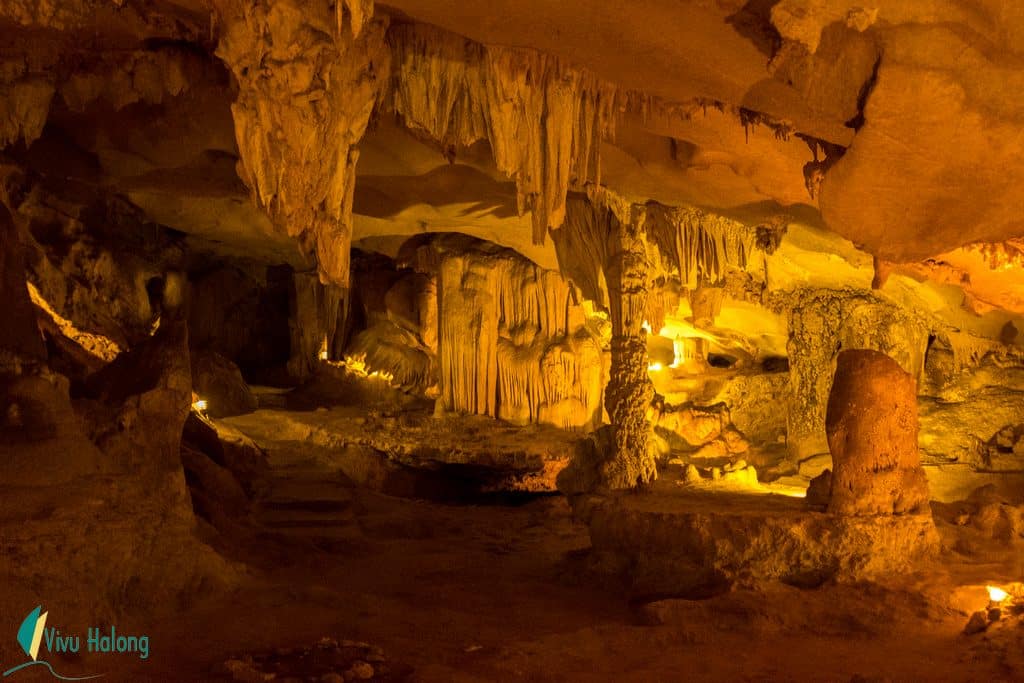 Vong Vieng fishing village 
Vung Vieng fishing village locates in  Bai Tu Long Bay, 24 km from the mainland. This village used to be home for hundreds of residents who live on fishing. But, they have moved to the region now to settle a better life, the village now is still a  peaceful location viewing the charming landscape, an ideal places to know about local floating life on Halong Bay. 
The visit to Vong Vieng fishing village could be included in a day trip or overnight cruise to Bai Tu Long Bay cruise routes.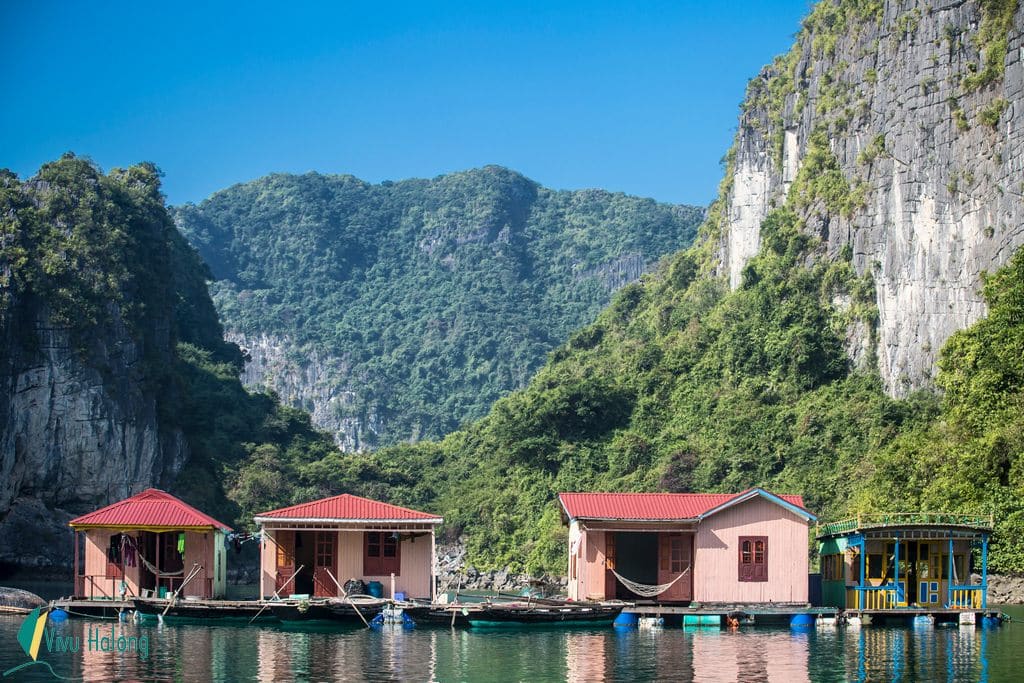 Bright and Dark cave 
Lying on the border of Halong Bay, Bai Tu Long Bay, and Lan Ha Bay, near Cat Ba National Park, you will find two extraordinary caves where limestone mountains meet the sea to create a unique combination of nature: Bright and Dark Caves.
The visit to Bright and Dark caves could be included in an overnight cruise on Lan Ha Bay.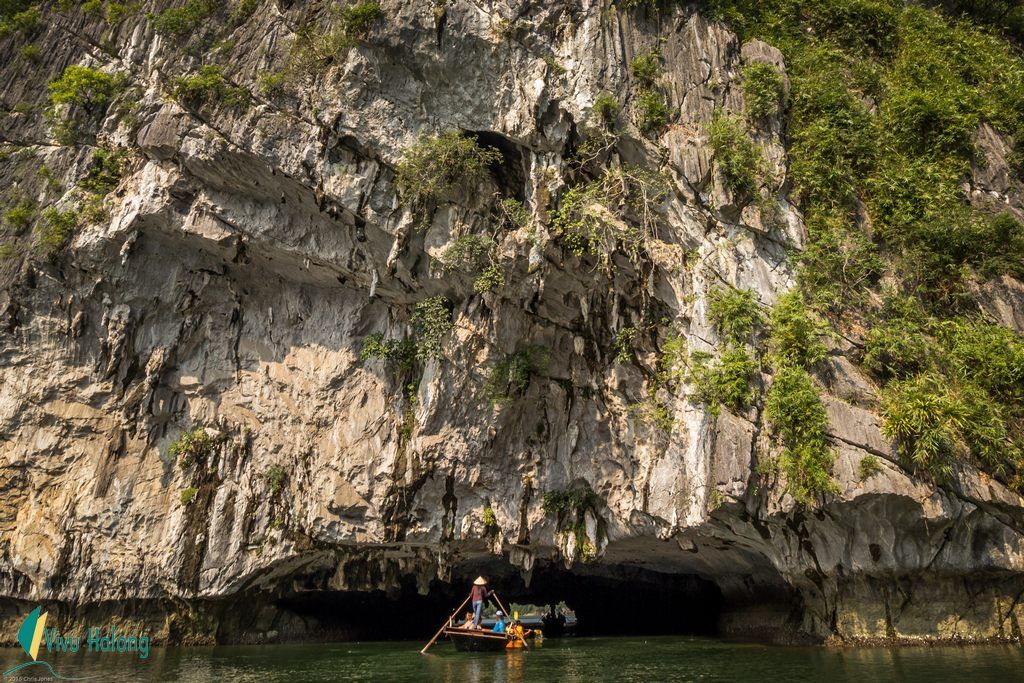 How do you stay comfortable on the boat? 
Even if you stay on a traditional wooden boat or modern steel vessel, you are offered a comfortable space with modern facilities. In particular, many luxurious ships are remarkably like 5-star hotels on the mainland. 
An en-suite cabin 
Every wooden boat or steel vessel has comfortable cabins. Furthermore, most of the guest's cabins are made and decorated from wood. It is very warm and cozy inside these cabins. 
All the cabins will have a private bathroom and large sea view window. Many vessels feature cabins with private balconies and seating areas
Each cabin typically accommodates 2 persons (one double bed or two single beds), the extra beds or triple cabin, family cabin are also available. If you are looking for connecting cabins to take care of children, some vessels do have this type of cabin.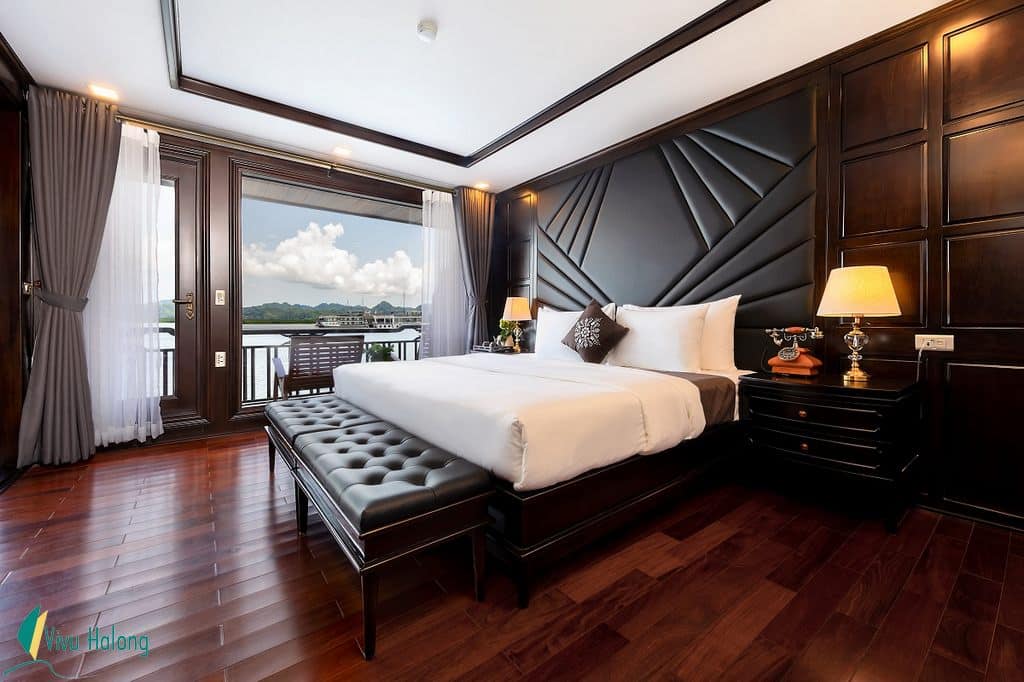 Bar & Restaurant 
Usually, each cruising boat has one restaurant to serve onboard customers fully. All meals, including breakfast, lunch, and dinner will be served here. However, other vessels might have two restaurants (indoor and outdoor restaurants) to cater to your dining experience. 
Some cruise operators even offer exclusive dining on the top deck (V' spirit Premier), dinner on floating ground (Perla  Dawn Sails). In the past, there used to be a dinner in the cave, but it is no longer available now. 
The bar onboard can serve you with different kinds of drinks ( soft drinks, alcohol, and non-alcohol drinks) so you do not need to bring your own. But, the drink's price will be a bit higher than in the shop in the mainland. 
The restaurant has a large capacity, even up to hundreds of people. Thus, you are free to enjoy the dining experience with your friends and family. 
Food serving will be mostly Vietnamese food mixed with some Western food to better suit guests' tastes.  The meals could be set menu or buffet and ala carte depending on each cruise operators. 
If you have any special requirements (vegetarian, no dairy, no meats…), the chef will be willing to cater to your need. Just need to inform in advance when booking a cruise.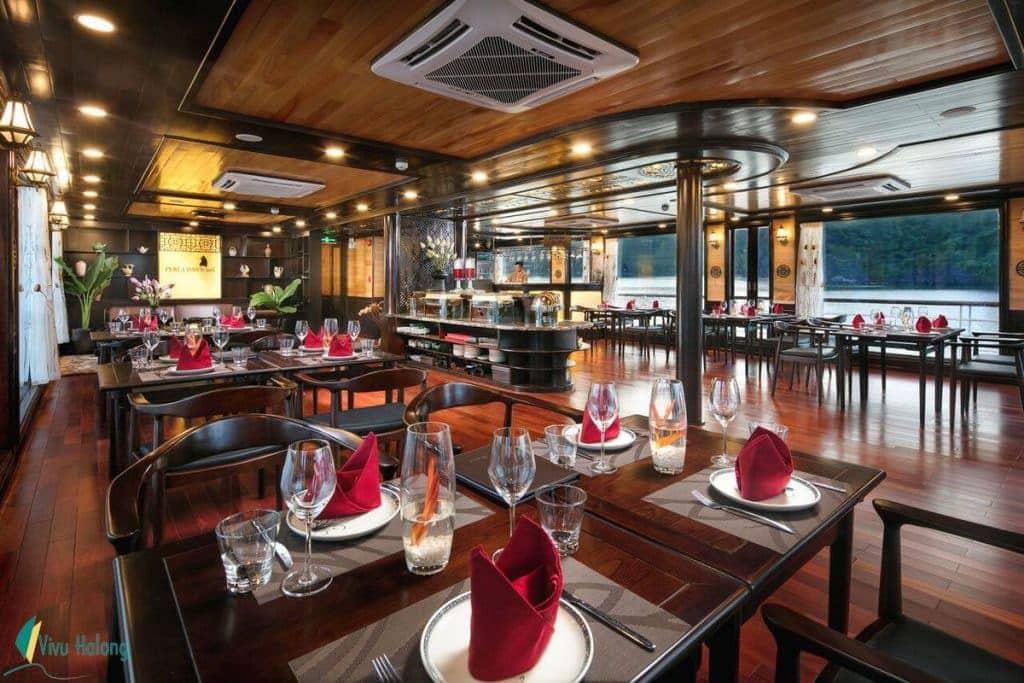 Sundeck & Lounge 
Each boat will have a separate area on the highest floor for guests to relax. The sundeck has enough bed and space for all guests. Here is the best place to witness the sunset and dawn over Halong Bay. Morning Taichi is also performed here. I could say that the best time on Halong Bay cruise is watching the sunset on sundeck.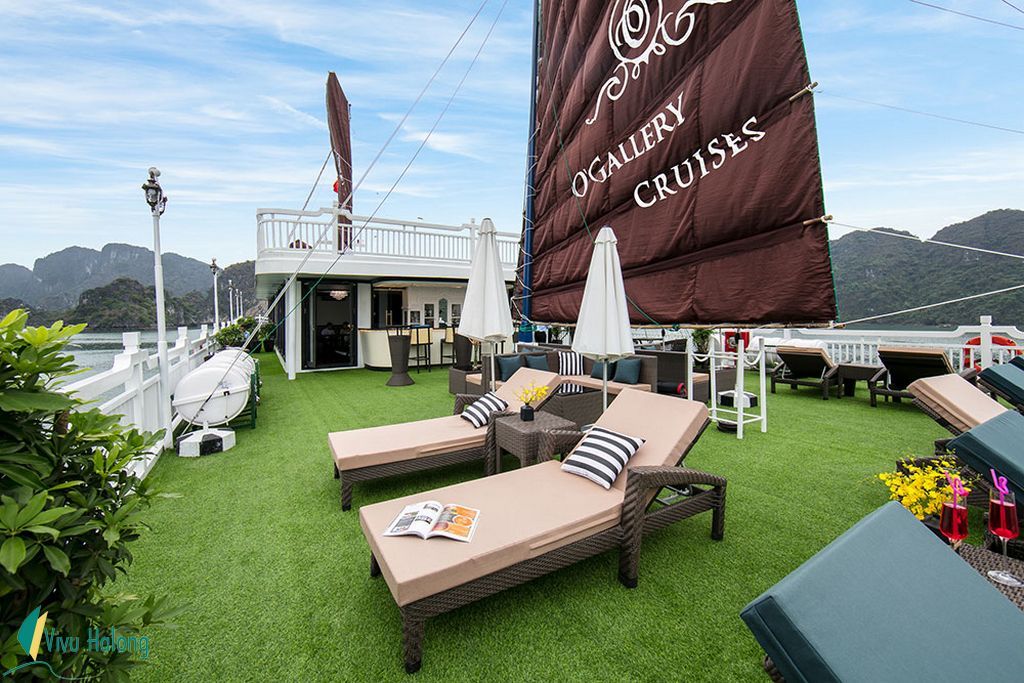 Spa and massage service 
Mostly on steel vessels, they serve you spa and massage service, it would be ideal to have this treatment after a long day with many outdoor activities on Halong Bay. 
Besides, the 5-star cruise now, many other available services as swimming pool, gym room, library, mini-golf.
Meals and dining service
On tour, there are always professional chefs serving meals for you. Meals on board could be set menu, buffet, or ala carte depending on each cruise operator. In particular, the chefs are willing to serve your special request: vegetarian, no dairy, need to inform in advance, then you can enjoy your meals as requested. 
The meals will be included in the tour price, but the drinks like wine, spirits, beer or soft drinks, will not be included and you will pay for the bill. Moreover, the price of drinks onboard is relatively expensive than on the mainland' shops.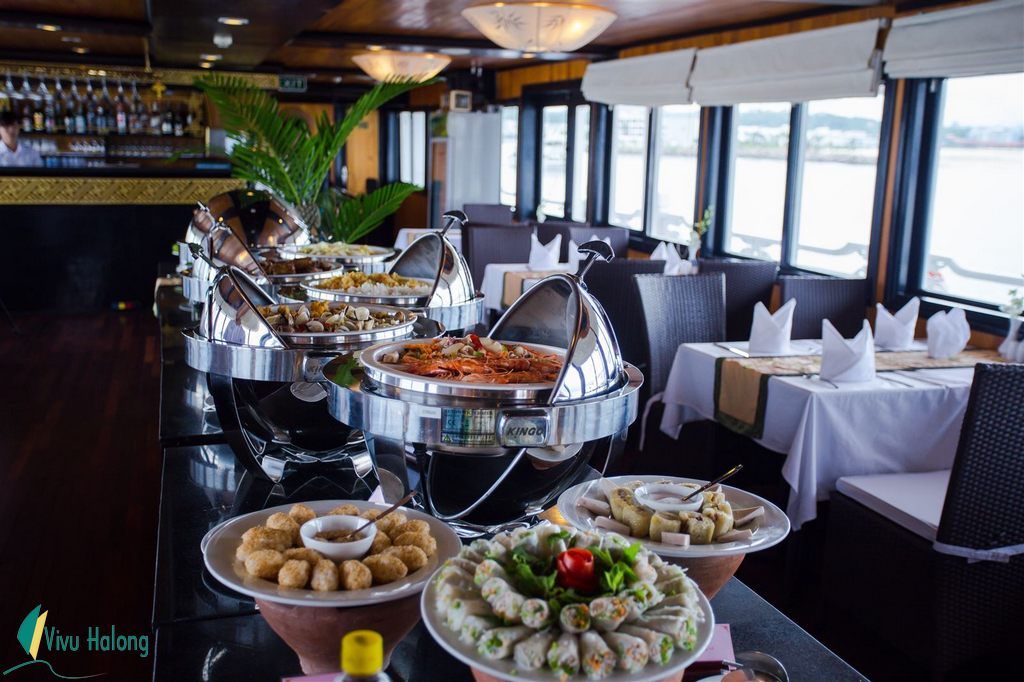 Cruise operators recommendation 
Currently, there are hundreds of boats offering two days 1-night cruise package, with different prices, values, cruise routes, service standard. Based on our experience for ten years working in Halong Bay tour and cruise, Vivu Halong suggests some cruise package and operators that could serve you a great time on Halong Bay. 
Paradise Cruise 
Fleet 
Paradise Elegance ( steel vessels) 

Paradise Peak (boutique wooden boats) 

President (steel vessels) 

Paradise Luxury (wooden boat) 
Cruise route: Halong Bay 
Port: Tuan Chau Maria (Tuan Chau island) 
Bhaya Cruise 
Fleet: 
Bhaya Classic (wooden boat) 

Bhaya Legend (private wooden boat) 

Bhaya Premium (wooden boat) 

Auco cruise (steel vessels) 
Service: 
Cruise route: Halong Bay center area 
Cruise port: Tuan Chau Marina (Tuan Chau island) 
Indochina Junk
Fleet: 
L'amour Junk (private wooden boat) 

Prince Junk (wooden boat) 

Red Dragon Junk (wooden boat) 

Dragon's Pearl Junk (wooden boat) 

Dragon Legend (steel vessels) 
Cruise route: Bai Tu Long Bay 
Cruise port: Halong International cruise port 
Mon Cheri Cruise 
Mon Cheri cruise ( steel vessels) 
Cruise route: Lan Ha Bay – Cat Ba island 
Cruise port: Got Pier (Hai Phong) 
Genesis Regal Cruise 
Cruise route: Halong Bay – Lan Ha Bay – Cat Ba island 

Cruise port: Tuan Chau Marina (Tuan Chau island) 
….
Vivu Halong hopes that this article provides some necessary information for travelers while spending time research and consult this overnight cruise package. Please, share with us your thoughts in the below comments.