Ha Long is a must-visit destination for foreign tourists to Vietnam. You will love to experience the overnight cruise, enjoy the view and be at one with the majestic nature. Ha Long has more than 200 overnight cruising boat. It is a challenge to choose the most suitable trip. There are some suggestions based on our personal experiences over the years. I hope that it will be useful to you!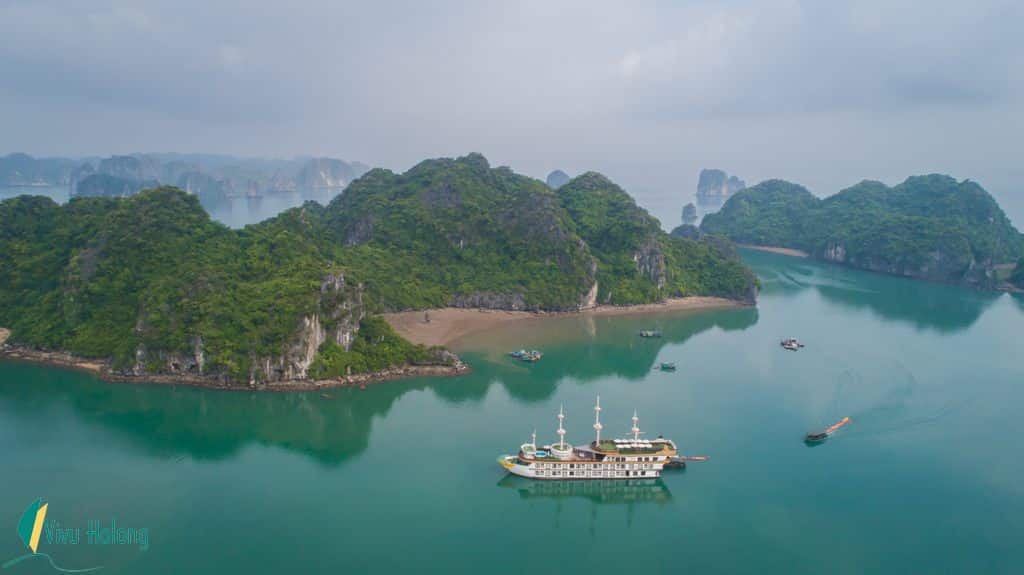 #1 How long is your cruise trip?
Halong Bay tour has four schedules as follows:
The private boat visit the bay during the day (usually 4 hours on boat)
2 days 1- night tour (1 night onboard)
3 days 2 nights tour (2 nights onboard)
4 days 3 nights tour (3 nights onboard)
With the private boat tour, the most popular option is visiting the bay within 4 hours. You can choose the time of departure from the port at 8:00 am, coming back at noon, or starting at noon and returning at 4:00 pm. With this 4-hour tour, you can choose your cruise (only for your group), or a steel vessel (with other groups, usually from 20 to 40 tourists, depending on each boat).
Besides, you can also choose a longer journey, from 6 hours to 8 hours. However, you need to hire a private ship for these schedules, because there are few of boats for a long journey as required.
However, I prefer an overnight cruise. There will be enough time to visit limestone islands, caves, participate in visiting fishing villages, sailing, watching the sunset on the deck.
Cruising on Halong Bay for 2 days and 1-night is very popular with foreign tourists. Besides, I think it is very suitable for Vietnamese tourist groups, who do not have much time to travel far but still want to "escaping together," for relaxing after tired working days.
When you will join two days one night cruise, you are only on the boat for nearly 24 hours, lasting from noon on the first day until noon of the next day. During the tour, you will have the time to relax on the boat, as well as participate in outdoor activities (go kayaking, visit caves, visit fishing villages, visit the island).
Read more about the ultimate guide for 2 day 1-night cruise on Halong Bay 
If you have more time, you can join Halong Bay cruise tour for 3 days and 2 nights to have more time to go further. Besides, you can continue to visit the quiet islands and wild beaches by kayaks, the bamboo boat (thuyen nan)
Read more about the ultimate guide for 3 day 2-night cruise on Halong Bay 
Visiting Halong Bay for 4 days and 3 nights tour is only possible if you hire a private boat. This tour needs a lot of time with many activities. I do not mention in detail here if you need more information, please feel free to get in touch with me and discuss it.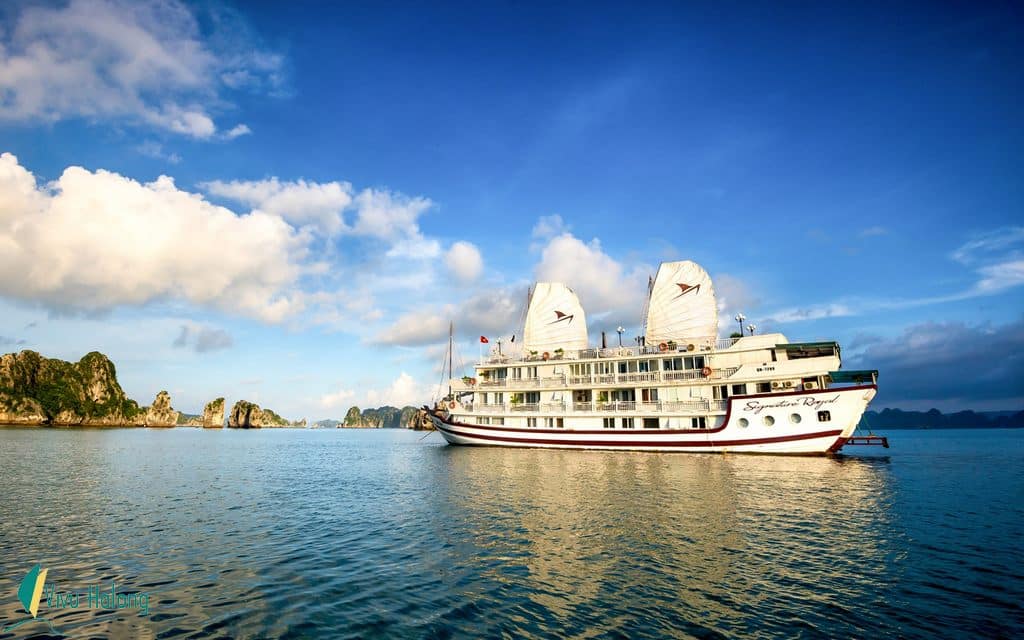 #2 Which cruise routes to choose 
It is a strange question. You visit Ha Long Bay. We all know Ha Long Bay, but in fact, Ha Long Bay divides into three bay areas: Ha Long Bay, Bai Tu Long Bay, and Lan Ha Bay 
In general, these bays have a similar landscape, structure of the limestone mountain, caves and beaches. In particular, Ha Long Bay (with Ti-top Island and Sung Sot cave) has many cruise boats, which is a traditional route. Therefore, it will be more crowded.
Bai Tu Long Bay (located in the Eastern part ) and Lan Ha Bay (located in the Southern part, near Cat Ba island) still retain its natural and tranquil looks due to fewer cruise ships. However, the tour program to visit these two bays is often higher than the tour to visit Ha Long Bay.
Tips:
If you also want to visit Cat Ba Island, you can choose the tour program to visit Lan Ha Bay. Some travel agents have the overnight cruise in Cat Ba.
If you want to experience the private, quiet, and clean bay, you should choose Bai Tu Long tour.
Some activities organizes in the tour such as visiting caves, fishing villages, pearl farm visiting, swimming, kayaking (by yourself), rowing bamboo boat (by the locals); morning Taichi, cooking demonstration, squid fishing at night, and cycling (usually only 3 days 2 nights, visiting Lan Ha Bay area, on Cat Ba island). You should refer to each company's specific itinerary to know what activities you will participate in.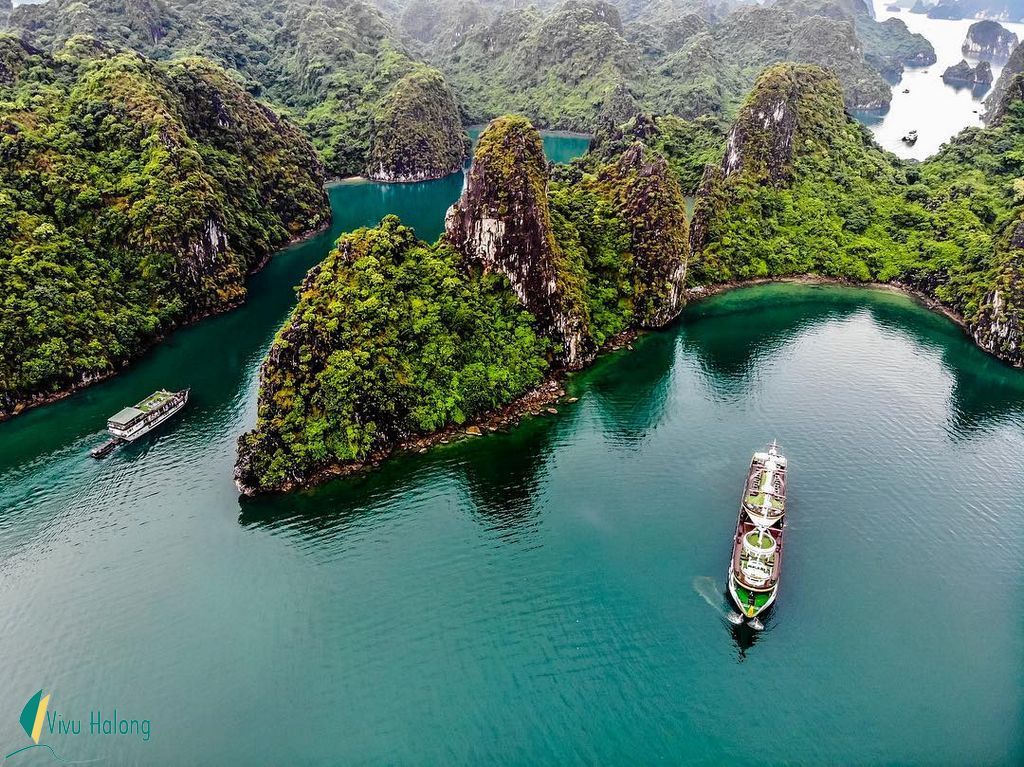 #3 Wooden boat or steel vessels? 
After choosing the bay to visit, I believe you have "filtered" the most appropriate options. Next step, we will select a boat that fits our preferences.
What is the difference between those ships that cruise in the same bay?
Boat size, number of cabins, standards of service are important factors to decide to choose between different boats. 
Since 2012, all ships in Ha Long are required to be painted white. Therefore, if you see the image of the brown sailing boat, the color of the wood is no longer valid. The boats have two main groups: a group of the wooden boat (usually have under 16 cabins which is about 15m2 with bathrooms and toilets) and a group of steel vessels (typically have more than 16 cabins or more with spacious rooms and it makes you more comfortable).
For Vietnamese tourists, I think the steel vessel will be more suitable because the vessels are more spacious, comfortable, and "grandeur"! The steel vessel prices are higher, but generally, there are many options for us.
The standard of cruise services, I have classified in another article about the overnight cruises in Ha Long, you can refer to  TripAdvisor reviews for each cruise.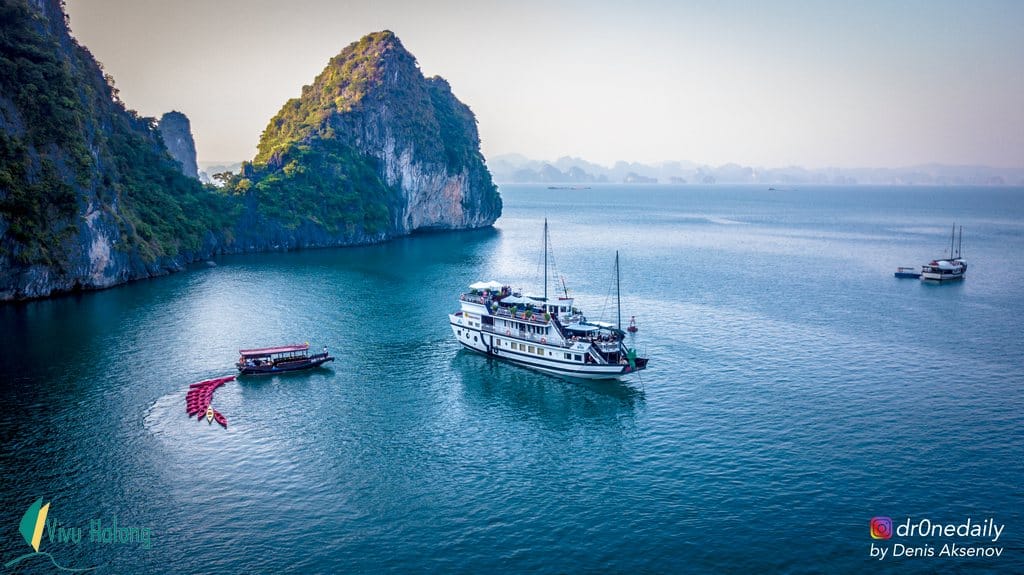 # 4: What includes in the price? 
Overnight cruise on Halong Bay is a package tour, including the cost of accommodation, transportation, meals, entrance tickets, outdoor activities except for drinks and personal expenses (for example, you buy souvenirs, seafood in fishing villages). Therefore, you need to check carefully.
With the experience of Ha Long cruise tour, I suggest checking the following items carefully:
The price of transportation: you come from Hanoi (pick up in Hanoi's Old Quarter area) to Ha Long and come back. You need to check whether this price includes or not. If not, you have to check the cost to use this service to reserve. Especially if you book on booking.com …, the price will not usually have a car, you need to contact to arrange more car service offline.
In case the section is not clear, you need to contact the travel agency and ask clearly before deciding to book.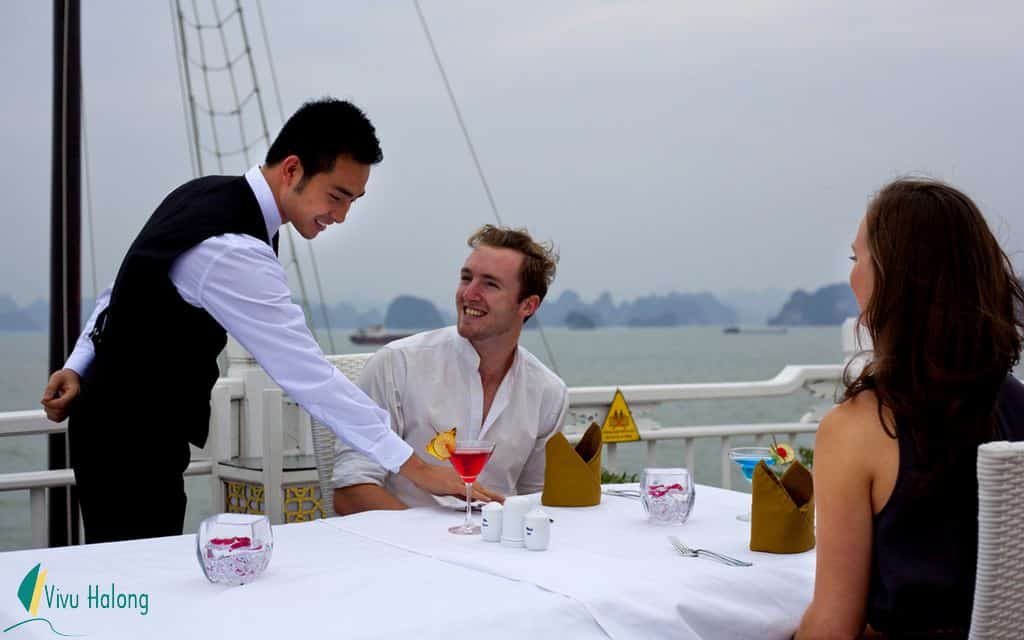 # 5: Price for Halong Bay cruise tour package? 
 If you are looking for information through the Internet or contacting companies, tour agencies, you will see there are many different prices for the same tour. According to my experiences, you "take a little more" and set up with reputable companies for this unique experience. When you are on the board, you only need to relax and enjoy nature. On the other hand, with a low-price tour (less than 1 million VND / person for a night program), you can stay on an old boat, or the quality of meals, service is not as expected…
For the 2 days and 1- night tour, you should pay for 2,500,000 VND/ person to choose a suitable cruise operator. 
For composite with the 3 days and 2-night tour, you should look for options from 4,200,000 VND/ person
Tips: During the period, from May to the end of September, you can get excellent prices from the high-class boats, only for Vietnamese people. It is summer that is very reasonable for us to go to the bay…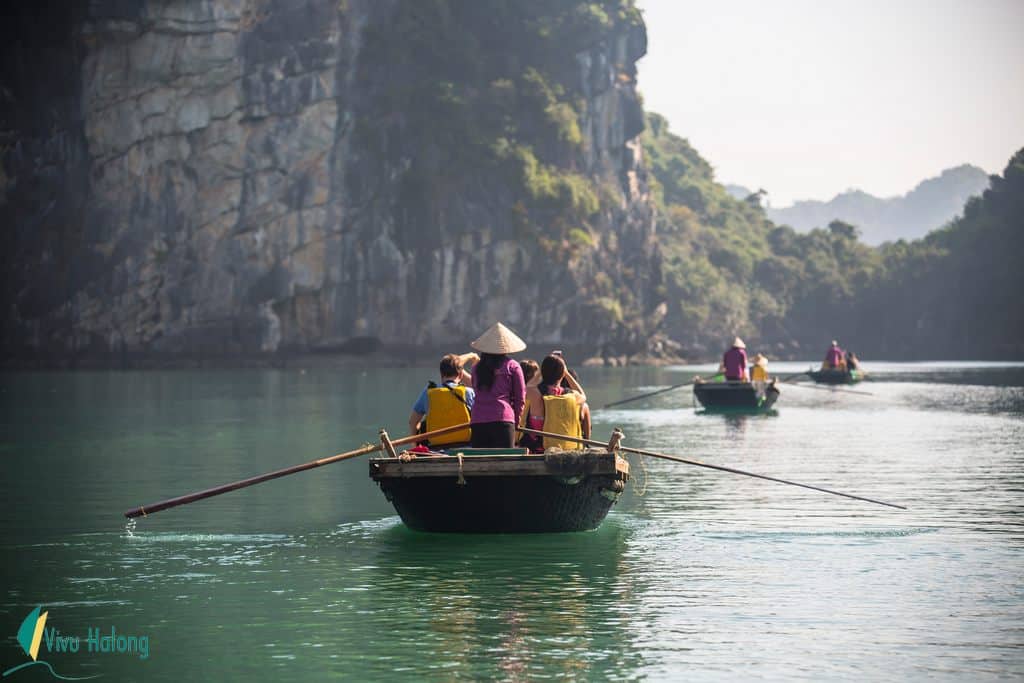 # 6: Which travel agency to book?
There are 3 main channels to book tour, including book directly with a tour organization company, through a travel agent or via an OTAs sits
I think you can book a tour with either the organizer or a travel agent, to compare and get the best price. However, choosing a trustworthy company to book is not easy, because of having a lot of companies. I suggest the following:
You can check the information on the Internet (should choose the page with the address, phone number, email to be able to contact clearly), then send the request through the website to see the time they answer you. You can also call directly to the company for advice.
After the information is clear, you can go directly to the company to pay the tour and complete the tour booking reservation.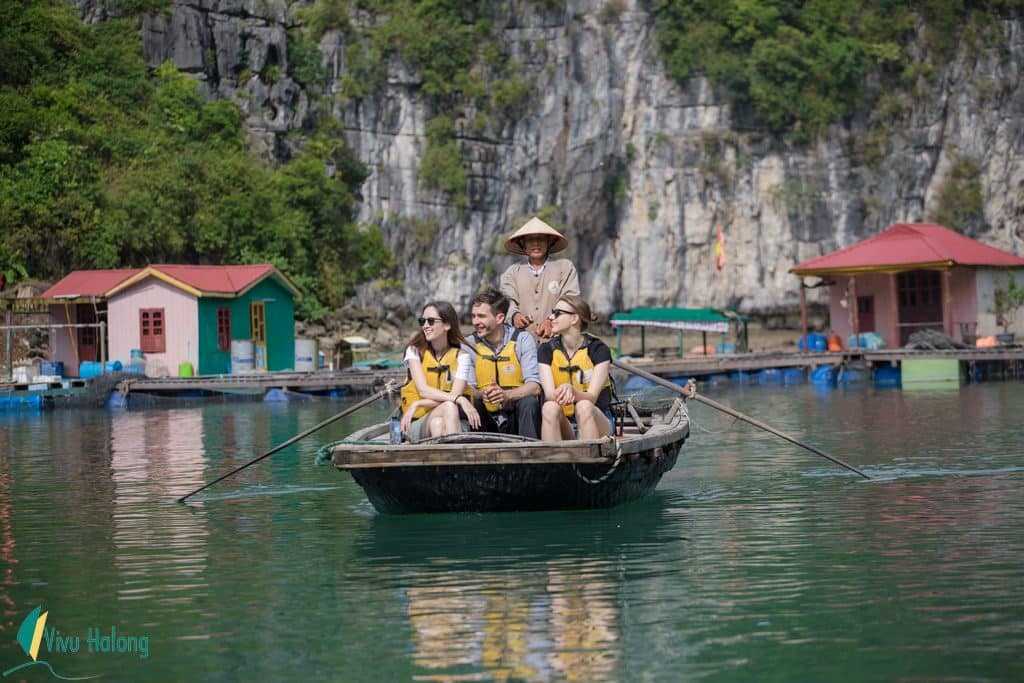 Visit a floating village on Halong Bay
Hopefully, my information and experience will help you choose a suitable overnight cruise tour in Ha Long Bay. Wish you have a fun and memorable experience! If you have left, remember to share with other friends here!
Vivu Halong, the #1 Halong Bay cruise booking agency
Book an overnight Halong Bay cruise: https://vivuhalong.com/en/cruises/
Book a day cruise and tours around Halong Bay: https://vivuhalong.com/en/tours/